Cristiano Ronaldo landed in Moscow on Saturday with his Portugal side ahead of the World Cup 2018.
The team will be based in the Russian capital for the entirety of the tournament.
The Portugal squad landed at Zhukovsky airport in the Moscow region to complete their World Cup preparations at the nearby Saturn training base.
The team will kick off their World Cup campaign in a clash of the titans matchup when they meet 2010 World Cup winners Spain in their Group B opener inn Sochi on Friday.
Portugal will then play Morocco at Luzhniki Stadium on June 20, before rounding off their group stage at Mordovia Arena in Saransk on June 25 against Iran.
Ronaldo will be greeted in Saransk by a huge mural of himself. The current world's best player is never shy of clapping eyes on his face, and therefore will surely be flattered by the portrait.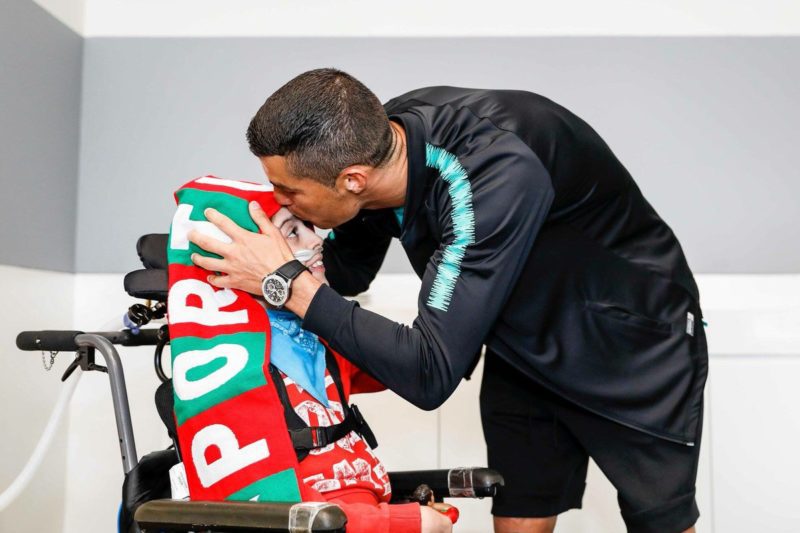 The team themselves will be met by a group of hardcore fans who travelled for 12 days in a van plastered with Portuguese football paraphernalia, stickers and banners to greet the team in Moscow.
Ahead of the tournament, the Portuguese players got a little bit of a saucy pep-talk when goalkeeper Rui Patricio's wife – a sex therapist – told the team the sordid secret to success at the tournament is: masturbation.
Dr. Vera Ribeiro recently published a book titled 'Manual of Seduction,' in which she argues that players who engage in masturbation will have less anxiety and will develop an improved mechanism for coping with stress.
In other news, Manuel Fernandes, who plays his club football in Moscow for current Russian champions Lokomotiv, has been helping his international teammates brush up on their Russian skills ahead of the trip.
With some of the pronunciation clangers dropped by the team in learning the rich Russian language, we hope their dribbling skills are better than their 'Do' Svidanyas'.
Source: RT
www.sports24ghana.com