Tears are far from a foreign sight at the Olympics.
But these tears – the ones that belong to South Korean skater Noh Seon-yeong – are the result of one of the more bizarre and possibly cruel stories of the 2018 PyeongChang Games.
Shortly after Noh, Kim Bo-reum and Park Ji-woo were eliminated in the quarterfinals of the 500-meter team pursuit speed skating race on Tuesday, Noh burst into tears. She bawled by the side of the track.
Around the same time, Kim gave an interview to a Korean TV station. "We were skating well," she said of herself and Park. Then she reportedly sniggered and added: "But the last skater couldn't keep up and we had a disappointing score."
"Couldn't keep up," or, in other words, was left behind. Noh finished roughly four seconds behind her two teammates in an event in which only the slowest team member's time matters. That's why many threesomes skate in sync, immediately in front of or behind one another, often taking turns as pace-setters.
Korea's didn't, and the result is overwhelming backlash, an online petition, and accusations of bullying and shaming.
With Noh's tears rolling, Kim and Park reportedly ignored her. Only her coach comforted her. Meanwhile, Park gave an interview as well. "It wasn't that we didn't think this would happen with Seon-yeong," she said, placing the blame on her despairing teammate's shoulders.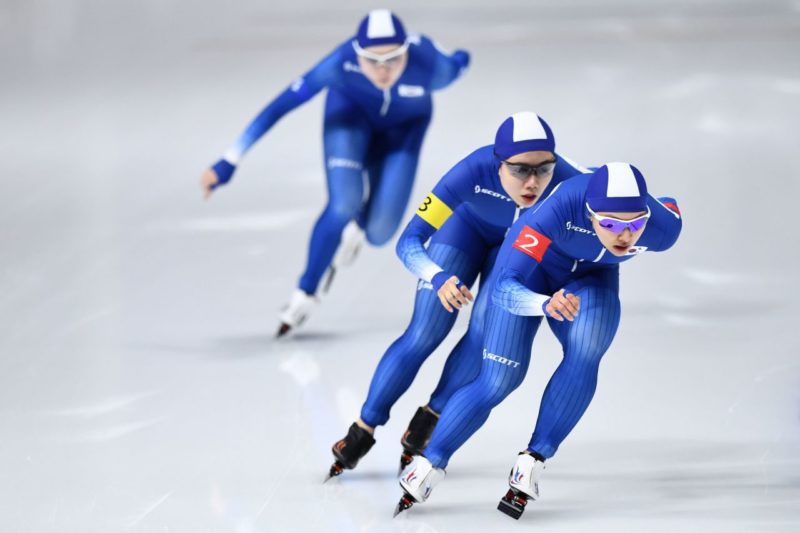 Kim's and Park's comments become particularly enraging when you consider the backstory. From the Korea Herald:
Noh is also the older sister of late short track speed skater Noh Jin-kyu. The late Noh had initially been selected to represent South Korea for the 2014 Sochi Olympics, but was diagnosed with bone cancer following an injury while training in the same year. He was unable to compete at Sochi, and died two years later in 2016.
Noh had accused the skating union of ignoring her late brother's ill health and great pain in order to "gain a gold medal through him." The late skater had been considered one of South Korea's best bets to earn gold at Sochi at the time.
The team's coach reportedly called a news conference Tuesday evening to address what had become a mounting controversy. Neither Noh nor Park attended. Both the coach and Kim apologized.
That, however, didn't halt the fury. An online petition to South Korea's presidential office called for Kim and Park to be expelled from the Olympic team for bullying and shaming Noh. In just a few hours, it had picked up over 200,000 signatures.
"It is a clear national disgrace that such people with a personality problem are representing a country in the Olympics," the petition read.
Kim and Park also were subjected to abuse on social media. Many felt Kim's apology was empty, and that the blatant nature of their post-race comments showed the true motives behind their unusual, ineffective and humiliating approach to the event.
Source: Henry Bushnell|| Yahoo
www.sports24ghana.com