Rafael Nadal knows what it is to lose to an Australian teenager on the Wimbledon Centre Court, but Alex De Minaur could not achieve what his countryman Nick Kyrgios managed in 2014.
Still yet to drop a set in three rounds, dual title-holder Nadal has stormed into the Championships' second week for an eighth time.
The Spaniard bid adios to the Alicante-based Australian whose rather skinny chest is tattooed with his Davis Cup playing number: 109. More imposing, though, is 17: Nadal's total of Grand Slams won, and the boyish De Minaur was pushed around and ultimately outmuscled 6-1, 6-2, 6-4 in just over two hours.
The No.2 seed is now assured of maintaining his No.1 ranking at the end of the Fortnight, and a fourth round win would ensure Nadal returns to the last eight for the first time since the most recent of his five finals, in 2011.
"It's a positive match for me, obviously, against a player that is very young, a lot of energy out there,'' Nadal said. "Some tough moments in the beginning, some tough moments in the third, but in general terms is a very positive result, no, so happy to be through.
"Just happy to be in the fourth round again, is positive news for me, and I'm just excited to keep playing well and to watch some football. What's going on? England is coming home, or not?''
Not yet and, as is the custom at the All England Club, the middle Saturday started with a roll-call of famous sporting names in the Royal Box. The imminent start of the World Cup quarter-final notwithstanding, that included Sir Bobby Charlton, as well as Spanish golfer Sergio Garcia, and legendary Australian Rod Laver.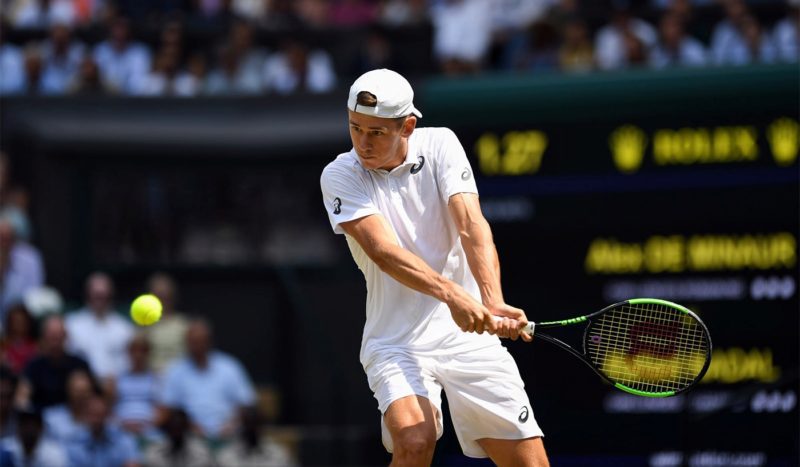 "Playing in front of very important people from sport around the world is always a big honour,'' said Nadal, a close friend of Garcia's. "We talk the same language and it's great to have all these people close to me.''
Laver was also present at the annual Tennis Australia barbecue the previous night, which honours a Great – in this case, 1968 finalist Judy (Tegart) Dalton – of the past. De Minaur – along with Kyrgios and Thanasi Kokkinakis – is a big part of the future of Australian men's tennis, having already made enough progress to rank behind only Canadian Denis Shapovalov as the second-youngest man in the top 100.
But, despite so much to like about De Minaur, there is much still to improve. Big-serving attacking players have been the ones to cause Nadal problems on grass in recent years, and, at 19, De Minaur is still building his body and trying to develop the weapons he will need to succeed against the greats of the game.
Like his mentor Lleyton Hewitt, the 2002 men's champion, De Minaur's speed and heart rank among his greatest strengths. But Nadal is terribly short on weaknesses, and one of the sport's most ruthless competitors added the exclamation mark of a successful tweener lob to his show-reel late in the second set.
De Minaur had earned his main draw wild card through strong lead-up form that included winning the Challenger title in Nottingham and reaching the Surbiton final. Nadal, meanwhile, was recovering from another glorious clay court season and remarkable 11th triumph at Roland-Garros before practising at home in Majorca to prepare for a 13th Wimbledon campaign.
Consider him recovered. Rivals beware: at the end of an unusually hot week in London, the 32-year-old is clearly warming to his task.
As for the prospect of another final against Roger Federer, it seems the world wants to see that one more than Nadal does.
"If I am in the final, I prefer to face an easier opponent," he said. "I am not stupid."
And on the No.1 ranking:
"Of course, I prefer to be No.1 than No.2, no doubt about this. I really don't came here to hold No.1. I just came here to try to do the best tournament possible," he said.
"Is very positive to be already in the second week, winning three matches. That's it. Just happy the way that I played during the first week. Three matches, every match have been more and more positive. I am playing well. Good start. Second match I played so well. Today, again, I played a good match."
Source: Linda Pearce|| Wimbledon
www.sports24ghana.com