Even in the broiling heat of this summer's Wimbledon, Roger Federer is reinforcing one of the most persistent myths about him: that he doesn't have a single sweat gland in his body.
On a day when some spectators' shirts darkened with sweat as they sat on a picnic rug on the Hill or walked to the Pimm's bar, perhaps the defending champion was glowing a little during his third round victory over Germany's Jan-Lennard Struff. But no more than that in the evening sunshine on Centre Court.
Only a couple of times did the Swiss gently dab at his forehead with the sweatband on his right wrist, which must be the most redundant piece of kit inside the All England Club.
"A freak of nature," was how the watching John McEnroe affectionally described Federer, a 6-3, 7-5, 6-2 winner, who just a month short of his 37th birthday is now three sevenths of the way to landing a ninth Wimbledon title. If there are no statistics available for how much players perspire, there are other ways of illustrating how commanding Federer has been in his opening three appearances at a Championships where he has a new clothing supplier. It's not just that Federer has reached the second week without once dropping his serve; he is yet to even face a break point.
The diciest it got for Federer on serve was when he found himself 0-30 down at 3-2 in the third set, but he quickly and elegantly extricated himself from trouble. "I stayed pretty clean in my own service games," Federer said, which was some understatement.
"It looks like he didn't break a sweat," McEnroe said of Federer, playing in his 200th tour-level match on grass, who in the third set even unsheathed the SABR, or Sneak Attack by Roger, when he returned a Struff serve from just behind the service line. After taking a couple of steps forward, Federer then put a volley away for a winner.
Every Federer performance brings both artistry and hard data. Consider how Federer's victory meant he has won the last 29 sets he has played at the All England Club, a run which began in the first round of last summer's Championships.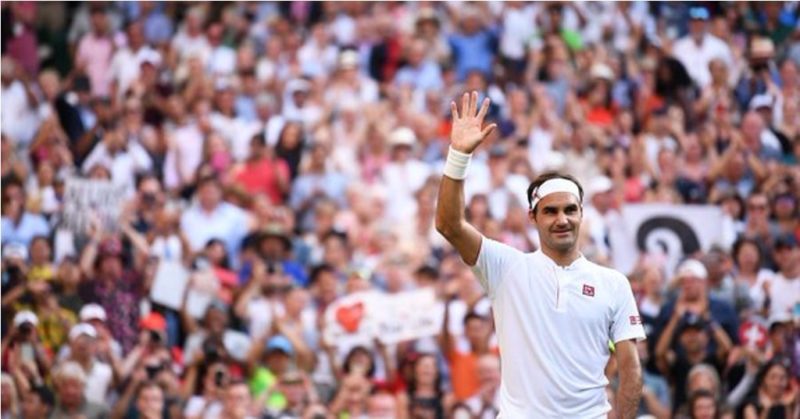 That is still a few short of his longest streak of 34 consecutive sets, which he accomplished between the third round in 2005 and the 2006 final. If Federer is to break his own record, he would need to also win his fourth round and quarter-final in straight sets.
Everything has been going Federer's way at the All England Club, with Struff even hitting an air-shot when facing a break point in the third set. Wearing a reversed baseball bap, the big-serving Struff had been the king of the comebacks so far at The Championships, hustling his way back from two sets down in his opening two rounds.
Had the world No.64 also done so against Federer, he would have become only the third man in history – after Henri Cochet in 1927 and Tommy Robredo at Roland Garros in 2013 – to come back from two sets down in three successive rounds at the same major. But it's one thing to do that to Argentina's Leonardo Mayer and Croatia's Ivo Karlovic and quite another against Federer.
One of the perks of being the gentlemen's defending champion is that, if you stay in the draw, you play on Monday, Wednesday and Friday in the first week. That means you have two days off before your fourth-round match on Monday. After a restful weekend, Federer will play Adrian Mannarino, a Frenchman who needed five sets to beat Russian Daniil Medvedev.
Source: Mark Hodgkinson|| Wimbledon
www.sports24ghana.com