There is a little omen Tomas Berdych is keeping in mind after moving past three-time champion Novak Djokovic in the Wimbledon quarter-finals on Wednesday.
When No.2 seed Djokovic succumbed to a right elbow injury at 7-6(2), 2-0 in their quarter-final it sent Berdych through to his third Wimbledon semi-final.
Now he is tasked with defeating seven-time champion Roger Federer. He has done it on Wimbledon's Centre Court before.
The 31-year-old Czech had his best run at a Grand Slam at the All England Club in 2010 where he took down Federer and Djokovic back-to-back before Rafael Nadal brought his giant-felling run to an end in the final.
It is seven years since his greatest grass-court campaign – difficult for Berdych to compare the level, not so difficult drawing the parallel.
"It's hard to compare. I mean, it's not another year, but after so many years I have so much more experience from that time and everything, you can't really compare those things," Berdych said.
"I mean … what can be funny is that in 2010 I beat Roger and then Novak. This year I beat Novak, so now I'm playing Roger, so it would be great. Rafa is not there any more. Let's see. It's going to be interesting."
Djokovic came into his quarter-final on No.1 Court with an imposing 25-2 head-to-head record against the Czech. A tight first set though saw Berdych cast aside a momentary outburst in the tie-break to take a one-set lead.
With coaches Andre Agassi and Mario Ancic watching on concerned from the stands, Djokovic called for an injury time-out for treatment on his elbow at the completion of the set.
He lasted just two more games. Berdych broke for 2-0 before the Serb wandered to the chair to signal his time was up.
He later conceded to Serbian media he could miss the remainder of the season for an injury, which had plagued him for the past 18 months.
"The serve and forehand were the shots where I could feel it the most. Just after that there was really no sense," a dejected Djokovic said.
"I'm just going to talk with specialists, as I have done in the last year or so, try to figure out what's the best way to treat it and to solve it, to find a long-term solution. Obviously short-term it's probably rest is most appropriate. We will see.
"I was playing really well, I thought, probably the best tennis I've played in the last 10 months or so. I played great. I haven't dropped any sets in Eastbourne, coming into quarter-finals today; felt really good on the court.
"Yeah, it's just unfortunate. But in life, you know, these particular things happen for a reason."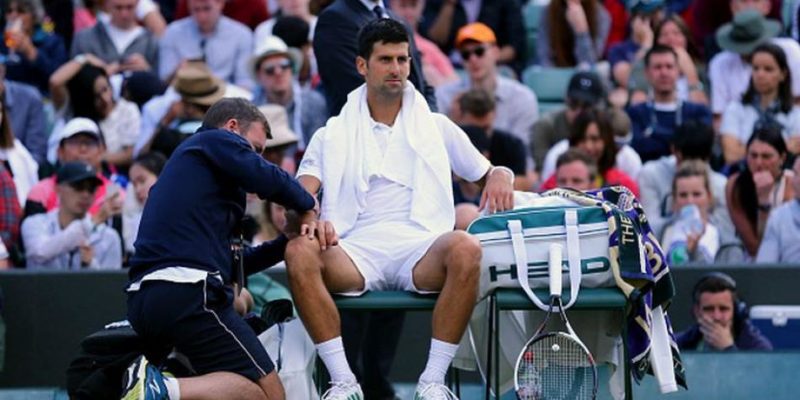 Berdych is all too aware of the late career resurgence from his next opponent. He was the unwitting victim of a straight-sets slaying to Federer in the third round of this year's Australian Open. It was, for many, a masterclass and the match which went some distance to cementing the Swiss player's belief in going all the way to the title.
"I experienced him in Australia. I thought that the match we played there, I've probably never seen him playing better tennis, that's true," Berdych said. "Then I played him in Miami. I almost beat him, had a match point. That was a very close match.
"So now for the third one, hopefully the lucky [one] for me."
A career-best run at the All England Club would become career-defining should he go one step further than his 2010 campaign. It's time for Federer and that Centre Court Wimbledon omen first.
Source: Dan Imhoff| Wimbledon