Honestly, just love the way heavyweight champion Deontay Wilder carries himself. He's not the most technically sound fighter in the world, but he is a destroyer and he lets us all know that in no uncertain terms.
During his opening monologue for a recent conference call, Wilder was in rare form.
"It's going to be an amazing fight while it lasts," he said of his Dec. 1 title defense against former champion Tyson Fury at Staples Center (on Showtime pay-per-view). "You know what I do, so you know what I come to do. Those that have been waiting to see a body on the canvas to get knocked out and this is their first fight, they're in for a treat."
A "body on the canvas." That's how Wilder rolls, and he makes no apologies. At 6-foot-7, he's tall, lean and mean. He brags about it.
"No one can have a killer instinct like I have; it's natural born," said Wilder, 33. "I don't have to get mad at you, I don't have to find things on you, I don't have to lie on you to try to get in your head or try to get in your head in general.
"I don't have to do that because I deliver whether I'm mad at you or whether I'm happy. I can beat your ass and still smile at the same time. And that's the difference between me and these other guys; they try to find things to get mad; they try to make themselves get mad. I'm special."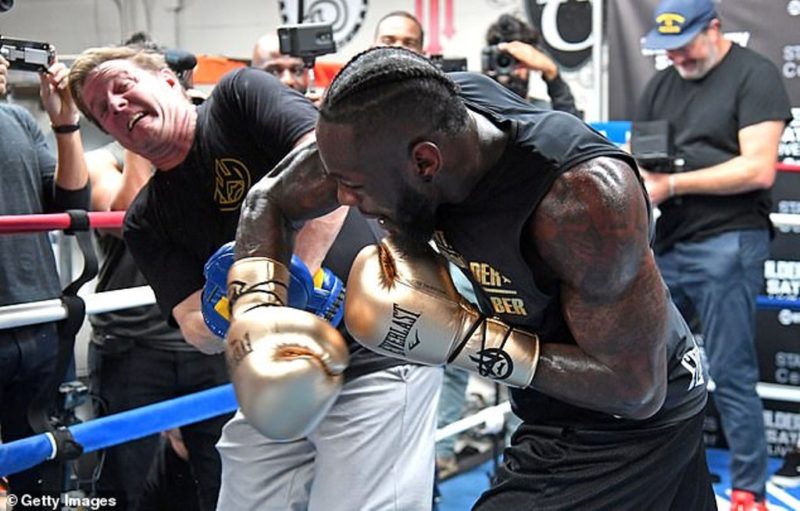 Wilder, of Tuscaloosa, Ala., is 40-0 with 39 knockouts. The only time he didn't win by knockout was when he won the title with a 12-round decision over Bermane Stiverne in January 2015 at MGM Grand in Las Vegas.
Nearly four years later, Wilder will be looking to make his eighth successful defense when he squares off with Fury (27-0, 19 KOs).
Wilder thinks a lot of himself.
"I was born to do this," he said. "And the more and more I have fights and the more and more I'm able to display my talent among the world, the sooner everyone will realize that I am special, I am something that's a gift from God."
Told you.
"I am anointed, like my grandmother said," Wilder said. "You all want to see the (Muhammad) Ali era in the golden days, trust in Deontay. Put your trust in Deontay. I'm here. I've been here for a long time."
Wilder has always backed up his talk. He survived his first real trouble test when he got through the seventh round on wobbly legs after taking a beating from Luis Ortiz, only to come back to stop Ortiz in the 10th in his most recent defense in March in Brooklyn.
And he does go into the ring with one thing in mind – a knockout.
Love it.
Source: Robert Morales
www.sports24ghana.com