World's eyes on Geelong
A global audience of one billion will watch Geelong farewell the 2026 Victoria Commonwealth Games in style when Kardinia Park hosts the Closing Ceremony.
After 12 jam-packed days of sport in regional Victoria, athletes, officials, volunteers and fans will descend on Geelong for a fitting send-off to Victoria 2026 on Sunday March 29.
Kardinia Park is Australia's premier regional stadium and is undergoing stage five of an extensive redevelopment that will boost its capacity to more than 40,000 upon completion in mid-2023.
Geelong will also be home to a program of live sites including music, performance and art, showcasing some of its iconic locations such as the spectacular waterfront and the Arts Precinct during the Games.
2026 Sport program boosted
The sport program for the Victoria 2026 Commonwealth Games has been locked in with the initial program of 16 sports boosted to 20, including nine fully integrated Para sports.
BMX Racing, Golf, 3×3 Basketball, 3×3 Wheelchair Basketball, Coastal Rowing, Shooting, Shooting Para Sport, Mountain Bike, Track Cycling and Para Cycling Track are the new sports and disciplines that have been added to the final sport program.
Coastal Rowing, Golf and BMX Racing will make their Commonwealth Games debut in 2026 while the popular 3×3 Basketball, 3×3 Wheelchair Basketball and T20 Cricket will be making their second appearance after featuring at the Birmingham Commonwealth Games this year.
Ballarat, the birthplace of long-distance runner and Commonwealth Games gold medallist Steve Moneghetti, has been confirmed as the host of the Marathon.
An upgraded Eureka Stadium will host Athletics and Para Athletics, with Boxing rounding out Ballarat's action-packed program. Mountain Bike cross country will be staged along some of the 60-kilometres of trails around Creswick.
The Commonwealth Games are coming to Geelong's stunning Surf Coast when Torquay hosts Coastal Rowing, while Golf will tee off on the Bellarine Peninsula, showcasing more of Victoria to the world in 2026.
The Geelong program also includes Aquatics (swimming and diving), Para Swimming, Beach Volleyball, T20 Cricket, Artistic Gymnastics, Hockey, Triathlon, Para Triathlon, Weightlifting and Para Powerlifting.
Five sports will be staged in Gippsland, with Shooting and Para Shooting bolstering the existing schedule of T20 Cricket, Badminton, Rugby Sevens and Road Cycling. The Cycling Road Race will finish with a criterium where the Commonwealth's best cyclists will chase gold in Traralgon.
T20 Cricket is part of a strong women's sports program and will see the reigning world champion Australian team look to defend the gold medal it won at this year's Commonwealth Games.
Shepparton will be home to multiple cycling events – staging both men's and women's road race time trials, as well as hosting the high-octane cycling discipline of BMX Racing.
Track Cycling is one of the jewels in the Commonwealth Games' sporting crown and, along with Para Cycling Track, will be one of six sports staged in Bendigo.
Australia won one gold, two silver and one bronze medal in 3×3 Basketball and 3×3 Wheelchair Basketball at the Birmingham Commonwealth Games and will be looking to add to that haul when the sports come to the Goldfields City in 2026.
St Arnaud-born Aaron Wilson will be chasing his third consecutive gold medal when the Bendigo Bowls club plays host to the world's best lawn bowlers and Para Lawn bowlers and the Diamonds will look to defend the netball gold medal at Bendigo Stadium.
Table Tennis, Para Table Tennis and Squash round out Bendigo's sporting program.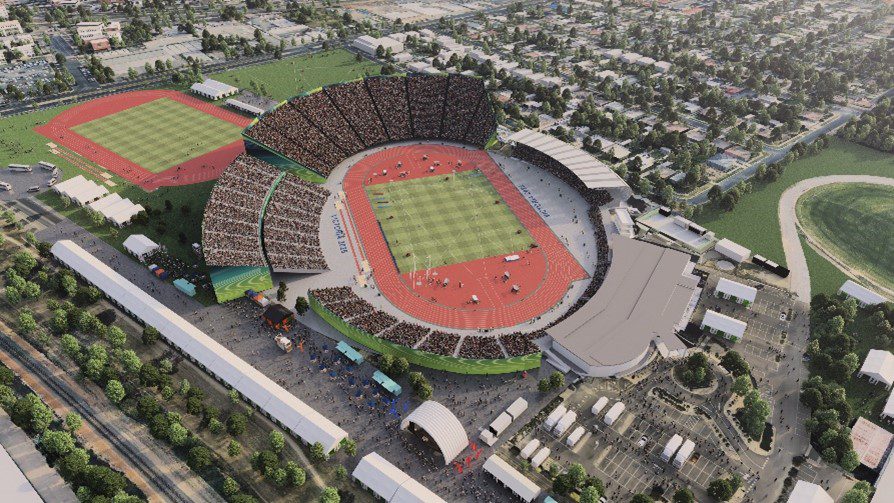 Geelong's Kardinia Park (above) will host the Victoria 2026.
New venues, Games villages locked in
A series of new buildings and upgrades to existing facilities will deliver benefits to regional Victorian communities that will be felt long after the 2026 Commonwealth Games.
Upgraded and new sporting venues will provide a major boost for local sports clubs and communities, while the Games villages will leave a legacy that includes a portion of affordable and social housing.
Eureka Stadium in Ballarat will receive a major upgrade including up to 18,000 temporary seats. A new athletics track will be built at the site and the stadium will be expanded to hold an additional 5,000 permanent seats, with improved accessibility access.
The former Ballarat Saleyards has been locked in as the site for the city's Games village. The village is in a transitioning industrial area already marked for development and will provide space for vital housing and community infrastructure after Victoria 2026.
The site, near the Ballarat city centre, will host an estimated 1800-plus athletes and officials and celebrate the rich history of the Wadawurrung people.
Two new venues, an aquatics centre in Armstrong Creek and a multi-sports venue that will host Gymnastics, Weightlifting and Para Powerlifting in Waurn Ponds, will be built in Geelong for the Commonwealth Games.
After the Games, the aquatics centre will become a community pool facility, with multi-purpose courts and green open space.
The artistic gymnastics and weightlifting venue in Waurn Ponds will become seven multi-sport courts, a dance studio, and a regional-level gymnastics centre.
And the Waurn Ponds Station Precinct has been confirmed as the home of Geelong's Games village. The home-away-from-home for about 2500 athletes and officials will provide ongoing housing benefits for the community after Victoria 2026.
Bendigo's Games village has also been locked in and the Flora Hill site is expected to be home to more than 1600 athletes and officials where they will experience an inviting blend of everything that makes Bendigo one of Victoria's most iconic regions.
English Street in Morwell will host the Gippsland Games village, which will be home to about 1000 athletes and officials, while around 1600 athletes and officials will call the village at Bendigo's Flora Hill home during the Commonwealth Games.
The design of the Games villages in each hub will be developed in consultation with the local community, business, council and the Traditional Owners.
www.sports24ghana.com