This was Canelo Alvarez's crowd. These were his people. And yet, on the night when he was supposed to be facing his archrival for all the marbles, he was nowhere to be found.
When his name was mentioned, the crowd booed lustily.
And when the fight they'd come out to watch ended with a devastating knockout, his fans loudly chanted, "Triple G! Triple G! Triple G!"
Because of a pair of failed drug tests, Alvarez was forced to withdraw from his mega-Cinco de Mayo rematch in Las Vegas with Gennady Golovkin.
Golovkin, angry at Alvarez for what he believes was the intentional use of performance-enhancing drugs, came out with something to prove against Vanes Martirosyan, who was signed to replace Alvarez.
Martirosyan landed a few hard shots in the first and connected on a good combination just before the devastating final sequence. Golovkin caught Martirosyan with a jab, a double right hand, a left hook, another right hand and a crushing left.
Martirosyan fell face first in his own corner as referee Jack Reiss tolled the count. He got to his knees but was in no shape to continue and Reiss waved it off at 1:53 of the second.
It isn't going to be one of Golovkin's most memorable bouts. Martirosyan isn't Alvarez, and he hadn't fought in nearly two years. In addition, the bout Saturday was his first at middleweight.
There wasn't much for Golovkin to gain by beating Martirosyan, as odds better than 20-1 showed. But he came out and not only won the fight but won over the heavily Hispanic crowd that had long worshipped Alvarez.
Alvarez, though, clearly wasn't embraced by this crowd, who booed every time his name was mentioned.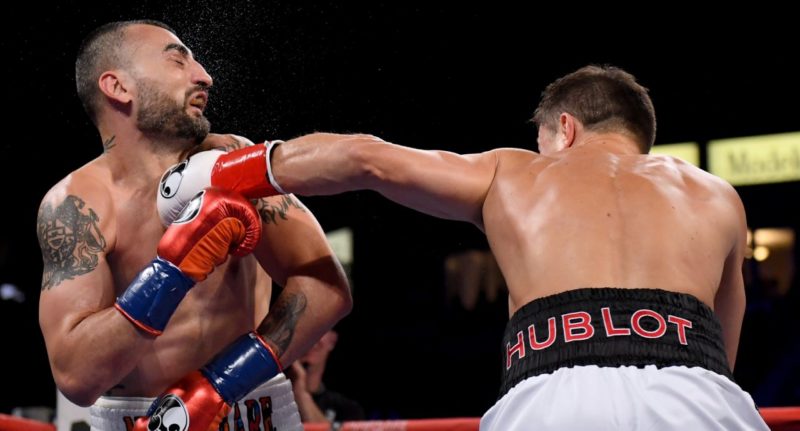 Golovkin has often said he fights "Mexican style" as an homage to the many great brawling Mexican and Mexican-American fighters, and he did so again on Saturday.
On a night he'd hoped would be the crowning achievement of his career, when he figured he'd make an eight-figure purse and definitively establish himself as the best middleweight in the world, Golovkin essentially had to settle for a tune-up.
After scoring a decision win over Daniel Jacobs and a disputed draw with Alvarez in September, Golovkin got back to his finishing ways.
He pounded Martirosyan, a 2004 U.S. Olympian, with crushing blows he simply couldn't withstand.
"It was like being hit by a train," Martirosyan said. "It wasn't one punch. It was all of his punches. It's the hardest I've ever been hit."
That's often how it is with Golovkin, who is now 38-0-1 after scoring his 34th knockout.
More than 20 minutes after the bout ended, he climbed back into the ring with his long blue robe on and waved to what remained of the crowd, basking in the glory.
"It feels great to get a knockout," he said. "Vanes is a very good fighter. He caught me a few times in the first round. In the second round, I came out all business after I felt him out in the first round."
Before the fight, he pegged the odds of facing Alvarez in September, when Alvarez's suspension will have ended, at 10 percent.
He seemed opened to it Saturday after the fight, though. "I want everyone," he said when asked who is next. Asked specifically about Alvarez, he spoke in the affirmative, without mention of his now bitter rival's name.
"Absolutely," he said when asked about Alvarez. "I have lots of belts. I challenge anyone to come and take my belts. I don't care who it is. Let's clean the division out."
Source: Kevin lole|| Combat columnist
www.sports24ghana.com