Tyson Fury has not only vowed to destroy Deontay Wilder on December 1, he swears he'll ritually humiliate his fellow boxer as well.
There's no love lost between these two heavyweights and with each passing day things are getting uglier. The dancing pugilists keep firing broadsides at one another and Yahoo! Reports that Fury, in his latest dig, has announced he will cause even more humiliation to Wilder than he did to Wladimir Klitschko during his famous shock victory in 2015.
It's no surprise things are getting vicious. There'll be a lot on the line when the two fighters go toe to toe on December 1 in Los Angeles besides just the WBC heavyweight title. When the two undefeated boxers step into the ring, only one will leave with his record intact.
Although he is the lineal champion in the wake of the Klitschko win, Fury enters the ropes as the challenger and underdog.
Not that you'd know it; Fury is confident he has what it takes to make Wilder look like a clown and told the Sunday Telegraph he's going to "take Wilder's heart away."
"I'm going to take Wilder's heart away. It's going to be a more humiliating performance than it was against Klitschko."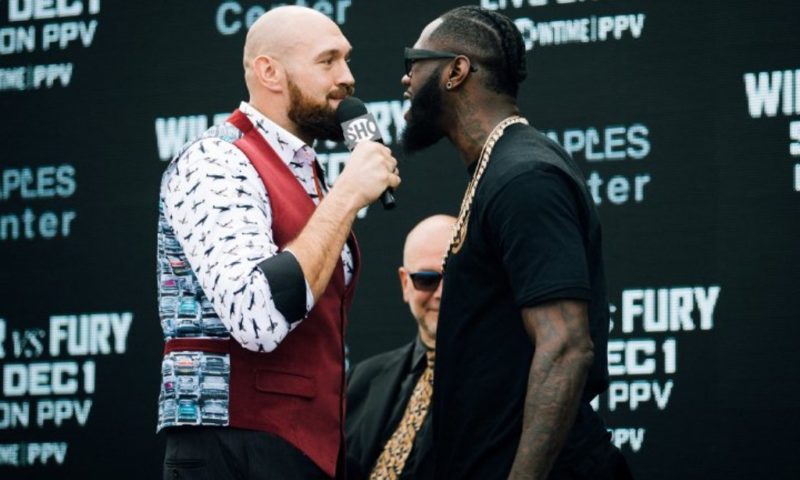 The big man added, "Everyone says I won't do it against a big puncher. But I did it against Klitschko and I will against Wilder. I'm going to have fun. Wilder is going to have the most awkward night of his life, believe me.
Fury also believes that although Wilder's style is very unusual in many ways it is very conventional. He pointed out for the most part he only throws "the big bombs" when he knows his opponents are on the ropes. He also hinted at a secret plan he has to deal with the 'Bronze Bomber'.
"I see something with Wilder. And I'm not going to tell anybody until I reveal it on the night. There's a chink in that armor."
Fury also highlighted how Wilder has never fought anybody bigger than him and he's never had to punch up before.
"With all power punchers, they've got to set their feet. He can't land power punches on the move. He's got to stand still and that's something I don't do."
Yet despite all his talk, Fury is keen to acknowledge his opponent is a class act and called the fight the biggest challenge of his career because Wilder is "probably the biggest puncher in history" and if he (Fury) makes one mistake, "it's over."
Source: Tim Butters
www.sports24ghana.com