Gennady Golovkin has made a career leading with his jab, not his mouth.
But in the lead-up to the year's most anticipated fight, the quiet Kazakh boxer has uncorked unexpected levels of anger and hostility. He has called his opponent, Canelo Alvarez, a liar, a cheat, a drug user and a coward. And in a novel twist, it might not be simply pre-fight hype aimed at selling the pay-per-view.
The resentment has been festering because Saturday's clash in Las Vegas isn't simply about a fight or a belt or a payday for the powerful middleweight. The bout stands to be career defining, the dividing line between Golovkin being perceived as a venerable champion and being regarded as an all-time great. It will be about redemption and legacy, and for Golovkin, Alvarez has been nothing more than a roadblock.
"He knows time is running out. He's pushing the envelope," HBO broadcaster Jim Lampley said of Golovkin. "The sand is going out of the hourglass, and he has not gotten the signature accomplishment that he needs to put an exclamation point at the end of this historic career. The resentment has to do with the fact that Gennady is being massively inconvenienced in his pursuit of a definition for his historically great career, and ultimately his chance may slip away."
Golovkin's fight résumé is remarkable because of the numbers, not the names. A win Saturday would break Bernard Hopkins's record of 20 consecutive title defenses. The undefeated Golovkin (38-0-1) knocked out 23 straight opponents from 2008 to 2017. Including 350 amateur bouts, he has never been knocked down. And he has won 34 of his pro fights via knockout.
But after squandering the early part of his professional career overseas, he has tried to extend his prime, forced to chase career-defining wins that other middleweight champions find at a younger age. Golovkin will enter the ring at 36 — eight years older than Alvarez — and as Lampley notes, "It is not possible for an attacking destroyer to get better at age 36."
After mowing through opponents with predominantly early-round knockouts for years, Golovkin won a unanimous decision over Daniel Jacobs in March 2017, followed by the controversial draw with Alvarez last September and a second-round knockout over an overmatched Vanes Martirosyan in May.
"I don't think that it's open to question that we've seen some slippage in the last couple of fights," said Lampley, who has called more than a dozen Golovkin fights and will be ringside for Saturday's pay-per-view broadcast, "particularly his really remarkable ability to get his lead foot out in front of his opponent and shut off the ring and force opponents to face his power head-on, face to face."
Golovkin's camp, not surprisingly, doesn't necessarily agree with that assessment or any hint that he's slowing down. "I'm training very well. I feel great," the fighter said recently. "I train as a person who is 36 years of age."
His trainer, Abel Sanchez, said that he modified the fighter's training and cut down on sparring "just so we don't leave things in the gym."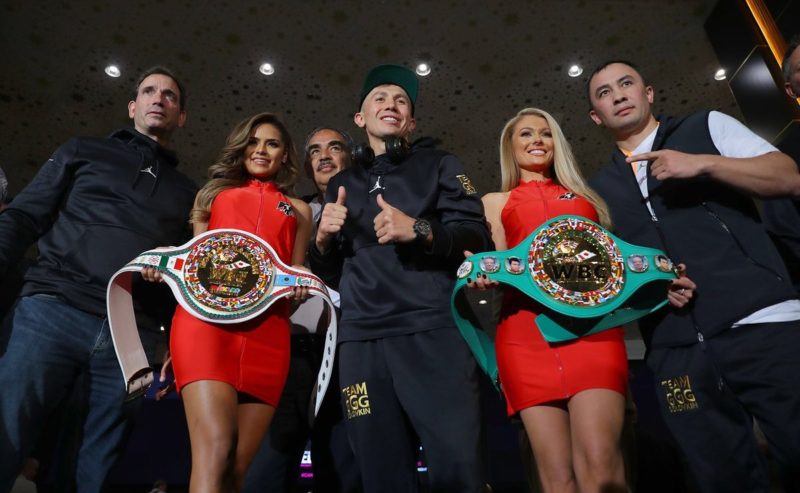 "I haven't seen anybody dominate him in the ring," Sanchez said, "not only sparring but in the fights. . . . Until that happens, it's difficult to say he's getting old."
What's not in dispute is that Golovkin's career arc has been nontraditional. At 28, Alvarez has 52 professional fights behind him but still might be entering his prime. When Golovkin was that age, he was facing a string of forgettable foes, mostly in Germany, trying to build his name and desperate for a title shot against Felix Sturm that never came. He once sat on the shelf for nine months as he sorted out his future. He was already 30 by the time he first fought on American soil and began gaining exposure.
And while the impressive knockout victories kept adding up, Golovkin's camp couldn't convince the biggest names in the middleweight division to step in the ring. He wowed fans and overwhelmed opponents, but greats are measured against greats, and Golovkin's record was largely built on lesser fighters.
Alvarez was supposed to change that. Even though negotiations dragged out — and Golovkin kept getting older — the Kazakh champion knew he needed Alvarez for validation. Talks between the camps began shortly after Alvarez's win over Miguel Cotto in November 2015 but had little momentum. Alvarez even abandoned his WBC title rather than race into the ring.
The two finally squared off Sept. 16, 2017. While many fight fans felt Golovkin won a close bout, the judges were split, thanks to the curious and controversial 118-110 scoring of one judge, Adalaide Byrd. The rematch was scheduled for the following May, but it was scrapped when Alvarez twice tested positive for a banned substance, clenbuterol, which resulted in a six-month suspension from the Nevada State Athletic Commission.
Typically mild-mannered and soft-spoken, Golovkin has made zero effort to hide his aggravation that Alvarez has been so difficult to get in the ring. He knows he has much at stake and the first bout didn't provide the statement victory he has long sought.
"He has had a chance to present a cogent argument that he's the greatest middleweight of all time," Lampley said, "that he's better than Stanley Ketchel, that he's better than Carlos Monzon, better than 'Marvelous' Marvin Hagler — he had a chance to present that argument, and that chance is rapidly slipping away now."
A win Saturday would offer confirmation that his name belongs in that conversation. Anything else, however, means that he twice had an opportunity to beat Alvarez, among the top pound-for-pound fighters of Golovkin's reign, and failed both times.
In that sense, Golovkin will step into the ring Saturday fighting for his legacy, for those lost early years of his career and for his precise placement in the sport's hallowed history books. Even if age has slowed Golovkin's footwork and slightly impacted his style, Lampley says, the fighter needs to show Alvarez and the fight world that he still has the power and speed that made his younger self one of the most feared fighters that division has seen.
"He's got to go back in and portray the role of Triple G," Lampley said, "and if he can win the fight that way, whether by knockout or by decision, he puts his reputation back in order, and he accomplishes what he's been trying to accomplish all these years."
Source: Rick Maese
www.sports24ghana.com