David Haye's career as a two-weight world champion may have ended on Saturday night.
In the feverish atmosphere of the O2 Arena, a shorter, even more dramatic fight than his first meeting with Tony Bellew ended with the Londoner stopped in the fifth round after being knocked down for the third time.
It had been billed as repeat or revenge. For Haye, it was about the latter, a fight from which he had to emerge triumphant. For Bellew, it was about proving the previous win was no fluke.
And 2 minutes 14 seconds into the fifth, Bellew ended Haye's 16-year career, a decorated one as a former world cruiserweight and heavyweight champion. Haye's timing has gone, even though he still has desire, but retirement must on the cards. "Doubt me now," said Bellew.
Referee Howard Foster made the right call with a merciful stoppage in that dramatic round, with Haye having been felled on his face, his neck and head torqued by a left hook. He had also been dropped twice in the third.
An emotional Bellew, 35, said: "I just want to say I lost my brother-in-law in August and I swear to God he was watching me and he was there with me tonight for every punch. Ashley, that was for you. I miss him so much. I'm broke.
"All week I've been on my own in the hotel and each night I've cried, I'm a bit emotional, all I can think about is him," he added tearfully.
"David Haye is an amazing fighter, he just got caught in a slugfest. He's a great fighter, he has got crazy power but speed and power always decreases. He is a legend, a credit to the sport and I'm just happy I've got the win against the odds."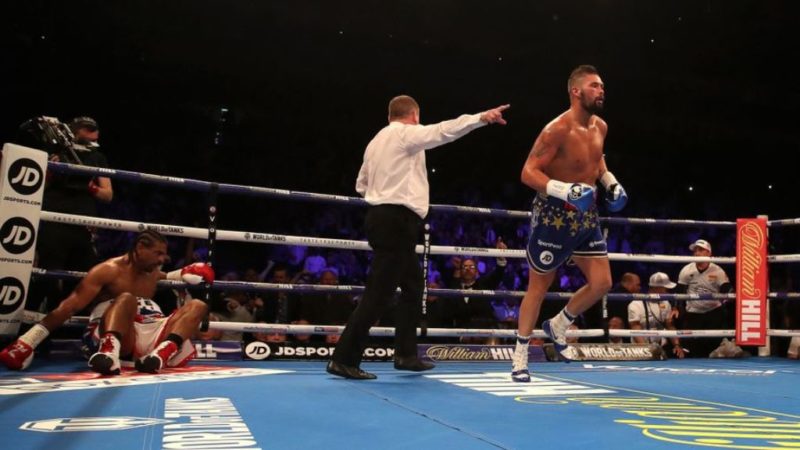 "It's been a great journey. Who's next? I don't know. I am a walking Super Series. Every fight I'm in is a Super Series."
Haye said: "Tony boxed a great fight. He did some really clever stuff. He boxed really good. I didn't, plain and simple. He had a great game plan and I had no answer.
"I enjoyed the battle as tough as it was. We were going for the knockout and we gave you fireworks and I'm glad we gave everyone a good fight and a good night but the better man won on the night, Tony Bellew, so congratulations to him."
Haye really does look a faded fighter, and his tenacious nemesis Bellew exploited his inactivity: four fights in six years was nowhere near enough.
First time around, with Haye rupturing an Achilles tendon in round six, the fight left more questions than answers. This time, Bellew did exactly what he needed to do, with an inspired performance.
But one thing is for sure: now that Haye has lost for a second time, this really is the last hurrah for the destructive puncher from Bermondsey who strutted his way to being unified world cruiserweight champion and then World Boxing Association world heavyweight champion. They were great days but, in reality, long ago.
The talk of the town with Haye was that with four fights in six years, and a catalogue of injuries, this would be a fight too far. And it was. Haye's body is finally showing all the signs of age in his 38th year.
The plan this time around was for Haye to do his "talking in the ring", having been far too verbose in the first encounter.
But it was not to be on Saturday night, as Bellew's sharpness and timing told in the exchanges from his activity as a fighter. It was Haye's last ring walk.
Or it should be. The truth is we now know what he has left.
Source: Gareth A. Davies|| The Telegraph
www.sports24ghana.com