International Paralympic Committee [IPC] President – Andrew Parsons has eulogized the government of Ghana through the leadership of the National Paralympic Committee [NPC-Ghana], for their professional conduct at the ongoing Tokyo 2020 Paralympic Games in Japan.
At a meeting with the Deputy Minister for Youth and Sports, Hon. Evans Opoku Bobie, together with the President of the National Paralympic Committee of Ghana [Samson Deen], and the Chef de Mission of the Ghana's Tokyo Paralympic Games delegation Mr. Peter Adjei, the IPC President called for a more inclusive society outside the Paralympic Games.
He encouraged Ghana to take more action to create a world "free from discrimination or barriers of any kind," even after the Paralympic Games.
"The Paralympic Games are for sure a platform for change," Parsons said.
"But only every four years is not enough. It is up to each and every one of us to play our part every day, to make for a more inclusive society in our countries, in our cities and in our communities."
The meeting held at the Grand Nikko Hotel Daiba was also witnessed by Miss Sheila Cleo Mogalo, a Consultant for the IPC handling the Para Sport Against Stigma project in Ghana and Nana Nobeng Amoo-Gottfried, the Para Powerlifting Management Committee Chairman. Mr. Parsons thanked the government of Ghana and the NPC-Ghana leadership for supporting the athletes through the pandemic, with the President calling it "the strength of the Paralympic Movement".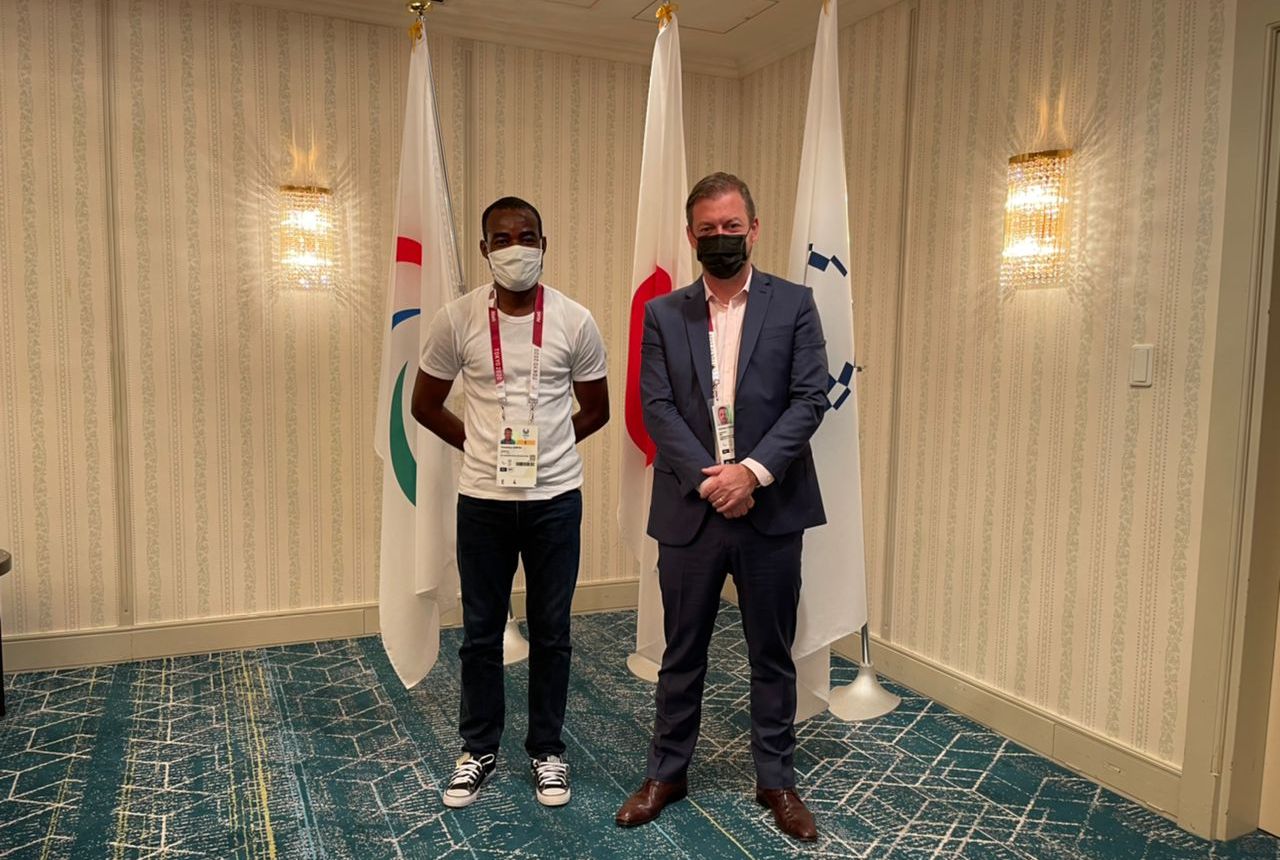 The IPC President also promised to visit Ghana before the year ends to champion the recently-launched "WeThe15" campaign, an awareness programme mobilised by the IPC and the International Disability Alliance to challenge how disabled people are perceived and treated globally across all areas of life.
The 10-year initiative seeks to represent the 15% of the world's population who have a disability, and is supported by twenty [20] international organisations, including Special Olympics, the United Nations Human Rights Office of the High Commissioner, the European Commission and Global Citizen. Also present at the meeting were some officials from NPC-Ghana.
Approximately 1.2 billion people around the world have a disability. Tokyo is the first city to host two Paralympic Games, having held the second edition in 1964, following the inaugural Games in Rome, 1960. The Tokyo 2020 Paralympic Games is scheduled to close on September 5. A total of 4,403 athletes from 162 teams are competing in 22 sports over the next 12 days.
Credit: Theo Sampah
www.sports24ghana.com