Manny Pacquiao needed to look great again in order to remain relevant in a boxing world that appeared to have moved on from the legendary eight-division world champion.
At the age of 39 and in the twilight of his career, Pacquiao had been more of an attraction than a competitor over the past couple of years. His controversial loss to Jeff Horn may have been a sign that it was time for the Senator of the Philippines to pack it in. However, the former pound for pound king of boxing decided to give it another go against the hard-hitting Matthysse.
And Pacquiao couldn't have picked a better opponent.
Over the course of seven rounds, Pacquiao resembled the Pacquiao of old as he overwhelmed and utterly dominated the Argentinean en route to a seventh-round TKO stoppage, his first finish in nine years.
You hear terms like "vintage" thrown around by writers and commentators after a performance like this. But it's only half true. Sure, Pacquiao was a dominant force that pummeled Matthysse into submission with a mixture of speed, power and odd angles. However, it's easy to look like the Pacquiao of old when the opponent does little to nothing to stop him from doing whatever he wanted.
Matthysse — who hasn't fought a quality opponent since his knockout loss to Viktor Postol in 2015 — was tailor made for Pacquiao. Although he's known for his heavy hands, Matthysse has never been much of a boxer. He's relatively slow, not much of a counterpuncher, lacks good defensive footwork and doesn't move his head. It was a recipe for disaster as long as Pacquiao was motivated enough to step on the gas.
And he did.
The good news is that Pacquiao lives to fight another day. He proved that he's still got it. Although we're not entirely sure how much of it he still has, what he showcased on Saturday night is more than a lot of fighters.
The bad news is that there might be a false sense of security for Team Pacquiao coming off of such a dominant performance. Without Freddie Roach in his corner, Pacquiao might believe that he's just fine without his hall of fame trainer. He also might believe that he can still compete with the elite welterweights. That's a bad idea.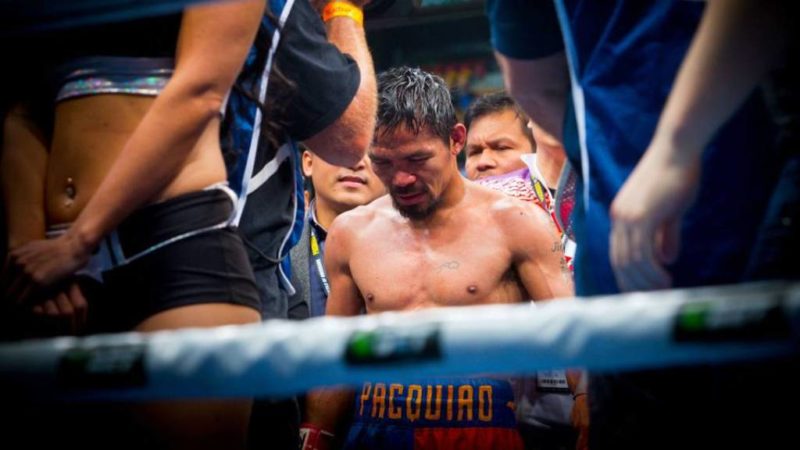 As great as Pacquiao looked, the victory must be put into context. Matthysse is far removed from the dangerous fighter that he once was. He posed little threat and was simply there to accentuate Pacquiao's ability.
There will be those who believe Pacquiao should fight Terence Crawford next. And that's fine, if you're looking for a quality name with mainstream recognition that will help bolster Crawford's marketability. But at this stage in Pacquiao's career — where being a public servant supersedes being a pugilist — a fight with arguably the No. 1 pound for pound fighter in the world will be bad for Pacquiao's health.
The same can be said for a fight with Vasily Lomachenko, although Pacquiao will actually be the bigger man. Lomachenko and Pacquiao would be a more interesting fight but it's hard to believe that Pacquiao still possesses the physical attributes to hang with Lomachenko for 12 rounds. A loss to either fighter will end the gravy train that Pacquiao reportedly needs stabilize his financial situation.
Who should Manny Pacquiao fight next? Well, that's easy: Adrien Broner.
If Pacquiao needs an opponent that has name recognition but isn't all that dangerous, the perfect opponent is Broner. More importantly, Broner presents a character that would certainly get fans interested.
If Broner can do nothing else, he can sell a fight. Between his controversial personality and his inability to stay out of trouble, Broner would represent the perfect foil for the all-around good guy that Pacquiao has been. The 28-year-old Broner is not ashamed to be the bad guy in any promotion and could absolutely sell the fight, with or without Pacquiao.
And at this juncture of his career, Pacquiao needs an opponent that can get fans excited while he spends his time being a politician.
Obviously, it would take some magic between Top Rank's Bob Arum and Premiere Boxing Champions' Al Haymon to bring this fight together. The two promoters haven't played nice in the past, but they have set their egos aside to get fights done.
Manny Pacquiao's 2015 megafight with Floyd Mayweather was an instance that the two camps were able to bury the hatchet for the greater good of boxing. Granted, there was far too much money on the table for the two promoters to pass up. This would be different, but it would still be one of the bigger fights that can be made in boxing.
Ultimately, Pacquiao put himself into a good spot with the knockout of Matthysse. His detractors who want him to retire will be momentarily silenced while his supporters will be happy to see Pacquiao in the ring again. Those in the middle will hear about Pacquiao being back on the radar.
Whether or not he's still among the elite doesn't matter because the Pacquiao name still carries a little weight. He's not what he once was, but it is clear that he's going to milk his boxing career for every last drop.
Source: SN
www.sports24ghana.com