Floyd Mayweather partially upended the boxing world on Saturday, declaring in an Instagram post that he was going to unretire and face Manny Pacquiao in a rematch from their 2015 fight.
Perhaps you sloughed it off as typical Mayweather bluster and thought he was trying to take attention from the Canelo Alvarez-Gennady Golvokin rematch, but Ring magazine later reported the negotiations were in the advanced stage and that the fight could occur in early December.
Bovada released its opening line on the potential second Mayweather-Pacquiao fight, and unsurprisingly, Mayweather—who won a fairly wide unanimous decision in their first meeting—is the betting favorite. And yes, you should bet on him.
Mayweather opened at -230 (10/23), meaning you'd have to bet $230 to win $100, while Pacquiao is a +180 underdog (you'd win $180 for betting $100) for a fight that must occur in 2018 or 2019. That's not a great price for a gambler to bet on Mayweather—I would have preferred anything -200 or under—but it's certainly good enough.
Since the two met in 2015, Mayweather (50-0, 27 KOs) has fought just twice, decisioning an overmatched Andre Berto and knocking out UFC star Conor McGregor in 2017 in what was a glorified sparring session for Mayweather—it also happened to be a sparring session that earned the second-most PPV buys ever (4.3 million) and the second-highest gate ever ($55.4 million), both of which trailed Mayweather-Pacquiao in both categories (4.6 million and $72.2 million, respectively).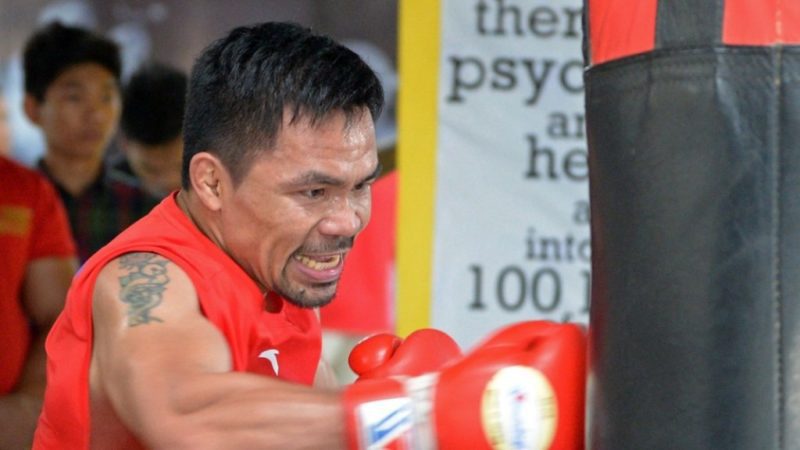 Pacquiao (60-7, 39 KOs) has been a little busier, beating Timothy Bradley in their third fight and then Jessie Vargas, losing a controversial decision to Jeff Horn, and returning in July to knock out and retire Lucas Matthysse.
But to make this initial line for the rematch, the Bovada oddsmakers checked the closing line of the first fight. Mayweather was a -200 favorite, and he cruised to an easy decision. The second fight's line, then, was a no-brainer for Bovada sportsbook manager Kevin Bradley.
"We had discussed making him a bigger favorite, but Pacquiao has a significant bettor following and other players would not bet on Mayweather because they just do not like him," Bradley told Forbes. "So far the odds seem to be spot on, as we are taking balanced action on both fighters."
No matter how you feel about Mayweather, though, it makes sense to bet on him. He's the best fighter of his generation, and even at 41 years old, he could outbox most fighters he'd face today. He's certainly slowed down a little and he probably doesn't have the power to give Pacquiao trouble, but his defensive skills are still unrivaled.
Whatever ring rust he might have accumulated likely would be offset by Pacquiao's diminished skillset. Sure, Pacquiao is still a top-10 welterweight, but if Pacquiao ever had a real chance to beat Mayweather, that would have had to happen five years before their first fight occurred in 2015. Not three years later.
Source: Josh Katzowitz
www.sports24ghana.com