This summer's World Cup promises a festival of football as the world's greatest players descend on Russia for the world's most famous tournament but, as you will see below, it isn't always exactly a beautiful game.
2008 – ZINEDINE ZIDANE SENT OFF IN HIS FINAL GAME
The script was supposed to have been already written. Zinedine Zidane, the greatest midfielder of his generation, had ended his international exile and dragged the French team for whom he wore the captain's armband to the World Cup Final in Germany.
Having given his side a seventh minute lead against Italy from the penalty spot, the teams were tied in extra time. The stage was impeccably set for Zidane to win his second World Cup in his international swansong, but instead of the fairytale ending most expected, it soon resembled a tragedy of Shakespearean proportions.
At first it was unclear what happened. As play was developing at another part of the pitch, the television director switched the focus to Italian defender Marco Materazzi lying prone on the Olympiastadion turf. Italian goalkeeper Gianluigi Buffon, remonstrating wildly as Zidane walked away, clearly indicating something had happened – but what was replayed on the screen shocked even the most hardened of football viewers.
Zidane, in reaction to continued verbal antagonization from Materazzi, plunged his skull directly into the Italian defender's chest, sending him sprawling to the grass. The act, so blunt and bludgeoning, was in direct contrast to the delicate subtlety which had defined the Frenchman's career to this point.
Perhaps the single most iconic image of the tournament isn't the one of Zidane standing over Materazzi, but that of him walking towards the dressing room past the trophy fate was supposed to have decreed he was to win in his final game.
Italy won the match, and the World Cup, on penalty kicks 15 minutes later.
2002 – IRISH CAPTAIN ROY KEANE SENT HOME AFTER ROW WITH COACH
Prior to the 2002 World Cup in Japan & South Korea, many Irish football fans would have been forgiven for failing to pick out Saipan, a small island in the western Pacific Ocean, on a map. That was soon to change.
Saipan, the area designated as Ireland's World Cup training base prior to the tournament was the scene of what would become known to many as Irish sport's very own civil war, centered around a bust-up between Mick McCarthy, the team's coach, and its star player and captain Roy Keane.
Keane, who was the leader of Sir Alex Ferguson's all-conquering Manchester United side, had been critical of Ireland's preparation ahead of the tournament. The training ground was insufficient, he said. The arrival of training gear (and even footballs) was delayed. This was not how things were done in Manchester.
Keane, who was never one to shy away from controversy, gave an interview to an Irish newspaper in which he was critical of the preparation and, perhaps more crucially, was damning in his critique of McCarthy's training methods, leading to the most caustic tirade in the history of Irish sport.
"Mick, you're a liar," Keane was subsequently quoted as saying to McCarthy in a team meeting. "You're a f***ing w***er. I didn't rate you as a player, I don't rate you as a manager, I don't rate you as a person. You're a f***ing w***er and you can stick your World Cup up your a**. The only reason I have any dealing with you is that somehow you are the manager of my country."
Keane, the captain of Ireland and Manchester United, was sent home from the tournament before a ball had been kicked. The Irish prime minister even offered to mediate between the two parties in an attempt to facilitate a truce, but stubbornness won out and Ireland (and the tournament itself) was denied of one of the world's greatest players.
1986 & 1994 – DIEGO MARADONA'S 'HAND OF GOD' AND DRUGS BAN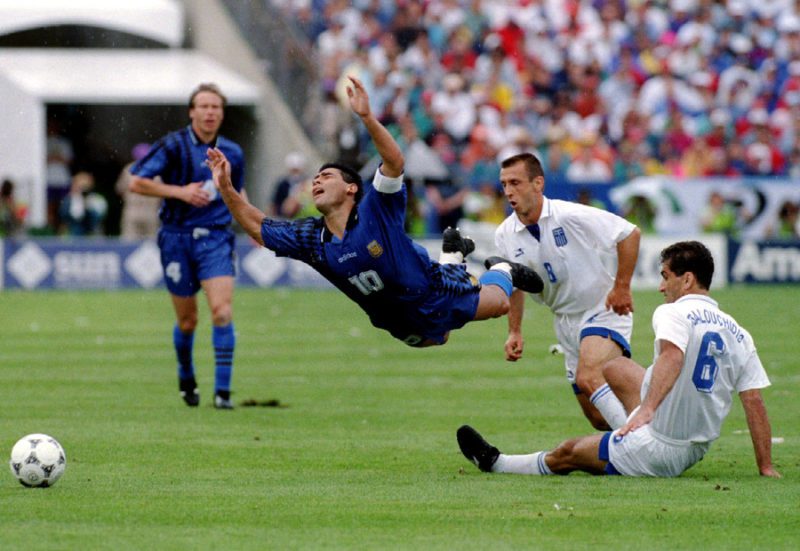 Long before the likes of Luis Suarez or Zlatan Ibrahimovic in the modern game, Argentinian magician Diego Maradona was the sport's chief instigator of controversy in the world of football.
Maradona's undeniable skill came hand-in-hand with – and was sometimes overshadowed by – his antics both off and on the pitch, which cast a shadow over an otherwise legendary career.
At the 1986 World Cup in Mexico, Maradona's Argentina side were drawn against England in the quarter finals. It was a game which took place when tensions were still heightened by the Falklands War just four years prior and, somewhat fittingly, it was defined by an act of unpunished opportunism on behalf of the Argentinian maestro.
With 51 minutes gone, Maradona capitalized on a misguided back pass to England goalkeeper Peter Shilton, somehow beating the 6ft 1in keeper to the ball and deflecting the ball into the net – to immediate protests from the English players. Nonetheless, Maradona wheeled away in celebration despite, as replays showed, clearly using his hand to make the crucial touch on the ball to guide it past Shilton in an incident which became known as 'The Hand of God'.
As talented as he was, Maradona was never able to stay very far from controversy. Issues with drugs seemed to have blunted his once impeccable talents and at the 1994 World Cup in the United States, a tournament in which he promised to remind the world of his prodigious talent, he instead was booted out of the competition for failing a drug test for ephedrine, a substance banned by the sport's governing body.
Were the stimulants he used an attempt to push his aging body back to the heights he once took for granted, or was it just another example of the fatal flaws which defined his otherwise majestic career? It is one of football's more enduring questions.
1994 – THE MURDER OF ANDRES ESCOBAR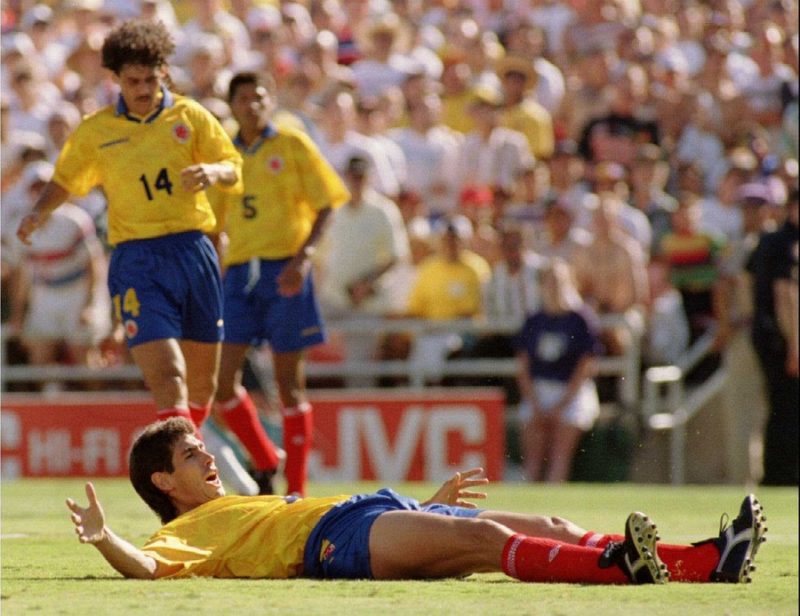 Football, it must be remembered, is just a sport, but every so often something which happens on the pitch can lead to tragic conclusions.
Colombia, who were in the midst of a golden generation, were many people's dark horses to win the 1994 World Cup in the United States. Pelé, football's great soothsayer, had tipped the South American side to "at least" make the semi-finals, but what started with optimism soon turned to disaster on the pitch.
And then came the six gunshots which rang out in a Medellín nightclub car park.
Andrés Escobar, the team's captain and leader of a defense which conceded just twice in qualification, was shot to death shortly after the tournament. His crime? Scoring an own goal in a defeat against the United States, the first such incident of his entire career.
Some say that the murder was connected to an organized crime gambling ring which lost large sums of money betting on Escobar's success at USA '94. Others suggest that he was shot after attempting to apologize to a gang of football fans. Whatever happened wasn't just a black mark on Colombian football, but on the sport as a whole, as marked by the 100,000 people who paid their respects as he lay in repose draped in the colors of his football team one final time.
1998 – DAVID BECKHAM SENT OFF FOR SIMEONE FOUL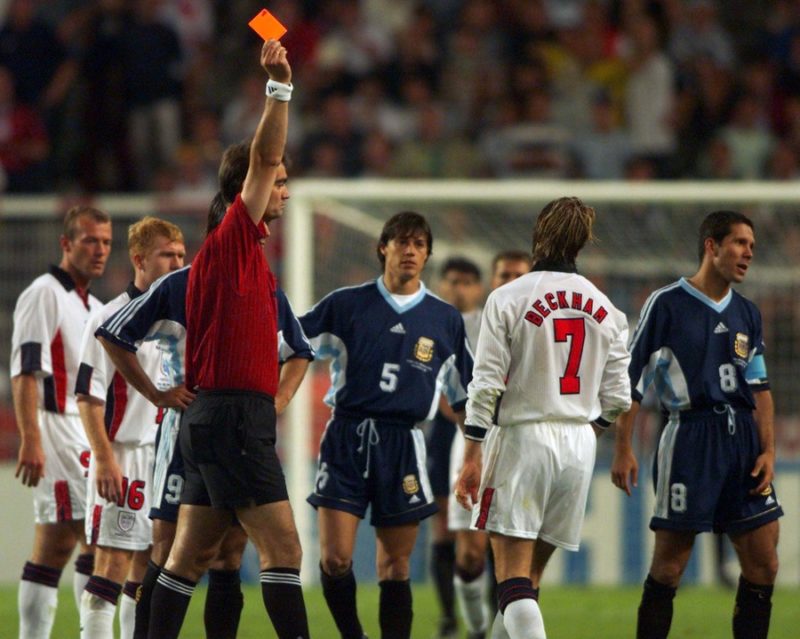 With one impetuous flick of his foot at a pivotal moment in the 1998 World Cup in France, David Beckham initiated a media firestorm in his native England. Beckham, anointed by the media before the tournament as player most central to English hopes of winning the trophy, was swiftly declared a villain after being sent off for retaliating to a foul by Argentine midfielder Diego Simeone.
While still lying prone on the ground after a particularly aggressive barge into his back, Beckham flicked out his right foot catching Simeone on the back of his knee sending him comically to the ground, remonstrating to the referee as he did so.
"I had tackled him, and we both fell to the ground," Simeone later said to the Observer. "As I was trying to stand up that was when he kicked me from behind. And I took advantage of that. And I think any person would have taken advantage of that in just the same way."
The English media didn't pull any punches upon the team's elimination from the tournament at the penalty shootout which followed. One newspaper printed a poster of Beckham's face to fit over a dartboard. Effigies of the then-Manchester United man were hung from buildings. Death threats were received. Opposition fans jeered him with a touch more abrasion than was normally reserved for rival players.
Much like 12 years prior when Diego Maradona ended England's World Cup hopes in Mexico with his 'Hand of God' goal, a new scapegoat had been found for English football's newest, freshest wound – and the English media appeared happy to continue to pour salt on it.
In the end, Beckham would go on to captain his country and proved crucial in the team's qualification for the 2002 tournament, at which point he was a media darling. But, as Beckham himself says, he wouldn't have become the player he was if it hadn't been for that little life lesson he had with Diego Simeone one summer's evening in St. Etienne.
Source: RT
www.sports24ghana.com