The biggest fight in boxing in 2018 could be unified heavyweight champion Anthony Joshua and WBC heavyweight champ Deontay Wilder.
Both undefeated fighters have big contests looming: Joshua faces WBO heavyweight titleholder Joseph Parker on March 31 while Wilder steps into the ring on Saturday night against the undefeated Luis Ortiz (28-0, 24 KOs, 2 no contests).
Joshua's promoter Eddie Hearn told ESPN he plans on bringing Joshua to the U.S. should he beat Parker; Joshua would then face Jarrell Miller in either August or September, should Miller look good against former Wilder foe Johann Duhaupas on April 28.
When the 32-year-old heard what Hearn has planned Joshua, he took it as Hearn not having faith in his fighter.
"The fans of boxing have got to get tired of the bulls.
"They got to stand up and let it be known. They got to say, 'Look we are tired of this,' especially the Brits, because Hearn has brainwashed them so much. I don't feel Eddie has any confidence in Anthony Joshua beating me.
"That's why he's trying to get these checks. That's why he's trying to get sign all of these other fighters and not me. They said I was the easy fight. He said that Joshua would beat me in three rounds. He even said that Joshua would stick his jab down my throat and he would hit me one time and I would go down."
Before Joshua fought Carlos Takam in October, Hearn said Wilder wouldn't fight British heavyweight Dillian Whyte. Hearn went on to say he refused a proposed Wilder offer of a 50-50 split because Joshua is the bigger draw.
Wilder (39-0, 38 KOs) doesn't deny he made the 50-50 proposal. He said he would fight Whyte under a certain condition and revealed another offer that hasn't been made public up until now.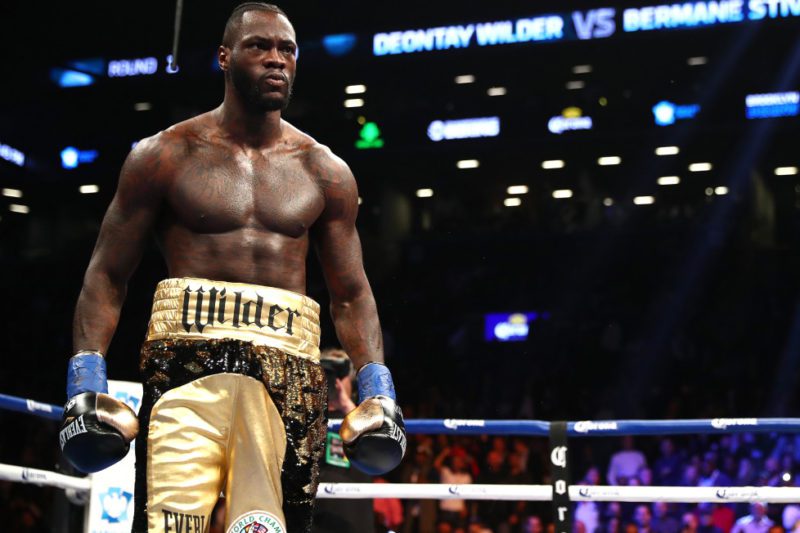 "I have made three offers,' Wilder said. "And the last offer I made, they don't think I'm serious about it. Why wouldn't I be? Fair and square sounds very good to me.
"… I offered them 50-50 first, then they talked about Dillian Whyte. I said, 'Of course. I would have no problem fighting Dillian Whyte and making that easy check as long as you have Joshua behind that.' They didn't want that. That was the second offer. They didn't want the 50-50 offer. I think that was the first offer. The third offer, I said, 'You know what, whatever you feel like I deserve, I'll take it as long as you take that same deal in the rematch.' Now that sounds pretty good to me.
"Only if a person is confident they are going to win. If they were confident they were going to beat me, they would accept that easily. I would give him that easily. But due to the fact they aren't confident that they are going to win, it's a problem. Deontay Wilder is a problem for anyone in the division."
Wilder feels Joshua does want to face him but reiterates Hearn is the main obstacle standing in the way of the fight happening.
"It's more Hearn than Joshua. We can all say Joshua is a fighter," Wilder said. "At the end of the day, when it all boils down to it, Joshua will get in the ring and fight. Eddie doesn't have to take a punch in his life. He don't have to train. He don't have put his body through so many obstacles and so many different challenges like Joshua does. He's eating the best part of the pie because he talks to promote and he's getting money. When you're getting money, easy money off of lower opposition, you can easily see what they are doing."
And to that end, Wilder feels Hearn is holding "AJ" back.
"I really feel he doesn't have any confidence in Joshua. They have said so many things to contradict themselves. To look at this, you can see it so clear especially after the interview that he just did to make an excuse to fight Miller. There are so many things. He's scared. He don't want this train, this gravy train to end. He's trying to collect as many checks as he can before it's too late.
"And when I fight Joshua, he will be on the edge of his seat, which he should be."
Source: Steven Muehlhausen|| SportingNews
www.sports24ghana.com