Sports fans had to wait five years to finally see the Floyd Mayweather-Manny Pacquiao fight, and when it was finally made in 2015, it set all the box office records but turned out to be a terrible fight past its expiration date.
The next must-see fight demanded by the public was a showdown between superstar Canelo Alvarez, who along with unified heavyweight titleholder Anthony Joshua, is the face of boxing in the post-MayPac era, and unified middleweight world champion/knockout machine Gennady Golovkin.
Yes, it took time for the sides to make a deal and, sure, many would have liked to have seen it about 18 months ago, but all things considered the wait was not that long, relatively speaking. Golovkin's side was always ready, willing and able to make the fight, but Alvarez promoter Oscar De La Hoya of Golden Boy Promotions wasn't ready to risk his cash cow before he felt he was ready and had grown into a true middleweight. But he kept his promise of a fall 2017 match, and here we are as they will throw down on Saturday (HBO PPV, 8 p.m. ET) at T-Mobile Arena.
Canelo-GGG is on, and fight fans could not be more pumped for the best pure fight in years. Most believe it will be nothing short of a classic battle reminiscent of such all-time great action fights as Marvelous Marvin Hagler-Thomas Hearns and Diego Corrales-Jose Luis Castillo I.
"There's going to be a lot of punishment on both sides," Alvarez said through a translator. "That's how I envision the fight and that's what we're prepared for."
"They're going to hit each other and give the fans the kind of fight they expect for their money," said Abel Sanchez, Golovkin's trainer.
Gennady Golovkin [37-0, 33 KOs] vs. Canelo Alvarez [49-1-1, 34 KOs]
What's at stake?
A lot. Middleweight supremacy. Possibly the No. 1 spot on the pound-for-pound list. And the hearts and minds of boxing fans as perhaps the face of the sport.
"They are two true world champions. The two best middleweights in the world. Two of the best pound-for-pound fighters in the world, and two of the most marketable fighters of the world," said Tom Loeffler, Golovkin's promoter.
Golovkin, 35, a native of Kazakhstan fighting out of Santa Monica, California, owns three of the four major middleweight title belts and is regarded by virtually all as the No. 1 fighter at 160 pounds. But Alvarez, 27, of Mexico, has a claim to the middleweight mantle as well. Some still consider him the lineal champion based on his victory in November 2015 against then-champion Miguel Cotto, though Alvarez vacated his sanctioning body belt, moved down in weight to win another junior middleweight title and then fought his May fight against Julio Cesar Chavez Jr. in the super middleweight division.
But this fight is at 160 pounds and the winner will be the true and legitimate middleweight champion.
And then there is the matter of pound-for-pound. Of course, it depends on how the fight goes, but some may elevate the winner to the top of the list, vaulting him ahead of unified light heavyweight titlist Andre Ward, whose past two fights resulted in victories against another pound-for-pound stalwart in Sergey Kovalev, but not without some controversy, be it scoring or low blows.
"I think the winner of this fight clearly establishes the best middleweight in the world as well as a strong argument for the best fighter in the sport," Sanchez said. "The winner will also be one of the most marketable fighters as well as the top of the pound-for-pound list, which doesn't always go hand in hand."
"It's biggest fight for boxing, two warriors, two big boxers," Golovkin said. "Canelo's style and my style very close and very similar, very interesting. I think this is biggest test for us. Who's stronger? Who is boxing's No. 1 pound-for-pound in the world. This is big level.
"Maybe last five years I destroy my opponents, and Canelo did the same. I do not know who is close with us in the middleweight division. I do not know who is No. 3, No. 4. I know this guy (Alvarez). He is a special guy. He is a superstar. He is national idol, a hero. This is my biggest fight. This fight is real because it is about winning a war. It is about boxing history. It is about being the champion of the world."
Familiar foes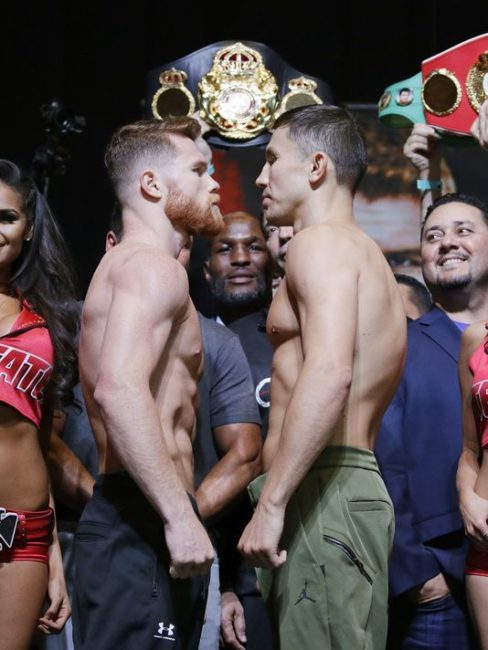 Several years ago, Alvarez and Golovkin first met at Sanchez's Big Bear Lake, California, Summit Gym. Sanchez is an old friend of Chepo Reynoso, Alvarez's manager, and brought Alvarez to the gym to spar. One of the fighters at the training camp was Golovkin.
Everyone involved said that the sparring sessions they had together have no bearing on the fight Saturday. They were years ago and much has changed for both fighters. Still, they did lay hands on each other for whatever it's worth.
"Sparring is sparring. Canelo was just a young boy of 19 or 20 years old when he and Gennady sparred," Sanchez said. "He's progressed immensely since then. My impression of Canelo after that sparring session was that he was fast and smart, had nice combinations and good movement, but he was only five years into his professional career at that time. I thought he could be a champion or a star someday."
Golovkin, finally getting the megafight he has wanted for so long, is utterly dismissive of their time in the ring together.
"Those sparring sessions mean nothing," he said. "We helped each other. Don't read anything into it."
Alvarez was not as dismissive.
"I was able to pick up some things, but you can't really compare a sparring session to a fight," he said. "There are some things that I was able to pick up. But we're different now. We're different fighters now, and you can't really base everything on what you learned in a sparring session. Yes, there are some things that I picked up, but obviously, I'm not basing everything on that."
Closing in on record
Bernard Hopkins is one of the all-time great middleweight champions. He is also a partner in Golden Boy Promotions and, therefore, has a vested interest in a Alvarez winning. But he also surely wants Alvarez to win to stop Golovkin from drawing closer to his middleweight record for 20 consecutive defenses.
Golovkin has 18 in a row. A win would bring him to 19. It's a record Golovkin doesn't talk about much, but he is well aware of it and has said he would like to break it.
"The story in the middleweight division, it's a long story. I remember a lot of great champions, like Carlos Monzon, Sugar Ray Leonard, Marvin Hagler, Bernard Hopkins. Right now I think new stories, new times for us," Golovkin said. "To be a champion is huge."
Said Sanchez, "I don't think he's ever really contemplated how he would feel if he broke Bernard's record. He respects Bernard a heck of a lot. Obviously, we've been in the business for a long time and we know that all these records were meant to be broken. It just seemed like Bernard's was unreachable.
"Gennady, on the pace that he's going, could end up with five, six more wins in the middleweight division. So it would be historical."
Styles make fights
The reason virtually everyone expects a classic battle is because of the oldest saying in boxing: Styles make fights. If ever two fighters had, on paper at least, styles that meshed absolutely perfectly it is Canelo and GGG.
"It's a pick 'em fight," De La Hoya said. "It's a 50-50 fight. I mean, look, these guys have been fighters all their lives, boxers all their lives, they know how to move in the ring, they know how to throw punches from different angles, they know how to bob and weave, they know how to get out of trouble when necessary, they know how to knock you out. These guys are real fighters, real boxers.
"And so the fact that you have the two top guys in the middleweight division fighting in the same ring, on the same night, this is one fight that you just don't want to miss. I'm telling you, it's going to be Hagler-Hearns all over again."
Said Sanchez: "I see both guys being aggressive, and I see Gennady being more physical. I see Gennady trying to dictate the pace. Canelo has proven that he's a warrior. We're looking for a tough fight. I think that both guys are going to hurt each other, and they may go down. But I think we will be treated to a throwback fight like in the mid-'80s when the four kings (Sugar Ray Leonard, Hagler, Hearns and Roberto Duran) were around."
Golovkin possesses excellent skills, but his inclination is to march forward, use his ramrod jab to take control and then unleash powerful right hands and damaging left hooks. He wants to brawl. He wants to take his opponent's head off. He is naturally heavy-handed, hence a streak of 23 consecutive knockouts, which ended in March when he eked out a decision against Daniel Jacobs, whom he did knock down.
Alvarez also likes a good brawl and has underrated boxing skills. He is also very heavy-handed. But while GGG likes to come straight ahead, Alvarez is often content to lay back and counter punch. Golovkin is expected to take the lead and Alvarez to counter off what Golovkin shows. When that happens in a fight, it often means excitement and action.
"His style is an aggressive style that comes to win, comes forward, comes to knock you out," Alvarez said. "I'm a counterpuncher that's going to be right there, counter him strong, so with those two styles, it has the making of a great fight."
Sky-high expectations
From the time the fight was just a dream for boxing fans all the way through fight week, one theme has been a constant. This is a real fight. This is a fight fans won't soon forget because it will?be exciting and action-packed. A big drama show, as Golovkin might say.
"This is another fight that will go down in history, and I'm very happy to be joined here by all my people (on Mexican Independence Day)," Alvarez said. "It's a fight that all the fans and all the media have been waiting for for years. I can assure you that I will do my part and I will do my best to give you all a beautiful fight. The most important thing for me is victory.
"I always prepare myself to give the best. I want this for my people, my team, for my country. And that's what I'm going to do this Saturday. I'm going to go in there and win the fight. I prepared myself for the knockout. Look, anything can happen in this fight. But that's what I've prepared for — to knock him out."
Many have compared the fight to great fights of the past because of the action likely to take and because of the historical implications. They are not lost on Golovkin.
"I want to win this fight because maybe for me this win will be like a history fight, like Leonard versus Hagler."
"The styles have the ingredients to make that kind of fight, that historic fight," said Alvarez, who has a rematch clause in the event he loses. "A fight that will go down in history for many years. We are in a different era and different times, but it can go down in history alongside with those fights like Hagler-Hearns. This is a true 50-50 fight. I'm risking it, but so is he."
It's about the fight
Unlike the Mayweather-Conor McGregor money-grab three weeks ago, Canelo-GGG is a real fight. Yes, both will earn eight figures, but it's been refreshing to go through a promotion where the focus is not on the money. The fighters have not spoken of that once, even though they know they will make bank. There has also not been any trash talk, no bad language and none of the routinely offensive talk that spewed from the mouths of Mayweather and McGregor.
This one is about the fight, the best fights in boxing in a long time.
"There are people that don't have food to eat on any given day or people who don't have shoes — in America. And you have these guys (Mayweather and McGregor) talking about how they're going to make all these millions in one night and it's a freaking farce," De La Hoya said. "It's refreshing that you have Canelo and Golovkin not even mention money, but they mention how brutal this fight is going to be. That's the beauty about this fight, that people know this is going to be a brutal fight."
Source: Dan Rafael| ESPN