The Social Security and National Insurance Trust [SSNIT] in collaboration with ETC Polska have presented boxing equipments worth thousands of dollars to the Ghana Boxing Authority [GBA] and the Ghana Amateur Boxing Federation at an impressive ceremony held at the Bukom Boxing Arena on Tuesday.
The items included; boxing rings, punching bags, speed balls, medicine balls, gloves, bandage scissors, boxing ring tools, original head gear, rope shackles, corner post protectors, mouth guard, hand wraps, abdominal guards etc.
Mr. Peter Zwennes [President of the Ghana Boxing Authority] who received the items on behalf of the association was aghast at the benevolence of the two entities.
"We are lost for words about the gesture, we made contact for help but I never anticipated this magnitude of donation," he said.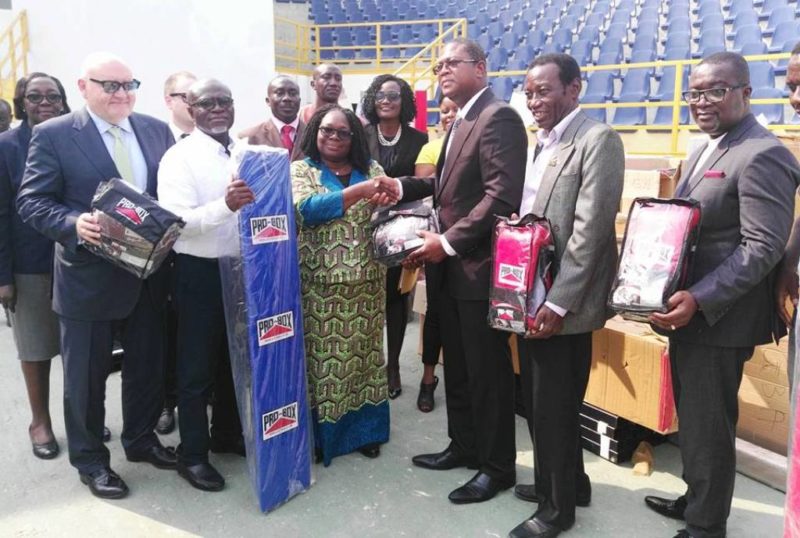 Board Chair of ETC Polska, Madam Joyce Owureku Ampem Opoku revealed that the brain behind the donation is to help develop boxing in Ghana and produce more future champions.
According to Jacek Slotala and Wikior Stauinski, their outfit [ETC Polska] came on board because they are aware of what boxing can do for Ghana that is why they have decided to support the sport on a long term basis.
Other bodies that benefited are, Catch Them Young [CTY] group, Ghana Boxing Federation and United Boxing Coaches Association of Ghana.
Source: Sammy Heywood Okine
Follow us on twitter @sports24gh|| Facebook – sports24gh|| Instagram – sports24gh
Email: sports24ghana@gmail.com|| info@sports24ghana.com
www.sports24ghana.com