Cindy Ofili's personality is perfectly suited to her job.
"I'm a pretty fast-paced person," she admits. It's the ideal attribute for a 100m hurdler to have but it comes in less handy when injury rears its ugly head and the brakes are firmly applied to a career that had been going places quickly.
Ofili, the younger sister of fellow sprint hurdler Tiffany Porter, revelled in her Rio breakthrough in 2016, coming agonisingly close to a medal but having to make do with fourth place in her first Olympic final.
Last year's IAAF World Championships in London were then supposed to be the next staging post for the 23-year-old, who was born in America but competes for Great Britain, to shine on the global stage.
Her Achilles tendon had other ideas, however, and the tear which Ofili suffered early in the summer meant surgery and a seat on the sidelines as the rest of Britain's finest got the chance to perform in front of the packed home audiences.
It was not the easiest time for Ofili to deal with but, typically for someone who has started up a YouTube channel devoted to self improvement as well as workout advice, she managed to find a positive angle from which to tackle her lowest ebb.
"It's frustrating, especially when you know you have the ability to be one of the best," she says of the injury. "It's one of those injuries that is mentally very trying. You really have to overcome what is like a mental block to get through it. I've grown through it and I've definitely improved so much in that regard. It's been hard but I've gotten to a place of contentment where I know I'm going to get back to my full strength eventually and, once I do come back, I'm going to be a new and improved athlete."
"It's been a struggle to do things at a slower pace than I'm used to because I'm a pretty fast-paced person"
She adds: "You have to be extremely persistent, just fighting for the little things, and I had to re-teach myself how do to a lot of things that had been so simple for me. It's been a struggle to do things at a slower pace than I'm used to because I'm a pretty fast-paced person.
"I've had to change my perspective on everything, and that's good, because I've realised there were a lot of little things that needed to be fixed within the way I lifted and the way I ran – you know, small things that could have played a part in why I got injured in the first place. So I think paying attention to detail and being very careful is something that I've learned from the whole process.
"It's grown me in a lot of ways that I didn't think it would – mentally and physically. As hard as it is, it's stressful and taxing on the brain, it's been an upward thing and not something that's going to hold me back."
Ofili was also taken a little by surprise at how much she enjoyed the rare opportunity to actually watch an entire athletics competition. She made sure to be a supportive presence in London for her British team-mates and her sister in particular.
"I thought it would be more difficult than it was," says Ofili, of looking on from the sidelines. "At first I thought I'd be 'I'm not going to be able to watch this, I'm going to be so sad but, to be honest, because I have a true love for the sport it was actually quite entertaining. I never get an opportunity to watch from the sidelines – I'm always competing in my own race – so it was nice for a change to be a team-mate and to be a supporter for my team-mates and for other people, including my sister.
"It was obviously hard – I absolutely wanted to be out there with them – but it was also fun to encourage others just to run fast and to do their stuff.
"I learned to appreciate other events, too. One thing I get caught up in is being so involved in the hurdles and the sprints – specific events that I'm around or that happen around my event. So it was nice to watch the pole vault, for example, and to also see things that you just don't normally see on the television.
"Being able to actually see what was going on with my other team-mates that I don't get to see very often was nice and allowed me to appreciate the sport more in an overall sense, to see all the hard work and dedication.
"It motivated me to get back out there eventually."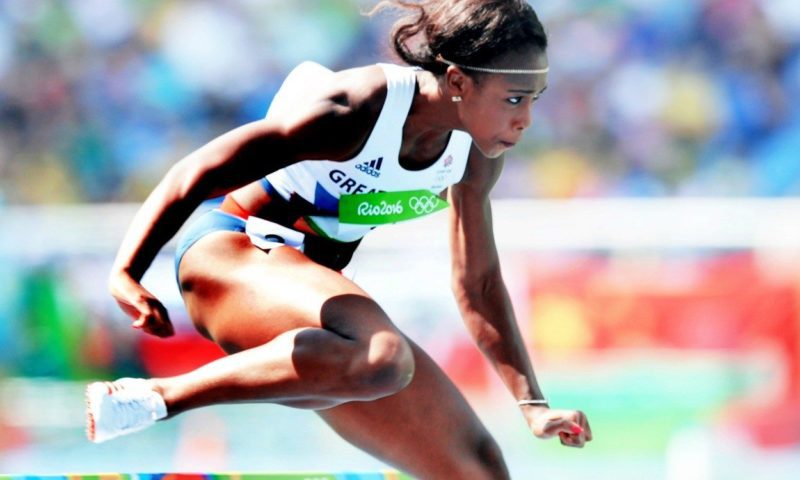 It's perhaps not surprising to hear that that return could come sooner rather than later. Ofili is reluctant to put a timescale on when she will be seen competing again but she is certainly ahead of the rehabilitation curve.
"I'm healing quite well," says Ofili, who graduated from the University of Michigan in 2016. "I'm able to do more now and things are progressing quite nicely. I'm happy to see progress every single day but I'm taking things slowly because I don't want to re-injure anything. I want to make sure I'm not pushing it too much but I'm definitely going in the right direction.
"Being able to do certain things again makes me extremely happy and I'm excited to get back to my full strength because now I feel like, when I return, I'm going to have more of a drive. I've just missed it for so long."
"I feel like, when I return, I'm going to have more of a drive. I've just missed it for so long"
As well as her rehab, Ofili has not had to do much searching for things to occupy her time.
"I started a YouTube channel, where I post videos of my recovery process, my motivation, speaking about fitness or health, so that's been a lot of fun," she adds.
"I've been spending a lot of time with family, too. Because I'm always travelling I don't get to see them and friends so much. I've been reading a lot more and just kind of bettering myself in a self development kind of way.
"It's different when you're not involved in the athletics world as much but it's nice in its own way as well."
It's hard to stay too detached when your sister is a world championships medallist at your event, but Porter has been a great support to her stricken sibling.
"Yes, she's been extremely helpful," says Ofili. "She's been one of my supporters through it all and it's just nice to have a sister who understands what I'm feeling.
"A lot of people who don't run or participate in athletics won't truly understand what it feels like to have an injury but my sister has had one and she knows exactly how it is when you're a competitive person.
"It's very, very helpful to have someone who can relate to you in that way."
For now, Ofili will focus on trying to rejoin her sister back in the heat of competition. Berlin – and the European Championships – are a clear focus but British fans may well see her in action before the summer arrives.
"I can't wait to get back on the track, especially hurdling," she says.
"I think I'm on a fast track to get back racing but I'm just not sure when. The goal will obviously be the European Championships but I don't want to put a time line on it because I'm just not sure how my body is going to react.
"The goal is definitely to be at the champs, though, for sure."
Are the World Indoor Championships, taking place in Birmingham in March, a realistic target?
"I would love to," she adds. "I think I'm going to be able to run at that point but it's whether or not I'm going to be fit enough. I'm just going to have to see where my training leads me."
Source: Euan Crumley|| AW
www.sports24ghana.com