Like other goddesses — Athena, Artemis, Oprah — Serena only needs one name. She opens her home, and her heart, to writer Ashley C. Ford, as they talk success, self-love, and the beauty teachings she'll pass on to Olympia.
When I take off my shoes in Serena Williams's entryway, I say a silent prayer: God, please don't let her notice I'm wearing Pac-Man socks. In addition to being the world's greatest athlete (no argument), she's a known fashionista. Williams holds an astonishing 23 Grand Slam singles titles, a slew of doubles trophies, and four Olympic gold medals. In her spare time she had a baby, got married to Initialized Capital and Reddit cofounder Alexis Ohanian, and started a clothing company. And here I stand in her lovely Florida home wearing novelty Sega-inspired socks.
Luckily for me, Williams is also dressed casually. I recognize her sweats, the gray weekend lounge pair from her clothing line, Serena. More importantly, I see the bundle of unmitigated joy on her hip — her daughter, Alexis Olympia Ohanian Jr. Little girls who share a full name with their fathers are uncommon, but Williams isn't the kind of person to follow a norm just because it exists. They call the baby Olympia.
From the time I step into the house until we prepare to leave for a walk around the neighborhood, Williams never stops moving. For someone with a new baby, she has quite a bit of white furniture, and as she spins from room to room, I notice that every surface holds two or three toys.
Within minutes, she goes from offering me something to drink to changing a diaper to preparing for that walk (yes, anything to put my shoes back on), stopping to soothe and correct her daughter in French, and finally finding Olympia's wagon (made to look like a horse-drawn carriage) so she can be pulled along as we stroll. Williams moves her body confidently in every direction, gracefully, with little hesitation. She makes a decision, and she makes the necessary moves. It doesn't seem to matter whether she enjoys the task or not. She knows she can do it. She decides; she moves; she gets it done. She sets the example and the standard. Who else would she have to look to?
"Venus and I were not afraid to wear braids. We weren't afraid to be black in tennis. And that was different."
I ask Williams that question on our walk. "There weren't a lot of role models for me to look up to [in the sport] and say, 'Wow, I want to look like this!'… I kind of had to be that role and be that person," she says. When Serena and her sister Venus became two of the most recognizable figures in tennis, their parents encouraged them to love themselves, and the way they looked, even under the sometimes cruel scrutiny of the public eye. "Venus and I started out being successful, continued to be successful, and we were also unapologetically ourselves. We were not afraid to wear braids. We weren't afraid to be black in tennis. And that was different."
It would be easy to assume a confidence like Williams's is innate, but that would be a disservice to the influence of her parents, Richard Williams and Oracene Price. In the HBO docuseries Being Serena, she states over and over that family is the most important thing in her life. I ask how her family prepared her to love herself in a world that could be so hostile to young black girls. Especially the confident ones. She stops to turn and call for her Yorkshire terrier, Chip, who has come on the walk with us. When Williams turns back to me, she smiles and says, "I think my mom instilled in us to be confident women, to really believe in ourselves, be proud of our heritage, our hair, and our bodies. That was something that was really important for her to teach us," she continues. "I'm definitely teaching it to my daughter."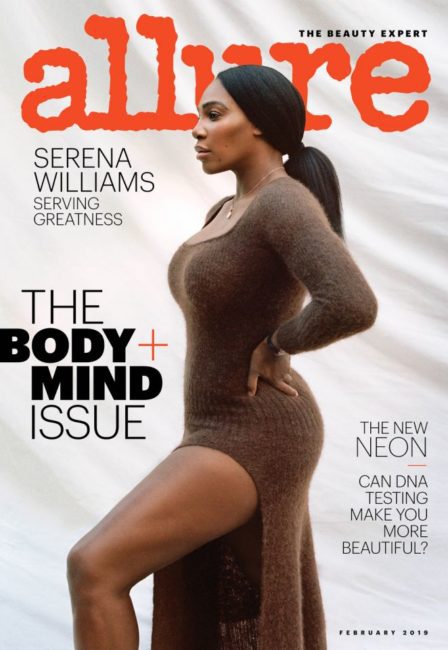 It's no wonder Williams would borrow the teachings of her mother in how she chooses to raise her own daughter. Every day, she sees the similarities between herself and Olympia. "I have a picture from when I was, like, two years old. My arms are ripped. If you look at my daughter, she has a very similar body type." They have the same eyes, nose, and lips. I would not be surprised if one day Serena's cheekbones spring to life on her daughter's face. It's not uncommon for mothers to hover over mobile babies who have no regard for their own safety, but between these two, it feels like more than a familiar instinct. They seem connected by a profound attachment. Williams demonstrates as much comfort and joy in the presence of her daughter as any parent could, and it's been that way from the beginning.
"I loved being pregnant," she says. She smiles at the memory. "I loved everything about it. I was one of those weird people that loved being pregnant. Those annoying people." Despite an easy pregnancy, Williams shone a spotlight on the mortality rate of black women during childbirth when she spoke openly about nearly dying after an emergency C-section and not having her concerns properly addressed by medical staff. In her docuseries, a sobbing Williams attempts to describe what it felt like not to be able to breathe, and it is hard to imagine going from being a world-class athlete to struggling for air. What isn't hard to imagine is that once she recovered enough to almost walk on her own, she insisted on carrying her daughter across the threshold into her family's forever-changed home.
Like most athletes, Williams has experienced her share of injuries during a lifelong physical career. Rebounding physically from a pregnancy was something she'd never had to do before, but she decided she would. And she did. Postpregnancy, she became a Wimbledon finalist. Again. She decides; she moves; she gets it done. Coming back must have felt amazing, I say, and she confirms: "I'm feeling pretty good about my body. I worked hard at it in the past eight months to get back from the baby. It hasn't been easy. I'm not 21 anymore. But I did it slow and steady." Slow and steady was the right track for her. And though this was new territory, she felt comfortable with the process: "After I came out [of the hospital], I had a stomach, but I thought, This is kind of cool. I have a stomach because the baby was there."
Walking and talking with her, I notice that Williams is both cognizant of and very good at ignoring people who stare. She waves when it feels appropriate and otherwise continues on her stroll. She doesn't mind the public and considers herself extremely fortunate to have people who care about and support her career. "I don't know why I've been so blessed, but I have been," she says, "and it's just been great." As we turn and head back to the house, Chip now riding in the carriage with Olympia, Williams stops in her tracks. "Look at this one!" She points to a bush on my side of the sidewalk. It is large, leafy, and dense, like nothing else I've seen in my limited time here in Palm Beach Gardens. She continues walking. "I love that bush. I pass it when I do my runs." It is a pretty interesting bush once you stop and look, but nothing about it would ever have caught my eye enough to do so. Why does she like that particular bush?
"It has a lot of privacy. I want that," she says. "It's also different and beautiful." She looks back at Olympia, who is busily gnawing on the soft red blocks of the necklace she brought in her carriage. "So many things are beautiful."
What would she tell Olympia about beauty?
"When I tell her she's beautiful, I want to teach her that she's beautiful from the inside," Williams says. "Giving is beauty. Being kind and humble is the ultimate beauty." And what does she want her daughter to know about being strong?
"Being strong is never easy. Not in this world we are living in."
"I want her to know that being strong is never easy. Not in this world we are living in…. Standing up for yourself is not going to be easy, but it's always eventually respected," Williams says. "Those are the people who've made a difference in this world, people that stand up for what's right. If you look at history, those are the people that you really remember. And at the time, oh, my God, it seemed impossible."
Focusing on the special relationship between mother and daughter (especially when the daughter adorably babbles in a mix of English, French, and Baby) is lovely, but when we return to the house, and I again shamefully remove my shoes, I ask about Olympia's dad, Alexis Ohanian, and the wonderful megamogul life he and Serena have built together. Over the past several years, from time to time, rumors had swirled about whom Williams might be dating, was definitely dating, or had recently broken up with. She'd always been more private than secretive about her romantic life, but to the media and masses her engagement to Ohanian still seemed to come out of left field. She hadn't seen him coming, either. She wasn't even looking.
"It just hadn't happened, and I really didn't think about it much," she says. "I was so committed to my job, and to being the best and working the hardest, and I think I still am. Not to knock anyone else I was with before, because they were all mostly amazing, but I know now I can be selfish, have a great career, and a great partner, someone that believes in me."
"Standing up for yourself is not going to be easy, but it's always eventually respected."
It was another legend who told Williams something that encouraged her to never settle for less than her personal best in matters of the heart: "Oprah said, 'Never let anyone dim your light.' That really stuck with me. Alexis doesn't dim my light. He doesn't try to dim my light. He puts me in the light, even if I don't want to be. He pushes me to further points I never thought about. It always was something that I could see in some relationships — my light would be dimmer. Now I feel like I can shine really bright and still do everything that I want to do."
And she's doing a lot. Even before the controversial umpire calls and her impassioned responses in the final match of the 2018 U.S. Open, Williams had decided to take the rest of the year off from tennis to focus on her new clothing line. "I invested in myself, then ran with it," she says. "If you believe in something but you're not willing to invest your own time or money, why would someone else want to invest in it?" So far, the offerings from her collection have been limited but well edited. More is coming. Especially for us bigger-bodied folks.
"They're not 'extended sizes,' because I feel like those sizes don't fit the same," says Williams, explaining that her next collection, Serena Great, will "have a whole new fit package. A whole different fit model that's strictly for the Great." She doesn't like the term "plus-size" and wants to emphasize that this new line isn't just about offering something to people who wanted to purchase the clothes she designed in a larger size; it is made specifically for them. "I was thinking, How do people describe me? They say I'm great. I don't look like everyone else. They still call me great. In fact, they call me the greatest. I thought, OK, that's it. That's the word. It's 'great.' "
We do call her great. She's an athlete we've watched push through and bounce back from every obstacle and challenge. (In the media storm after the U.S. Open, when many pointed to the sexist double standard of what defines justified anger, on court and off, she was generous: "Maybe it didn't work out for me, but it's going to work out for the next person," she said.) She's the acting CEO and founder of her company, and she is enrolled in business school. She's so kind that she complimented my socks. She's even a modern artist, her latest project being a circular steel structure covered in blue paint in her backyard. For now, she calls it Atom. Her successes are celebrated, her failures forgiven, and when we sit together in the backyard, her daughter stands on the other side of the patio door, both hands on the window, not calling or screaming for her mother, but calmly following her with her eyes. When I ask Williams what her greatest investment in herself is, she mentions Bible study, which has really helped her reflect and remain in a place of gratitude. Then she adds one more thing:
"Olympia."
Source: Ashley C. Ford
www.sports24ghana.com