Tennis star Serena Williams, who knows a thing or two about lavish nuptials herself, seemingly couldn't be more excited for her friend Meghan Markle's May 19 royal wedding. Join the club, Serena.
Williams opened up to Entertainment Tonight at the premiere of her new HBO documentary, Being Serena, and gave her best wishes to the soon-to-be royal bride. "I'm obviously super happy for her," she said.
"She's such a great girl and she is incredibly nice and I couldn't be happier for her."
The 36-year-old number one tennis player, who married Reddit cofounder Alexis Ohanion on November 19, also offered some sage dessert-related wedding advice that all brides should abide by.
"I just think it's so important to enjoy the moment," Williams told Robin Roberts on Good Morning America.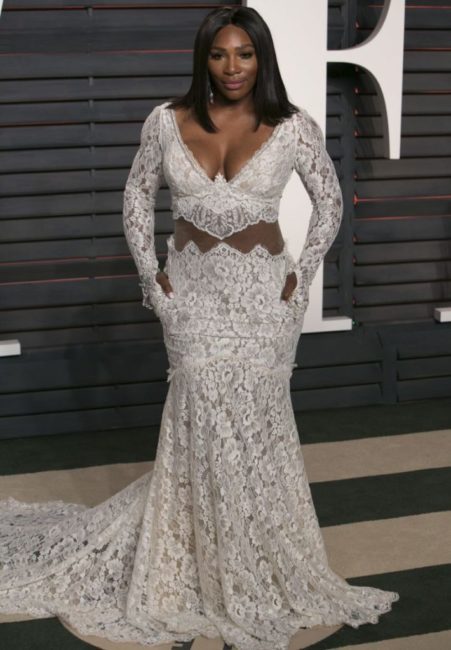 "And eat the cake—I didn't get to eat mine at the wedding. We were just having so much fun!"
While the athlete didn't specify whether she received an invite to the wedding, it definitely appears as though Williams is attending.
Although she was previously slated to play in the Italian Open in Rome, Page Six reports that she has since pulled out of the tournament, making her available to attend the royal wedding. Someone save her a seat at St. George's!
Williams originally crossed paths with Markle in February 2014 while participating in Directv's Celebrity Beach Bowl flag football game.
As two total #GirlBosses, it only seems natural that they would have instant chemistry. Markle even gushed about her fast friendship with Williams on her former lifestyle blog, the Tig.
"We hit it off immediately, taking pictures, laughing and chatting—not about tennis or acting, but about good old-fashioned girly stuff," Markle wrote, per ET. "So began our friendship. … She quickly became a confidante I would text when I was traveling, the friend I would rally around for her tennis matches, and the down-to-earth chick I was able to grab lunch with a couple of weeks ago in Toronto."
Source: Blair Donovan|| Brides
Follow us on twitter @sports24gh|| Facebook – sports24gh|| Instagram – sports24gh
Email: sports24ghana@gmail.com|| info@sports24ghana.com
www.sports24ghana.com