By El-Amisty Nobo| Follow Amisty on twitter @ElAmistyNobo
The Black Starlets came off their shelves to write a beautiful note in the opening day of the FIFA U-17 World Cup as Ghana beat Colombia 1-0 at the Jawaharlal Nehru Stadium in New Delhi, India on Friday, October 06.
Tipped as one of the title contenders of the tournament, the Black Starlets were in charge of the game in the first few minutes, but quickly had to switch their game plan into counter attacking football after realizing the danger in Leandro Campaz going forward.
The Black Starlets came close in the 13th minute when Rashid Alhassan found Sadiq Ibrahim, who curled the ball straight to the top angle of the first post, but goalkeeper Kevin Mier parried the ball over the bar for a corner kick.
Leandro Campaz nearly punished Ghana for not covering their back in the 14th minute as he picked a through ball from Gomez, danced his way through Gideon Mensah and Abdul Yusif only for goalkeeper Ibrahim Danlad to save the danger for the Black Starlets.
Ghana finally broke the deadlock in the 38th minute through Sadiq Ibrahim. Emmanuel Toku picked the ball in the defensive third, passed it down the left lane to his captain [Eric Ayiah], who sends an in-swinger to the second post for Ibrahim to plant the ball into the net.
Sadiq Ibrahim served Ayiah with a great cross into the eighteen yard box in the 44th minute but the captain of the Black Starlets did not get the angle well as he shot wide.
Colombia possessed the ball more in the second half, but it was Ghana that had the clearest of goal scoring opportunities.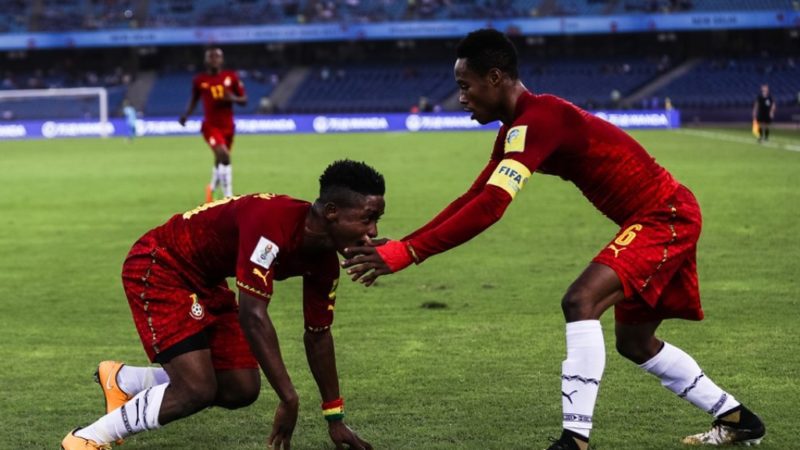 Sadiq Ibrahim connected Eric Ayiah again with a through ball in the 72nd minute, but the Ghana captain stumbled in the box allowing Kevin Mier to clear his lines.
Aminu Mohammed also came close in the 76th minute, having played a beautiful one-two with Emmanuel Toku but his final delivery at goal was dealt with by Kevin Mier.
Colombia came close to scoring in the 83rd minute but Caicedo's close range shot was too feeble to beat goalkeeper Ibrahim Danlad.
Squad sheets:
Colombia: Kevin Mier, Andres Cifuentes, Thomas Gutierrez, Andres Perea, Leandro Campaz, Brayan Gomez, Juan Penaloza, Robert Mejia, Yadir Meneses, Deyman Cortez, Etilso Martinez.
Ghana: Ibrahim Danlad, Najeeb Yakubu, Eric Ayiah, Kudus Mohammed, Emmanuel Toku, Abdul Yusif, Gideon Mensah, Aminu Mohammed, Rashid Alhassan, Mohammed Iddriss, Sadiq Ibrahim.
Follow us on twitter @sports24gh| Facebook – sports24gh
Email: sports24ghana@gmail.com| info@sports24ghana.com
www.sports24ghana.com