On a gray November day in Moscow, the World Cup countdown clock shows just over 200 days to go until the football showpiece kicks off in Russia next summer.
Muscovites scurry past, while visitors to the capital stop to take selfies, not lingering for too long in the face of the biting wind.
Nearby are the red walls of the Kremlin, behind which the 2018 World Cup draw will take place on Friday, December 1 – another step on the road to the main event in June.
The construction of gleaming new stadiums and infrastructure in the 11 host cities is largely on track, and Luzhniki Stadium – which will host the opening game on June 14 and final on July 15 – recently reopened after a $450 million renovation.
In total, Russia will spend around 678 billion rubles [US$11.5 billion] on making sure it is ready to welcome fans from around the world.
But what do Russians think of their role as World Cup hosts, given that many offer the refrain that theirs is a "nyefutbolnaya strana," a "non-footballing" country?
Few would argue that Russia is a footballing superpower.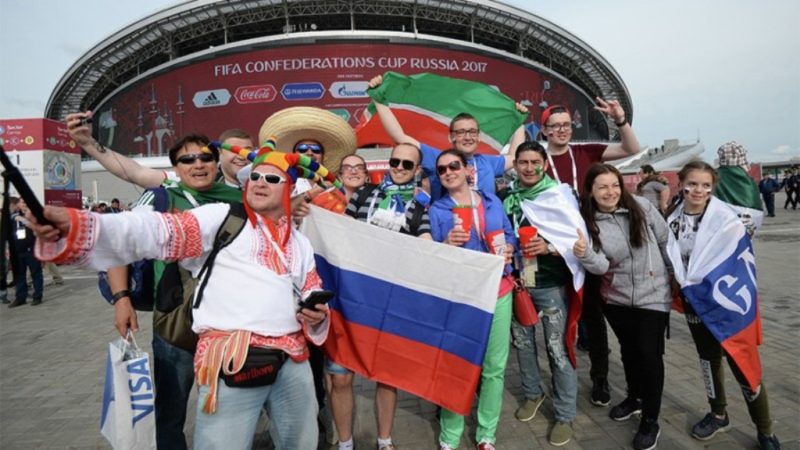 While the nation experienced success as part of the Soviet Union, notably winning the inaugural European Championship in 1960, since then Soviet and subsequently Russian teams have rarely challenged for major international honors.
Potential emergence as a serious force appeared fleetingly in 2008, when Russia excited many by sweeping into the European Championship semi-finals, beating the Dutch along the way before losing to eventual winners Spain.
However, any notion of a new dawn proved short-lived, and Russia has since failed to get out of the group stages at each of the last three major tournaments, including a humiliation at Euro 2016 when the team finished winless and bottom of its group.
The man in charge of that campaign, Leonid Slutsky, was the one who coined the "non-footballing" epithet to describe the country. On and off the pitch, Slutsky appears partly right, partly wrong.
Those who disagree with the former national team coach would point to the fact that football is acknowledged as the most popular sport in Russia.
There is also clearly a stronger association with the game than a number of past and future World Cup hosts. Russia 2018 will be the first time that the World Cup has been held in the eastern half of Europe, compared to 10 times in the western half of the continent. In that respect, it is long overdue to host the event.
But it also true that football is not nearly as deeply embedded in the Russian national psyche as it is in places such as South America or parts of Europe.
Beyond the hardcore support of club teams such as Spartak Moscow, their city rivals CSKA, or St. Petersburg's Zenit, football seems to attract little more than passing interest in most of the population.
What's more, little is expected from Stanislav Cherchesov's Russian team at next year's home tournament.
"I think Russia is a football country, we play football, it's developing here," says Sergey, an engineer from Kazan who is visiting the capital and is admiring the World Cup countdown clock near Red Square.
"I wouldn't say we play well, but the future's ahead, I hope for the best," he adds.
"Objectively, we have hope of making it out of the group [at the World Cup] at least."
Ekaterina, a vet from Sevastopol in Crimea who is visiting the capital with friends, buys into the "non-footballing country" moniker, but, as with many others, finds it hard to put her finger on why that's the case.
"It's difficult to say, honestly I don't know why. Maybe it's from the stereotypes we have that we aren't a footballing country and everyone supports that view, and so we don't believe it and the players themselves don't believe it, I don't know, we aren't the strongest footballing country."
Ekaterina adds, however, that many see it as a national duty to back the team.
"We're all patriots, so we'll have strong belief in our team, that the guys can give more than 100 percent, there's also a chance, the main thing is to believe and to try."
That patriotism will be a driving force at next year's event. Regardless of how well the Russian team does, many will see it as a matter of national pride to make the tournament a success.
"We definitely need to show the level of the country, we can allow ourselves to show that we have good stadiums," says Ekaterina when asked about the event and its estimated $11.5 billion cost.
"It's worth it, for the national team, for the club teams that will use these stadiums. If we have the opportunity to do it [host the Word Cup], to show and to prove we can do it, then why not?"
Events of the magnitude of the World Cup are rarely confined to the sporting spotlight, and inevitably provoke debate around the politics and social situation in the host nation.
Russians are well aware of this, and will be keen to show theirs is a strong, stable nation that continues to emerge from the chaos of the 1990s and post-Soviet fallout – something represented by President Vladimir Putin on the global political stage.
Given the current political backdrop, Russians also know that outside detractors will be keen to jump on the slightest mishap.
The nation faced a similar situation with the Sochi Winter Olympic Games in 2014, where Russia showcased stunning infrastructure and left a significant legacy for the region, yet still managed to be criticized for not having enough partitions in the toilets.
As with Sochi, there have been accusations of corruption involving the construction of World Cup venues, and the case of the recently-opened, but much-delayed St. Petersburg stadium is particularly concerning, with accusations more than 50 million rubles was embezzled by a local official during construction.
But outside of opposition political groups, most Russians appear willing to shrug off the price tag and allow others to pick apart the claims of corruption; instead, they will revel in putting on a party as the center of the footballing world for four weeks.
There is also confidence that the country will deliver, especially after a successful trial run with the 2017 Confederations Cup, which was widely praised by the fans from the eight nations in attendance.
The tournament gave the organizers a chance to test crucial infrastructure and facilities on a smaller scale, and while there will undoubtedly be issues to iron out, such as the balance between the right level of security and encroachment on the overall fan experience, FIFA chief Gianni Infantino hailed the event as "a great success" in organizational terms.
Attendances were also positive, including for games that didn't feature Russia, with the Portugal-New Zealand game in St. Petersburg drawing over 56,000 fans. That indicates a broader well of interest in games that bodes well for the World Cup.
Another thing Russia has in its favor is the nation's famed hospitality.
Successful World Cups are not just built on tangibles, and depend just as much on intangibles such as the generosity and spirit of the hosts.
Back at the World Cup countdown clock, Sergey says that is one area where Russia will excel when fans arrive next summer.
"Russians are hospitable people, welcoming people. We'll welcome everyone!" he says enthusiastically.
Still, Russia will have to contend with the images of the appalling violence between Russian and English hooligans at the European Championships in France in 2016, which remain fresh in many people's minds.
The threat of similar violence at Russia 2018 has been talked up in the foreign press, notably in the UK.
That has not gone unnoticed, and Moscow police official Andrey Zakharov has offered reassurances that his force would guarantee the safety and security of fans, regardless of how many flock to the capital to watch games.
"It doesn't really matter to us how many fans will come. As many as come, we are ready to ensure their security during the World Cup," Zakharov said back in October.
"It is definitely safe for British fans to come here… everything will be secure. There is nothing to be afraid of," he added.
The authorities know that it is in no one's interest to have images of the kind of clashes seen in France repeated in Russia, and have acted to draw up a blacklist of fans banned from games that already has almost 400 names on it.
At a more basic level, Russian supporters have also gone out of their way in recent months to welcome British fans visiting for European games.
Fans in the southern city of Rostov-on-Don, which will host games for the World Cup, issued visiting Manchester United fans with special blankets for their Europa League game in March, emblazoned with the "Gentlefan, Russian Warm Welcome" slogan.
That initiative was repeated when Manchester United and Liverpool fans visited Moscow for Champions League games in September.
While it may come across as a somewhat saccharine attempt at building bridges, it is a genuine one nonetheless, and presents how the vast majority of Russians will be approaching next year's tournament.
"Non-footballing" country or not, in the end it matters little. Russian fans of the game will relish the world's biggest fesitval of football coming to their country next summer, while others will simply take pride in hosting an event which will allow Russia to show both newfound confidence and age-old values.
Source: Liam Tyler ||RT