Ronny Rios might have been the first American fighter, and maybe the first American, to learn just how good Rey Vargas is and will be.
It is a discovery he could done without.
Rios became one of only eight fighters to take the undefeated Vargas the distance Saturday night, in their WBC super-bantamweight bout at StubHub Center.
He also had the Mexican champion in trouble twice, with big shots that he couldn't augment.
But Vargas' overall speed and skill got him an early lead and he took it home to a lopsided unanimous decision.
Vargas won, 118-110, on two judges' cards, 115-113 on the third. The latter count was probably closer to the truth.
Rios, now 28-2, nailed Vargas aside the face with a tough left hand after landing a hard body shot with the same hand. Vargas had to drape himself over Rios to avoid going down, but he managed to avoid Rios' firepower for the rest of that seventh round.
"He got me with some head shots," Vargas said. "That threw me off. He was on an elite level when it came to his boxing.'
In the 12th round, Rios clouted Vargas again with a right hand that appeared to stun him for a moment. He kept pursuing Vargas but couldn't get there, and the decision came as no surprise.
Hector Lopez, Rios' trainer from the time Ronny walked into Santa Ana's TKO Boxing Club as a teenager, kept yelling, 'Get inside! Get to the body!" Good idea, but Vargas looked to have an obvious reach advantage, despite the BoxRec.com statistics that show Rios' reach was a half-inch longer, and extracted a price from Rios with every advance.
Rios' grim pursuit of Vargas caused the champ some problems, especially when Rios found the midsection. Vargas seemed tired at the end. Still, it would have hard to maintain his early pace, and sometimes you can bank enough early rounds to get you by.
No one, Rios included, could have anticipated how sharp Vargas looked in the first two rounds. He came out with an ebullient jab that he often threw twice, in blurry succession, and his right hand was harsh and accurate. It took until the third round until Rios adjusted to what he was facing.
"I wasn't expecting him to move so much," Rios said. "He was running more than I expected him to. We put up a good fight, and my team and I will have to go back to the drawing board."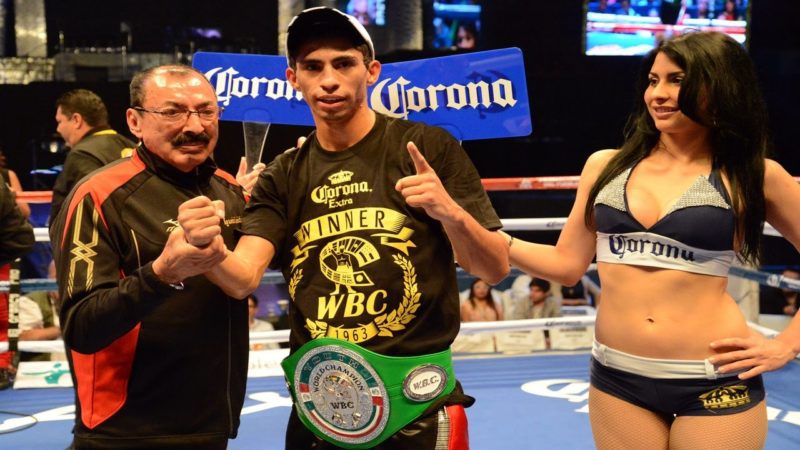 Although Vargas seemed bothered by a couple of borderline shots by Rios, he didn't withhold credit.
"He is an intelligent and skillful fighter," he said. "We have to go back now and refine our style. We came here to keep the title, not just to get a knockout."
Vargas came into the fight as a secret to most fight fans, but two things merited attention. He was 29-0 with 22 knockouts, and his trainer was Nacho Beristain, who is most famous in the U.S. for coaching Juan Manuel Marquez in his four matches with Manny Pacquiao.
But Beristain is one of the great trainers in boxing history. His first champion was Daniel Zaragoza, and Vargas became his 27th when he outpointed Gavin McDonnell in England earlier this year.
"From the moment I saw Vargas I thought he would be a star," Beristain said. "He's not a big, big puncher like some of the other champions I've had. But "his other abilities make him different. He's fast, has good leg movement. Against McDonnell, he did a really good job boxing, kept the guy away from him."
As Vargas said, "Boxing for me is not an accident." His dad Carlos fought briefly as a professional and knew Beristain.
Carlos trained his son until the age of 15. Then he told him, "When you turn pro, you need to be with Nacho."
"But my dad was the one who taught me fundamentals," Vargas said. "He told me to explode the boxing profession."
Vargas' fight with Rios was only his fourth outside Mexico.
This was Rios' first appearance at StubHub Center since 2013, when it was known as Home Depot Center. By any other name it has become the prime showcase for violent fights. Rios beat Leonilo Miranda in five rounds that night.
He has also appeared at Mandalay Bay, The Forum and T-Mobile Center, but this was Rios' initial try at a championship, in his 30th appearance.
There will be more chances for Rios. Title fights? Hard to say, but one suspects that as Vargas' star keeps rising, Rios will benefit from the reflection.
Source: Mark Whicker| The San Gabriel Valley Tribune