Rafael Nadal beat Nick Kyrgios of Australia 6-2, 6-1 Sunday in the China Open final to win his sixth ATP title of the year, and Caroline Garcia defeated soon-to-be-No. 1 Simona Halep 6-4, 7-6 (3) in the women's event.
Top-ranked Nadal, who was tied with Roger Federer and Alexander Zverev at five titles this season, picked up his 75th career singles trophy with the win in Beijing.
The 15th-ranked Garcia, who lost to Halep the two previous times they played, won her second consecutive WTA title. The Frenchwoman will make her top-10 debut when the new rankings come out on Monday.
The 31-year-old Nadal's six trophies this year include a record 10th title at the French Open and a third at the U.S. Open. The last time the Spaniard won at least six titles in a year was in 2013 when he captured 10 trophies for the season.
Kyrgios started Sunday struggling with his serve and never found a confident range throughout the match. His first-serve percentage mostly languished under the 50 percent mark.
In contrast, Nadal always looked in charge and saved all four break points he faced.
"I was playing very high intensity the whole match, changing the directions and not making many mistakes," Nadal said.
Kyrgios offered Nadal eight break points in the first set with Nadal taking two service breaks.
Kyrgios was angered by a line call in the first set and his complaints eventually cost him a penalty point at the start of the eighth game.
Kyrgios didn't make it onto the board in the second set until he was serving with Nadal already leading 5-0.
"In the semifinal I played well, obviously beating Alex (Zverev)," Kyrgios said. "It's a typical type of week for me: beat a player well, then pretty much no-show."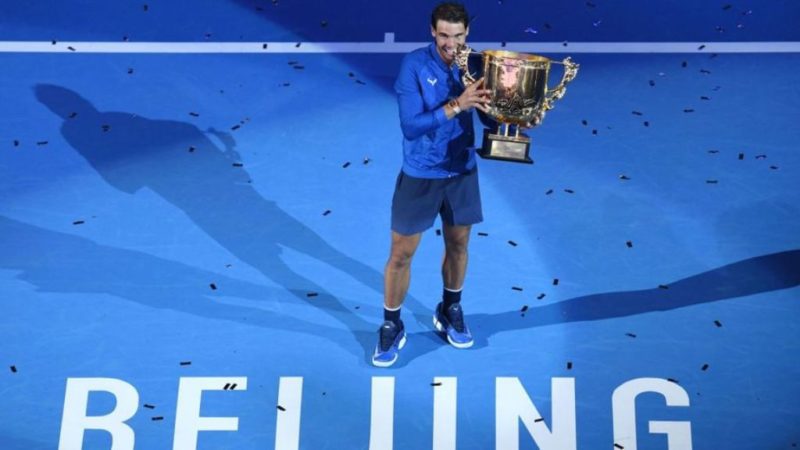 Garcia also won her final in straight sets.
"She played amazing tennis," Halep said of Garcia. "She deserved to win today. She was better."
For Halep, the loss was particularly disappointing as she was unable to back up her guaranteed debut in the No. 1 ranking on Monday. She secured the top spot on Saturday with her semifinal victory over French Open champion Jelena Ostapenko.
Halep's best opportunity to rebound against Garcia ended when she failed to make good on any of the nine break points she had at 3-3 in the second set.
"For sure it definitely turned the second set," Garcia said. "This game was definitely very important."
In the second-set tiebreaker, the unseeded Garcia jumped out to 4-1, and on a first match point at 6-3 with Halep serving, the Romanian netted a forehand. Garcia fell to her knees in celebration.
She is enjoying an 11-match winning streak, having captured her first title of the season at Wuhan last week. This is the second time she's won a career-best 11 straight matches.
"It was such an amazing two weeks," Garcia said. "It went so fast."
Garcia saved a match point in her three-set quarterfinal victory over third-seeded Elina Svitolina of Ukraine.
The last time Kyrgios played a No. 1 it was also against Nadal. In that 2014 fourth-round encounter at Wimbledon, the then 144th-ranked Kyrgios emerged a four-set winner.
This was Nadal's second China Open title in four trips to the final. He won his first in his Beijing debut in 2005.
"In 2005, I never will believe that I will keep playing tennis in 2017," Nadal said.
Nadal leads Kyrgios 3-2 in career meetings, and 2-1 this season.
Source: Sandra Harwitt| PhilStar Global