Stan Wawrinka battered the ball as if each swing would determine the outcome of his French Open semifinal against No. 1 Andy Murray.
For much of their 4½ hours of compelling, lengthy, and draining points, Murray was up to the task, relentlessly defending and making Wawrinka hit shot after shot after shot. Eventually, the resolute Wawrinka's offense prevailed. Not bad for an old guy, huh?
Forced to come back twice from a set behind, and never easing up on his go-for-it, attacking style, 2015 champion Wawrinka at last pulled away to beat Murray, 6-7 (6-8), 6-3, 5-7, 7-6 (7-3), 6-1, on Friday and become the oldest men's finalist at Roland Garros in 44 years.
''You expect him to hit a lot of balls, for sure. I wasn't always happy with that,'' Wawrinka said through a grin. ''You know what his game is, you know how well he can play, and you need to accept it. You need to, as I say, keep pushing yourself.''
Now comes an even tougher task, something the No. 3-seeded Wawrinka, a 32-year-old from Switzerland nicknamed ''Stan the Man,'' called ''probably the biggest challenge you can have in tennis.'' He will face Rafael Nadal in the French Open final.
Nadal reached his 10th final at his favorite tournament — he's 9-0 so far — by overwhelming No. 6 Dominic Thiem of Austria, 6-3, 6-4, 6-0, in barely two hours.
''Nine or 10 is only 10 percent more,'' Nadal joked, when asked about the historic nature of his bid to become the first man to win 10 titles at any major.
Nadal has lost a total of 29 games through six matches, back to his dominating best on clay after withdrawing from the French Open before the third round a year ago with an injured left wrist.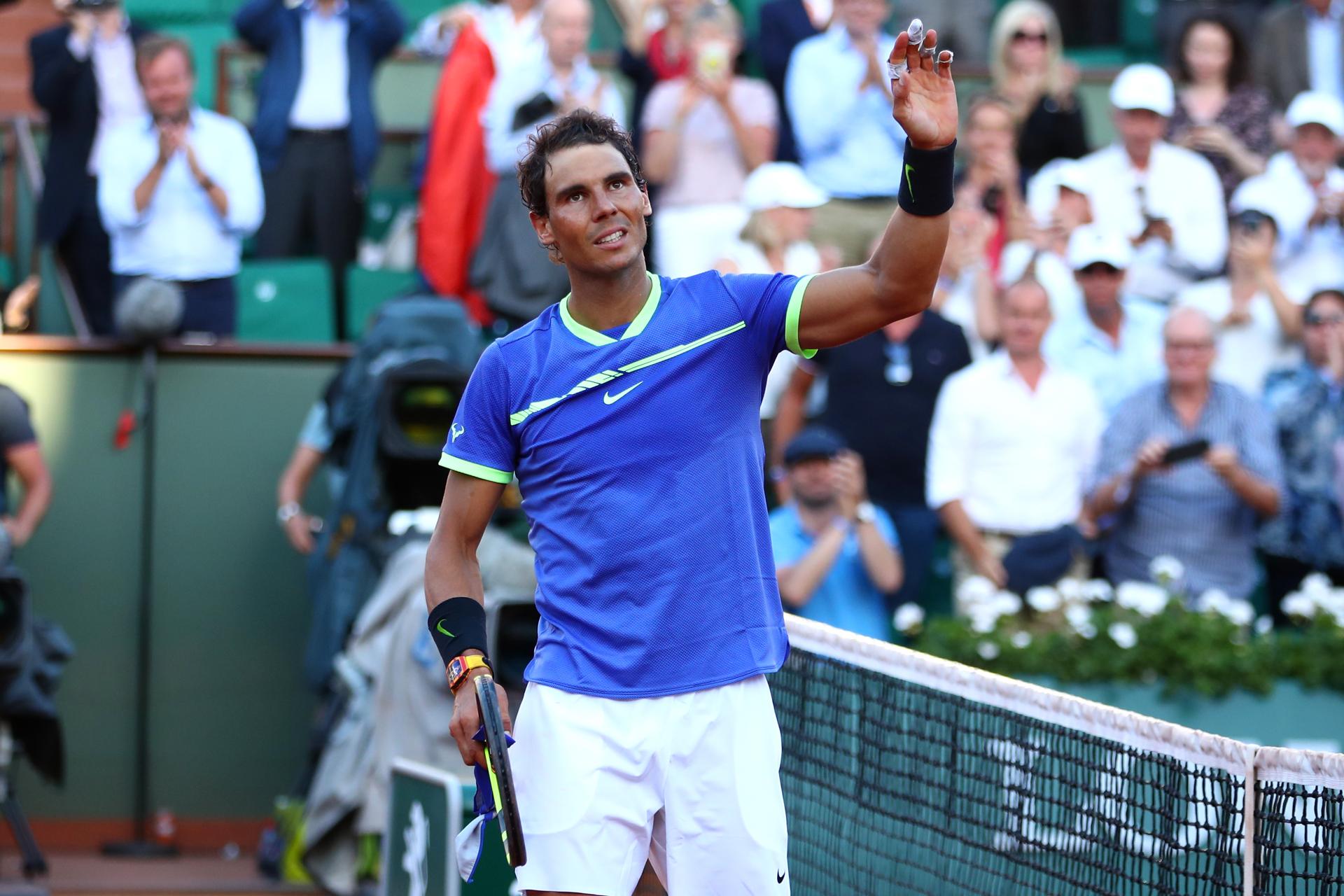 ''I don't care about the games I lost or not, or sets, or these kind of things,'' Nadal said. ''Only thing I care [about] is I have been playing very well during the whole event.''
It will be Nadal's 22nd Grand Slam final overall, breaking a tie with Novak Djokovic for second behind Roger Federer's 28. If Nadal wins the championship Sunday, it'll be his 15th major, breaking a tie with Pete Sampras for second behind Federer's 18.
Wawrinka, meanwhile, heads to his fourth Grand Slam final. He's won the previous three, beating Nadal at the Australian Open in 2014, and Djokovic at Roland Garros two years ago and at the US Open last September.
''I'm extremely confident about what I do, about how I feel, about all the hard work I have accomplished over the past days, weeks, months, years,'' said Wawrinka.
''I know that mentally, when I'm there, it's difficult to beat me.''
A year ago at the French Open, Wawrinka lost to Murray in the semifinals. This time, Wawrinka wore down the seemingly tireless Murray, also a three-time major champion.
Wawrinka used his sublime one-handed backhand and hammer of a forehand to send Murray scrambling and sliding all over Court Philippe Chatrier.
Murray would lean, or even lunge, and somehow put his racket strings on seemingly unreachable shots. He used plenty of drop shots and lobs. He retrieved overheads.
But make no mistake: Wawrinka does not discourage easily. He is the oldest man in a French Open title match since Niki Pilic was 33 when he was the runner-up to Ilie Nastase in 1973.
By the anticlimactic close of what Murray termed ''a very high-intensity match,'' he was complaining aloud about having ''no legs.''
So Wawrinka ran away with the fifth set, taking 16 of the first 21 points and going up, 5-0. He capped it, appropriately, with a backhand down the line, his 87th winner of the day, 51 more than Murray.
Unlike Nadal's straightforward sprint past Thiem, Wawrinka's marathon against Murray wound its way through spots in which one player, then the other, appeared to wrest control, then cede it.
When Wawrinka hit a reflex volley passing winner off a blink-and-you-miss-it exchange with both men at the net, he held a set point at 6-5 in the first-set tiebreaker. At that moment, each man had won 43 points, their contrasting styles essentially erasing each other.
But Wawrinka missed a backhand to give away that chance. Murray used a 3-point run to grab that set, the first lost by Wawrinka all tournament. Then Wawrinka used a seven-game run to take the second set, plus a 3-0 lead in the third.
''I lost my way a little bit,'' Murray said.
Suddenly, he got back on track, taking the third set to nose in front.
The fourth was even as can be until Wawrinka stepped up in the tiebreaker by winning its final 3 points, the last with a run-around forehand return winner delivered from outside the doubles alley.
Wawrinka pointed to his right temple, as he often does to celebrate success on key points, and was on his way to the final. Nadal awaits.
Source: Howard Fendrich| AP