Three Nigerian sprinters will make history at next month's PyeongChang 2018 Olympics by competing in the bobslegh, becoming the first athletes to represent the African nation at a Winter Games.
Nigerian-Americans Seun Adigun, Ngozi Onwumere, and Akuoma Omeoga are all established sprinters, who will swap the track for the time trial in South Korea. Adigun, who won 100m hurdles golf at the 2011 All-Africa Games and represented Nigeria at London 2012, says the idea came from a desire to influence the Nigerian people.
"I noticed my ability to potentially empower and positively influence millions of people resided in my decision to give back to the country of Nigeria. I knew I possessed the resources and connections to get it done," Adigun told sheleadsafrica.org.
"The sport of bobsled was looking to grow and the continent of Africa had never been represented in the sport of bobsled. Once I finalized my decision to take on this mission, I knew I would need teammates so I reached out to these lovely women, Ngozi and Akuoma."
They teamed up in 2016 to form the first-ever Nigerian bobsleigh squad, but the athletes were not eligible to take part in the Winter Games, as Olympic rules required competition under the guidance of a national governing body, which didn't exist in the country.
However, the Bobsled and Skeleton Federation of Nigeria (BSF) was established the same year, giving the trio the green light for participation.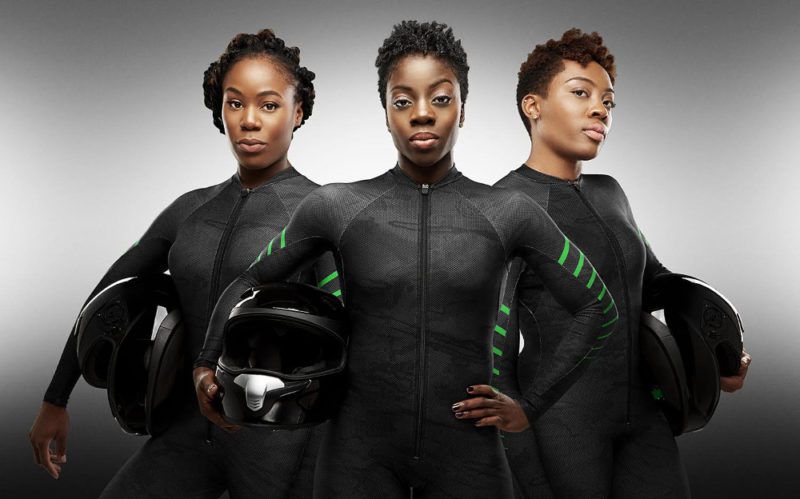 To pursue their Olympic goal, the team launched an ambitious GoFundMe campaign which helped them to raise more than $75,000 to buy necessary equipment including a uniform, helmets and their first sleigh. They were later supported by Visa and Under Armour, who became the team's sponsors.
The US-born sledders, whose parents emigrated from Nigeria to the States, earned an Olympic berth last November by successfully completing five qualifying races required for entry.
Solomon Ogba, president of the Bobsled and Skeleton Federation of Nigeria, commented that the girls' historic achievement was "inspiring."
"I commend the personal dedication and commitment of these women. Their hard work was inspiring and I hope Nigerians can appreciate what it took for them to achieve this – the work, the discipline, and the personal sacrifices. They were amazing throughout this journey," Ogba said.
After booking an Olympic spot in the bobsleigh two-women event, the team were immediately compared with Jamaica's first bobsled team, who participated at the 1988 Winter Games in Calgary, Canada, and inspired the 1993 comedy film 'Cool Runnings.'
Adigun, Onwumere and Omeoga will also become the first representatives from Africa to enter an Olympic bobsleigh event, and will begin competition on February 20, when the first Olympic two-woman runs will be held. The PyeongChang 2018 Winter Olympics will be held from February 9 to February 25.
Source: RT
www.sports24ghana.com