There might be better ways to spend a Sunday than being crammed inside a smoky Los Angeles warehouse, wearing a wool suit for the better part of 16 hours in 100-degree heat.
Yet as someone who's spent more than 10 years covering the fight game it was a treat being briefly transported to the 1930s glory days as a bit player in a Canelo Alvarez-Gennady Golovkin commercial shoot.
Thomas Hearns and Roberto Duran were among the cast summoned to provide a stamp of endorsement that the Sept. 16 middleweight title bout between Kazakhstan's three-belt champion Golovkin [37-0, 33 knockouts] and Mexico's Alvarez [49-1-1, 34 KOs] is a worthy throwback to boxing's best days.
Hearns was asked whether he expects Golovkin-Alvarez to be a genuine successor to the compelling bouts between him, Duran, Marvin Hagler and Sugar Ray Leonard in the 1980s.
"You know the way they fight. How can it not?" he said.
Alvarez was so taken by the realness of the shoot that he's decided to wear an approved duplicate version of the 1930s-style boxing trunks he wore during filming.
"I didn't expect all these things, but this is cool — old-fashioned style," Alvarez said during a break in filming. "This is part of the business, part of the show, but I've tried to enjoy it as much as possible. This is what I expect of the fight — it could be in the history books."
Golovkin has studied the fights of the commercial participants, including promoters Oscar De La Hoya and Bernard Hopkins, along with historical footage of the era he stepped back in for two days.
"It's very interesting to see the tradition of this sport," Golovkin said. "It is different with us. This is about what's best for boxing. If you represent boxing like [the legends], you're remembered. There's a boxing family of true legends, a history. I like that. I like this."
Producer-director Leigh Simons dreamed up the set after it was suggested first by De La Hoya.
"I had the vision. He comes up with the details," De La Hoya said of Simons. "I think we hit it right on the head. You want to tell a story of when fighting was fighting. … I love that whole era, like the 'Cinderella Man' Prohibition days when fighters were fighters and it was survival. … And this fight means a lot to [Alvarez and Golovkin].
"It's like we're passing the torch to them, and it has the ingredients to play out."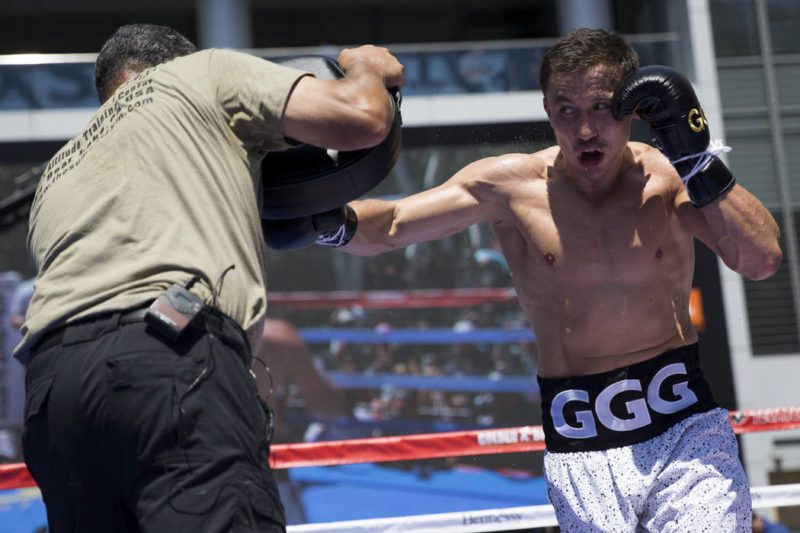 Simons asked USA Today columnist Martin Rogers, boxing video reporter James "Smitty" Smith and me to fill the roles of journalists/ringside cameramen.
"I wanted to do a vintage-inspired promotion because this is a throwback fight," Simons said. "It's a throwback because you have the best fighters in the world fighting each other, you have the greatest middleweights fighting each other and you have a fight where you don't have to worry about action and drama."
The commercial begins with a narrator discussing the legacy of great fights, then features Alvarez and Golovkin entering the gym with gear and equipment of the '30s era. The other boxers in the gym stop as the legends also look at the pair.
Alvarez and Golovkin meet in the center of the ring, each throwing a simultaneous punch that's stopped before meeting their chins, a moment intended to heighten anticipation for the bout at T-Mobile Arena in Las Vegas.
"That final scene is so important," De La Hoya said. "[Simons] has to capture it perfectly. When those punches stop, I want people to think, 'I have to buy this.' "
Filming was done as De La Hoya was railing at the potential damage last Saturday's Floyd Mayweather Jr.-Conor McGregor pay-per-view bout could cause his fight. That match ended up being more entertaining than most thought.
Simons, who produced several preview shows for Mayweather, had a more cooperative tone.
"This care, craft and thought for this project is different … than the obscenities of Mayweather-McGregor," Simons said. "I just think it's a great time for combat sports, to have a wild and crazy, WWE-esque event that the world is very aware of.
"And then you have a spot, in this fight, that puts boxing back as a sport in a worldwide basis. They're serving each other. It's almost like back-to-back Super Bowls, like, 'I'm going to watch the carnival, the puncher's-chance phenomenon, and then I'm going to watch a real fight. How do I lose?' "
Source: Lance Pugmire| LA Times