Like so many growing up in track and field, Hayward Field was was Noah Lyles' theater of dreams.
"I've been watching Prefontaine since I was in high school," Lyles recalled "looking at the (television) screen like 'man I could have been in that 200!'"
So there was Lyles, the boy wonder of American sprinting still only 20, Saturday afternoon settling into the starting blocks in Lane 7 before the Prefontaine Classic 200-meter dash, center stage at storied Hayward Field, the most revered venue in U.S. track and field, perhaps in the world, ready to chase what he called the "Hayward magic."
"Automatically it's Tracktown USA, so I'm already excited," Lyles said referring to the title Eugene has long rightfully claimed for itself.
That excitement fueled Lyles' world-leading 19.69-second victory that electrified a standing-room-only crowd of 12,667 and along with unsung American Ronnie Baker's upset triumph in the 100 further signaled the arrival of new generation of sprinters now ready to assume the throne left vacant with Usain Bolt's 2017 retirement and the impending departure of his arch rival, 36-year-old Justin Gatlin.
Lyles' and Baker's victories were befitting of an afternoon when change and the future were as much a theme as nostalgia as many of the international sport's biggest names bid farewell to what has come to be known as historic Hayward Field.
"There is no limit," Lyles said when asked about his potential. "The limit is to make the human race as a whole get faster and see that the next generation has stepping stones that they don't have to worry about the old heads taking their spots."
Just as Lyles and Baker talked about changing the face of sprinting, an often painful and heated conversation about the transformation of Hayward Field has dominated the headlines, airwaves and social media in the Willamette Valley and U.S. track in recent weeks.
Tracktown USA is hosting the 2020 World Championships and Hayward Field, despite all its history, was deemed inadequate by the IAAF and the powerbrokers at Nike to hold the meet in its current configuration. So the 99-year-old stadium is being torn down after next month's NCAA Championships to make room for a $200 million new Hayward paid for by Nike co-founder Phil Knight, an Oregon middle distance runner under legendary coach Bill Bowerman, the shoe company's other co-founder.
The renovation plan, formulated in private, caught Tracktown by surprise and has divided the community. Much of the controversy revolves around the demolition of the iconic East Grandstand, the monument erected out of Oregon timber so recognizable within the sport and the region that its silhouette is Tracktown's official logo.
So Saturday was the 44th and final Prefontaine Classic at historic Hayward and the only U.S. stop on the IAAF Diamond League circuit produced `meet worthy of the occasion.
"It's Hayward Field," said Christian Taylor, who won another thrilling triple jump dual with longtime rival Will Claye with a 58-feet, 2-inch leap. "There's magic in the track, there's magic in the stands."
There were eight world leading performances, five of them coming in the middle and long distance races, including a women's 1,500 meters marked by a breakthrough victory by American rising star Shelby Houlihan and a courageous run by Jenny Simpson that would have made the meet's hard charging, front running namesake proud.
Simpson, the 2011 World champion, recently emailed meet director Tom Jordan with a request to make sure Saturday's race was fast from the gun, even volunteering to push the pace herself.
"Let's heat it up," Simpson wrote.
"I just wanted to come out and give it the respect of giving it my all on the last four laps," Simpson said Saturday.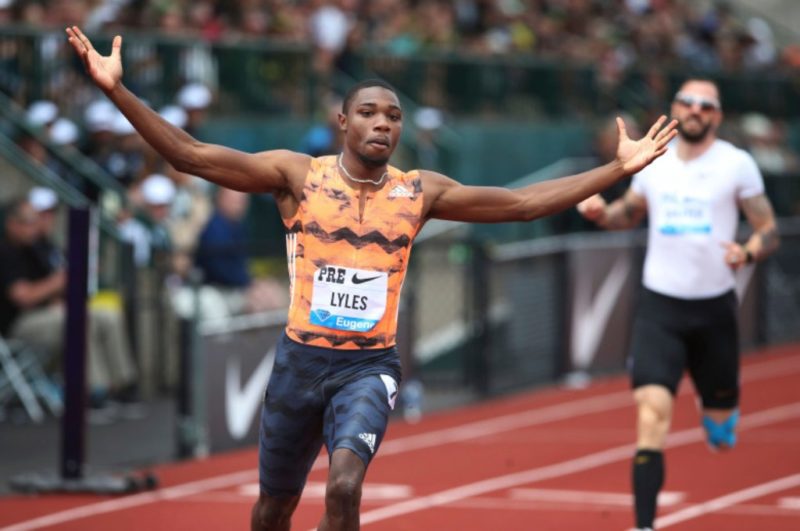 She did just that, pulling a world-class field through 1,200 meters in 3 minutes, 14.05. Simpson's labor appeared to be rewarded with a victory until she was passed in the final 50 meters by Houlihan, the former Arizona State star now competing for the Nike-backed Bowerman Track Club, and then Great Britain's Laura Muir.
"I thought I was going to hold them off, I really did," Simpson said.
Houlihan finished in 3:59.06, Muir 3:59.30 and Simpson 3:59.37 with Morocco's Rababe Arafi also breaking 4:00 (3:59.51) in fourth. New Balance and the Big Bear Track Club's Brenda Martinez was on track to also dip under 4:00 until the final 150 when her lack of speed work betrayed her and she faded to seventh in 4:02.65. It was Houlihan's first sub-4:00 clocking.
"I definitely can check that off my list," she said.
Competing at the Pre Classic had been on Lyle's to do list since he emerged as one of the world's top sprint prospects while attending TC Williams High School (made famous in the film "Remember The Titans) in Alexandria, Virginia.
He competed at Hayward as a recent high school graduate at the 2016 Olympic Trials, finishing fourth in the 200, missing the U.S. squad for the Rio de Janeiro Games by less than a tenth of second.
Lyles and his younger brother Josephus decided to turn pro days later, a move that was widely criticized within the sport. The second guessing continued last season.
Lyles won his Diamond League debut, taking the 200 in Shanghai in May 2017. But he tore right hamstring in the process and was limited by injury for much of the season before re-emerging to win the Diamond League final 200 in Brussels.
Lyles, once again healthy, won the 200 in 19.83 in the Diamond League opener in Doha May 4. Saturday he blew away a field that included reigning World champion Ramil Guliyev of Turkey and Trinidad and Tobago's Jereem Richards, the Worlds bronze medalist. Lyles' just barely (2.0 meters per second) legal run equaled the 2017 world leader and was just a hundredth of a second off Gatlin's meet record.
Richards was a well beaten second in 20.05, Guliyev seventh in 20.57.
"I've proven to myself that I was ready," Lyles said. "Some people might say that you're not ready being so young but I don't think that's true. I think if you have the right mind set, the right team that you can do anything. And I think that I've proven that out here today."
Baker had his own point to prove in Eugene.
The former TCU star ran a world-leading 9.97 at the Mt. SAC Relays last month. But he was nowhere to be found in the pre-meet media coverage that focused on a highly anticipate showdown between Gatlin, the 2004 Olympic and 2017 World champion, and Christian Coleman, 22, the Worlds silver medalist and recent World Indoor champion at 60 meters.
"I came here last year, had the fastest time coming in last year and no one talked about me, not in any of the headlines, not in the media," Baker said. "Same thing this year. I had the fastest time coming in, still nothing in the media, nothing about me. And I come here and I run really fast and win these races against world-class guys and I'm still not mentioned so I definitely believe I should be in the conversation with the best."
But Gatlin withdrew from the meet with injury and when Baker pulled even with the fast starting Coleman 20 meters into Saturday's race he was on his way into any conversation about who is Bolt's and Gatlin's heir apparent. While a 2.4 tailwind was 0.4 beyond the legal limit, his 9.78 clocking was impressive in any conditions.
"Doesn't change my mindset," Baker said when asked if his victory hadn't cost him his underdog status. "It would just be nice to see my name in an article every once in a while."
Pole vaulter Jenn Suhr, 36, has made plenty of headlines in a career that has seen her win the 2012 Olympic gold medal, 2016 World Indoor title and set the World indoor record (16-6). But she has kept a low profile in recent years, not competing on the Diamond League circuit for the past three seasons. The significance of Saturday's meet, however, drew her back to Hayward where she cleared a meet record 15-11 beating New Zealand's Eliza McCartney, who also topped 15-11, on fewer misses.
"They're renovating this stadium so it was the last time it was going to look like this and I just wanted good memories," she said. "I've had great memories before and I just wanted one last one."
Source: Scott Reid|| Daily News
www.sports24ghana.com