Cristiano Ronaldo and Portugal are going to the World Cup and not by the risky playoff route this time.
France also sealed its ticket to Russia on Tuesday after, like Portugal, needing a second chance in the playoffs to reach the 2010 and 2014 tournaments.
After runner-up and third-place finishes at those World Cups, the Netherlands will miss out in 2018 after finishing third in France's Group A, despite beating Sweden 2-0.
Portugal beat Switzerland 2-0 in a qualifying duel in Lisbon, to extend its winning streak to nine games and end a perfect Swiss record in Group B.
The European champion already had a superior goal difference and needed a win by any score to top the group.
France also was assured to advance with three points, and beat visiting Belarus 2-1.
Belgium had already qualified and completed an unbeaten Group H program beating Cyprus 4-0. The Belgians will be in the top-seeded pot for the Dec. 1 draw in Moscow.
The European playoffs draw — with Switzerland, Sweden and Greece completing the eight-team lineup — is made next Tuesday in Zurich.
Here's a look at the final round of European qualifying group games:
GROUP A
France will take one of the most talent-packed squads to Russia.
Antoine Griezmann scored and then created France's second goal just six minutes later, with Olivier Giroud giving the hosts a comfortable lead after 33 minutes. Just before halftime, Anton Saroka scored for Belarus to make for a tense second half.
France has been relatively untroubled throughout qualifying — and was not punished for a goalless draw against Luxembourg — but has dropped its level since being runner-up at Euro 2016.
Sweden needed to avoid a seven-goal rout in Amsterdam to advance to the playoffs, and allowed just a 2-0 loss to the Netherlands.
Arjen Robben scored in the first half from the penalty spot and then with a sweeping left-foot shot from outside the penalty area, in what he said was his final game for his country. Robben exits with 37 goals in 96 international games, including the 2010 World Cup final.
Luxembourg managed another draw, 1-1 at home to Bulgaria, to finish with six points in fifth place.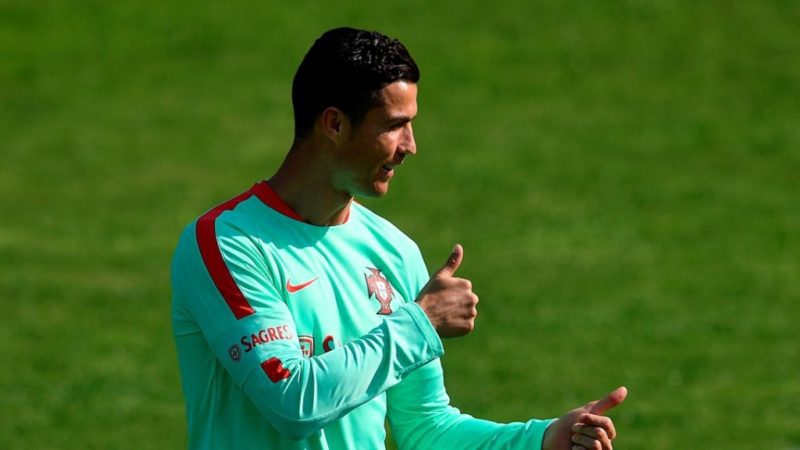 GROUP B
Cristiano Ronaldo was absent — still recovering from his injury in the Euro 2016 final — when Portugal lost its opening match in qualifying, 2-0 in Switzerland.
With the current world's best player restored, Portugal had to win nine straight to win the group. The task was finished at a vibrant Stadium Of Light, where the fans included Madonna and her son who is reportedly a youth trainee with host club Benfica.
Ronaldo did not add to his 15 goals on Tuesday, but an own-goal by Swiss defender Johan Djourou before halftime and a ninth in qualifying by AC Milan forward Andre Silva early in the second half were enough.
The Swiss must lift themselves for a two-leg playoff against Northern Ireland, Sweden, Ireland or Greece.
Hungary confirmed its third place by beating the Faeroe Islands 1-0, and Latvia beat Andorra 4-0.
GROUP H
Belgium won the group last month, as the first European team to qualify, and finished in style in Brussels against Cyprus.
Eden Hazard got two goals, his brother Thorgan also scored and substitute Romelu Lukaku got the fourth as Belgium tallied 43 in 10 games.
Greece needed to beat Gibraltar to finish runner-up and claim a playoff lifeline. A 4-0 win for the Euro 2004 champions meant Gibraltar ended with zero points and 47 conceded.
Third-placed Bosnia-Herzegovina was the only away team to win in Europe on Tuesday, beating Estonia 2-1.
Source: AP