Manchester City manager Pep Guardiola has ruled out another record-breaking Premier League campaign, warning fans that a repeat of last season's feats will be "impossible."
City's dominance in England last season was underscored by a slew of records that were set as they romped to their first league title of the Guardiola era.
City became the first ever team in the Premier League to win with 100 points as well as securing the biggest title-winning margin (19 points) by scoring the most goals (106), most wins (32), most consecutive wins (18) and best goal difference (+79).
Guardiola's men broke 11 records in all but the former Barcelona coach envisages a far more difficult campaign when the action kicks-off next month.
"We are not going to break any more records in the Premier League, it is impossible… it is almost impossible," Guardiola said Tuesday ahead of his team's International Champions Cup friendly with Liverpool in New Jersey on Wednesday.
"I have to see the faces of my players in the next two weeks when they are together because we are here without 15 players. When we come back we have four or five days to prepare for [the Community Shield] against Chelsea and we are going to see their faces.
"The target is win the next game and how to prepare to win the game, that is the target. The records we took last season was a consequence of what we've done every single day. That is the point.
"If we are going to compare November, December, January, comparing the position, we are going to lose all the comparisons with what we have done last season."
Guardiola meanwhile signed a new contract in May which ties him to Manchester City until 2021 – the longest commitment he's ever made since becoming a manager in 2008.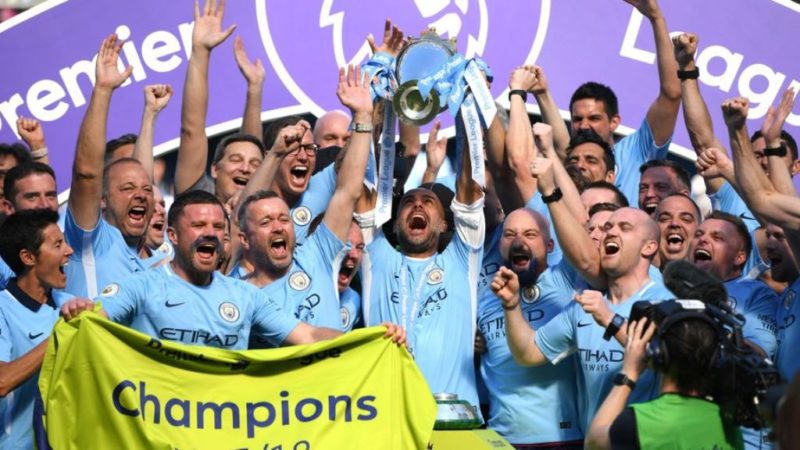 The Spaniard knows, however, that nothing is certain.
"When we decided to extend the contract, first of all I am comfortable, the second one is the club trust what we are doing," he said.
"The people at the club … know it depends on results. We have three more years contract, but the results will dictate what will happen in the future.
"If we are not able to be consistent and be there to win the title. That's the most important thing to arrive in April and May and be there for the title.
"Football trainers always we are in a dangerous position."
Guardiola meanwhile said he was unfazed by the lavish spending of City's Premier League rivals.
Wednesday's opponents, Liverpool, have splashed out £250 million ($328 million) since January in a bid to build a team capable of challenging for the title.
Guardiola has only brought in £60 million Riyad Mahrez from Leicester in the close season but remains happy with the nucleus of the squad which saw him dominate the Premier League last term.
"Every club does what they believe, I understand completely," said the City manager when asked about Liverpool's activity in the transfer market.
"They are contenders to win the title, Liverpool are always a contender because of the history they have.
"I am not concerned what someone says one day. If Liverpool believe they need these players for this kind of money, that's fine. If they think it's best for them, that's perfect for them.
"All the contenders, United, Liverpool, Arsenal, Tottenham will be stronger."
Source: AFP
www.sports24ghana.com