In the end, it was comprehensive – just like Manchester City's entire 2017-18 season, and just like everything Pep Guardiola and the Citizens do.
It was nothing less than their months of brilliance deserve, and nothing less than they deserved on Sunday at Wembley. City dispatched Arsenal 3-0 in the League Cup final, lifted the first trophy of the Guardiola era, and lifted the first of at least two trophies in 2018.
In many ways, it might not have been how Guardiola imagined claiming his first honor in English football, in a second-tier competition, via atypical means. City wasn't quite its machine-like self – at least not throughout the opening hour. But it was clever. And Arsenal, on the other hand, was childish.
Sergio Aguero gave the Premier League leaders a lead off an assist from … Claudio Bravo. Bravo created more chances in the game than Mesut Ozil, which tells you just about all you need to know about Arsenal's inferiority.
Aguero stretched the Gunners' back line on a goal kick, as City strikers often do, to create space underneath. But Shkodran Mustafi inexplicably didn't follow the little Argentine. Bravo, noticing this, went long and direct. Aguero nudged a naive Mustafi out of the challenge, sprinted onto the Hail Mary-turned-through-ball, and lobbed David Ospina. Mustafi's complaints fell on deaf ears.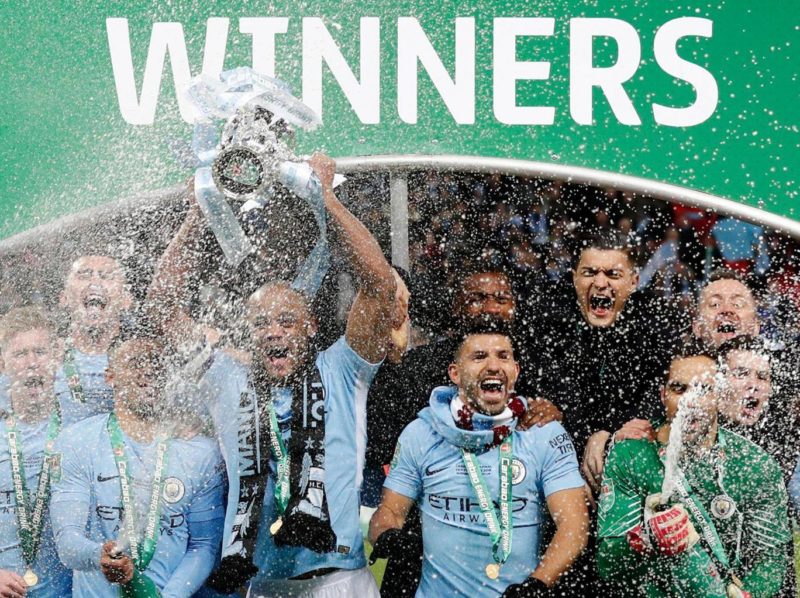 City, after going route-one for the opener, then all but sealed its victory after halftime with a set piece routine straight off the training ground.
Vincent Kompany, who had earlier chased down Pierre-Emerick Aubameyang like his 26-year-old self, re-directed Ilkay Gundogan's off-target shot like a crease-crowding hockey player to put the favorites in control.
With Raheem Sterling out injured and Kevin De Bruyne thus shifted wide right, City hadn't found its usual rhythm. It was almost slightly disjointed, unable to play through a sporadic Arsenal press.
Fernandinho's second-half injury, while a concern going forward, almost allowed the Citizens to click into gear. Bernardo Silva came on, De Bruyne went back to the middle, and Gundogan held. And City turned on the style befitting of a Guardiola cup final victory.
David Silva got the third from a tight angle after City had played a miniature game of keep-away near the left touch line. The blue-and-white-clad fans that packed one end of Wembley bounced and ole'd.
The League Cup is not why Guardiola came to City, and not why City brought him to Manchester. There were no wild celebrations at the final whistle. Just customary hugs, as if the Citizens had secured an important three points in the league.
But it's a trophy nonetheless. And it's one City undoubtedly deserved.
Its cup campaigns now in the past, one unsuccessful, the other triumphant, there are now more important matters to attend to. But this was City's last do-or-die game until April. And it "did" in convincing fashion.
Source: Henry Bushnell|| Yahoo
www.sports24ghana.com