French footballer Patrice Evra made history of the wrong kind when he appeared to kick a fan before the Europa League match between his team, Marseille, and Vitoria Guimaraes had even kicked off.
Evra became the first player to ever be red-carded before the start of a Europa League match when he lashed out at the fan, who was part of a crowd of supporters that had become involved in an altercation with a larger group of Marseille players.
Video footage surfacing on social media of the incident shows Evra run over to join the melee, after which things quickly turned heated.
The defender appears to aim a head-height roundhouse kick at the fan, before backing off.
In response, the fans can be seen attempting to run around the advertising boards and make their way onto the pitch, but are halted by the group of players.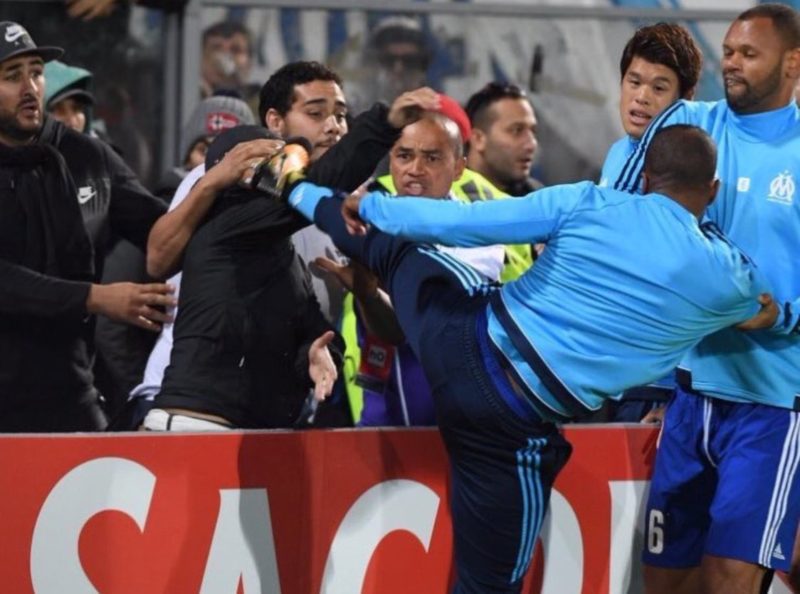 Evra joined Marseille from Juventus and also previously played for Manchester United, with whom he won the Champions League in 2008 in Moscow.
The fan-kicking incident is reminiscent of when fellow countryman and ex-Man United star Eric Cantona landed a Kung Fu kick on a rival fan after being sent off in a Premier League game against Crystal Palace.
Cantona was subsequently banned from playing professional football for eight months, and Evra can expect a hefty punishment if found guilty of the same offense.
Source: RT