After an emotional, unfamiliar Fortnight at The Championships, Venus Williams is set to reacquaint herself with a routine she once knew all too well when she steps out onto Centre Court on Saturday, bag carried for her, bouquet in hand.
The 37-year-old faces Garbiñe Muguruza in her ninth ladies' singles final, some eight years after her last, and 20 years on from her Championships debut. Such numbers in isolation are awe-inspiring, yet numbers cannot do justice to what Williams has overcome to go as far as she has at the All England Club in 2017, in both the short and the long term.
For Williams is not just the oldest Wimbledon finalist since Martina Navratilova, who also reached the final for a ninth time at the age of 37 in 1994. The American's late success has come in spite of an ongoing battle with Sjogren's syndrome, the energy-sapping auto-immune condition that was first diagnosed in 2011, and the one now-constant competitor in the ever-changing cast of opponents she has faced over the past two decades.
"I keep thinking that I'm knowingly taking for granted what she's doing," admits Courtney Nguyen, senior writer for WTA Insider. "Part of that is in tribute to knowing how much of a great champion she is – of course if Venus Williams plays well, of course these results are possible.
"But the image that keeps coming back to my mind is remembering two or three years ago. It was hard to watch Venus Williams play tennis back then. It broke your heart watching her go out there and not be able to play like the player she once was. Everything looked so sluggish. She just didn't look like the player who won five Wimbledon titles.
"That's what I keep going back to. We've see longevity in this sport, with Serena, and maybe with Roger. But what she has done in just the last five years is remarkable in and of itself, even when you take it out of the context of everything that she's done in her career."
The Championships have fallen at a particularly testing time for Williams, who wrote that she was devastated after being involved in a fatal road accident shortly before heading to the UK. With sister Serena Williams back in the US expecting her first child, it has been a difficult, unfamiliar few weeks, off-court at least.
"I think people underestimate the gravity of what she has been feeling," said Reem Abulleil, managing editor of Sport360.com. "It's hard, really hard.
"But her game has been there. She was in the semis last year, and she's made the fourth round or better at nine of the last 11 slams. When she made the final in Australia, I felt immediately that we had to keep an eye on her for Wimbledon.
"She hasn't been remarkable, per se, on the court – she's been doing enough to win the matches. But one of the biggest improvements has probably been the second serve."
Like both Nguyen and Abulleil, former British No.1 Anne Keothavong believes the Williams serve will be a key factor in the final. The British Fed Cup captain knows what it is like to face Williams at The Championships, having played the seven-time Grand Slam winner in the second round in 2008, going down 7-5, 6-2 on her Centre Court debut before Williams surged to her fifth title at the All England Club.
"I must admit, I was slightly intimidated," admits Keothavong. "She's Venus Williams, how can you not be? She was someone I had grown up watching and looking up to.
"I remember thinking how hard she actually hit it. When she hits the ball as fast as she did and as deep as she did, there wasn't really a lot I could do. As Jo Konta said after their semi-final, sometimes it's just out of your control. Venus was just the better player, and that's how it felt."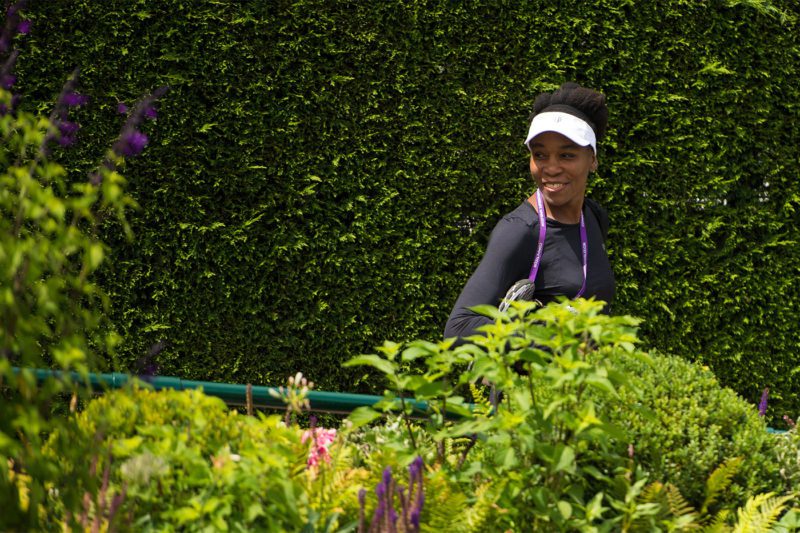 Gone are the days of the booming Williams serves of old – her 129mph effort at the 2007 US Open is still the second-fastest recorded serve by a woman – but Keothavong says it is the disguise that makes the delivery so potent.
"Even in the semi-final match against Konta, you could see Jo struggling to read the serve," said the 33-year-old. "That's the beauty of Venus's serve. It can be tough to read, it's accurate, and she's brave on it. On that second break point at 4-4 against Konta, that huge 106mph second serve, we all just gasped – it was faster than her first serve. That's experience, as well as a true test of her belief in herself."
Belief has certainly been a recurring theme when it comes to the Williams resurgence. Throughout her struggles with form and injury over the past five years, it was the belief that she had the game to get back to the top that kept her going. Over the past two years, it has been the renewed faith in her body that has allowed her to evolve as a player.
"This is a different Venus," Nguyen explains. "She has played big hitter after big hitter, and she's unwound them all. Not by hitting more winners – not by flying to the net, and being the Venus that won those five Wimbledon titles. But by being a proper, smarter baseliner.
"Serena's game has evolved that way as well. One shot that I've seen Venus use a bit, that Serena has used more and more, is that short-angled wide forehand with a lot more margin, because she believes she can beat you in the corners. That's been the biggest evolution of the last 12 months, and I think that's why she's been able to post such consistent results.
"She's a more rounded player now. She has a B-game, and she doesn't think she has to outhit everyone any more. She's making more conservative decisions, while still having that pop.
"She's not even a sentimental favourite any more – she's just a favourite," Nguyen adds. "She's one of the best players in the world right now, purely on level."
And that is perhaps the most astounding thing about Venus Williams' run to the final – that it is not a fairytale. Her route to this year's final has taken her past three players who were born in 1997, the very year she made her debut at the All England Club.
"It would be insane if she wins," Abulleil says. "It means so many different things. In one way you say, is it good for the sport that someone is still winning at 37? To be honest, yes – it just shows that this is a sport that will continue to give to those stars, and it goes both ways.
"I was speaking to a player recently who was saying, no-one has an excuse to give up any more. When you see someone like [Thanasi] Kokkinakis, who is still very young but feels crushed about his injuries, or [Magdalena] Rybarikova, who came back and was playing ITF events, they can look at someone like Venus or Roger Federer and think, I still have a lot in front of me. It's amazing."
Source: Michael Beattie| Wimbledon