For so very long, Tyson Fury and Deontay Wilder's final news conference possessed about as much menace as your average episode of Sesame Street.
Stephen Espinoza, the President of Showtime Sports, welcomed the two hulking men to the stage with the sweet acknowledgement that "I cannot think of two guys I would rather do this fight with". Wilder graciously acknowledged that he felt "blessed" to have Fury as an opponent. And Fury could not help but admit that he had been looking forward to this contest "since 2011".
So far, so peculiarly respectful. But Saturday night's pay-per-view script called not for batted eyelashes and pleasantries but two mad men hurling obscenities at one another like hand grenades.
And so, as the eyes of several smartly dressed television executives began darting nervously to their expensive wristwatches, the two men delivered what was expected of them. Smiles turned to snarls. Brought together for the customary face-off, Wilder roared himself hoarse with a menacing and meaningless monologue, while — for reasons not entirely known — Fury ripped off his shirt.
Suddenly, the stage was invaded by the kind of tracksuited men who seem to exist purely for raucous occasions such as these, swearing and shouting and jabbing accusatory fingers at nobody in particular. A highlight was the abrupt emergence of Fury's younger brother, Shane, hurling a pair of crutches to the floor and stumbling into the benign melee, a one-man wrecking ball cut free from its tether.
That the fourth and final news conference to promote this heavyweight world title fight should hurtle so rapidly towards such a conclusion was amusingly inevitable, if also a shame. For the babbling of both men is far less easily ignored than most pre-fight pantomimes; the pair's obligatory boxing bombast underpinned by a certain if carefully obfuscated sincerity.
Wilder may underestimate Fury's ability. It could even cost him this fight. But there is no question he respects Fury for being a fighting man all the way down to the marrow — for accepting his challenge and travelling to the United States to fight against the odds away from home. Again.
"We are the two best heavyweights in the world and it is just so beautiful to have two great guys with great stories in one fight," he had eulogised with the repetitive rhythm and wide-eyed conviction of a preacher. Wilder truly is his father's son. "And now it is time to see who is the best in the division. One champion, one face, one name. That is what I am seeking.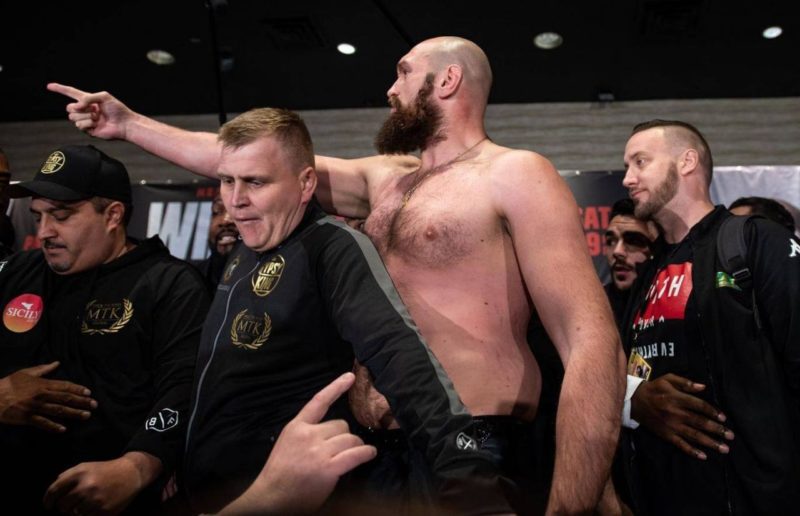 "And it is very refreshing to have an opponent who can speak their piece as well as I can speak mine. He has a great energy to him, I can feel that."
It is this latter point which has most drawn Wilder to Fury. For several years now Wilder has carried a burning sense of injustice to wear along with his lurid WBC belt, an unabating and accurate suspicion that he is not held in the appropriate regard for a man to have successfully defended a world title seven times. Beating Fury will change that. Beating Fury will guarantee him a seat at the feast of all future big-money promotions. Beating Fury will reward him with the mainstream recognition he craves.
In this respect, Fury could not be more different. He has experienced the vulnerability of life in the full glare of the public's eye and recoiled: his inadmissible personal views scrutinised and condemned, his subsequent mental health problems almost costing him his life. He is then — for better or worse — that rarest of athlete, unquestionably motivated by the sport itself instead of the spoils. He is here in Los Angeles not because he has to be, but because he wants to be, with his unlikely sincerity rooted in a newfound perspective.
Earlier this week, Fury announced that he was planning on giving his career-high, seven-figure pay day "to the poor — and I am going to build homes for the homeless and set up funds for alcoholics". Later, he found time to read up on his opponent. "I have learned that Deontay Wilder is a family man," he said. "He does all his fighting to support his family and kids. He is a likeable character and you have to admire the man, I wish him all the best in the fight."
At the final press conference, he briefly found himself musing on why he was stood in front of the microphone so far from home in the first place. "I have missed this sport but it took me two and a half years until I did, it took me until I was back to normal. And now I stand for more than a championship. I am an ambassador of mental health and the people's champion — and I give the people hope. I am not just fighting for me. I am on a mission to inspire people."
Perhaps it is bravado. But perhaps not. What is clear is that both men have earned one another's respect even if, in the pursuit of a bloodthirsty audience's pay-per-view pennies, they maintain otherwise.
Source:The Independent
www.sports24ghana.com