Declaring he was "more alive than ever," Neymar did not disappoint on his debut for Paris Saint-Germain.
The world's most expensive player provided a pulsating evening's entertainment at the Stade du Roudourou on Sunday, with one goal and an assist, as PSG overcame strong resistance from Guingamp to win 3-0 in the French league.
Neymar was named man of the match, and it was deserved.
"I'm very happy with the trophy (man of the match), but the most important [thing] was to win," Neymar said through a translator. "I knew it would be difficult to leave Barca, but I'm very happy to be here. People believe that leaving Barca is like to die. But I'm more alive than ever. I'm very happy, and the football is the same."
Neymar, who signed from Barcelona last week, missed the start of the season at the Parc des Princes against Amiens due to paperwork problems. Hired for a world-record 222 million euros [$262 million], he started on the left wing of PSG's attack in the small Brittany town.
Neymar looked intensely focused from the start, easily switching from one wing to the other, and often taking a playmaker role.
Pre-match festivities in the small Brittany town included some fireworks, but Neymar was jeered by a handful of fans as he came on the pitch to warm up with his teammates, pointing a finger toward the sky. By the end, many local fans gave him a standing ovation.
Neymar's first touch in the French league was a long ball for Angel Di Maria that landed on the edge of the box, but the Argentine player could not latch onto it.
Neymar's vision, acceleration and through balls in a weaker league than Spain's unsettled Guingamp's back four, and his trademark dribbles were also on display at the Roudourou. Midfielder Lucas Deaux will be remembered as the first French league player to be nutmegged by the former Barcelona star.
Encouragingly for PSG, Neymar has already gelled with Cavani, with both players finding each other instinctively despite the lack of space in the Guingamp box.
The big question that immediately emerged when Neymar signed with PSG was how he could fit into coach Unai Emery's system. Neymar proved he can play well with the Uruguay forward, especially if Emery continues to use Cavani in a central position.
"I knew he was a top player," Neymar said about Cavani. "Now I'm playing with him. He is a great player, and when you have such great players in a team, it's easy."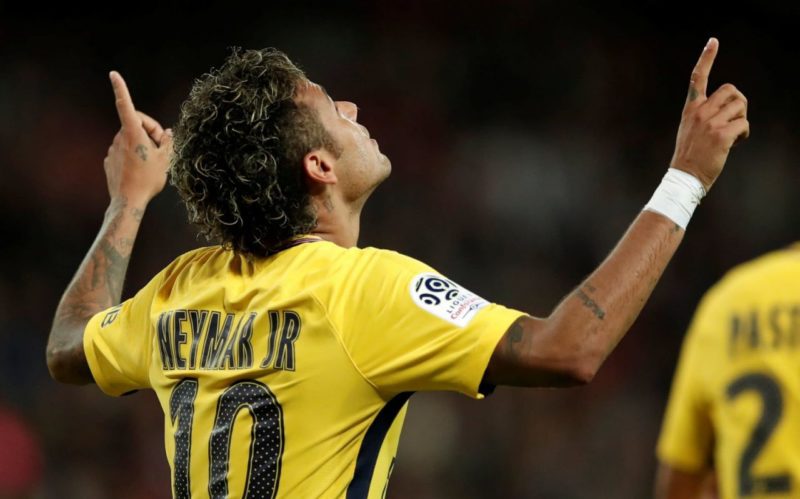 Neymar said it was easy to fit into the team.
"You may not believe it, but in the friendlies that Barcelona was playing in the beginning of the season I was already playing in that position, more on the inside and sometimes on the flanks. Our coach likes us to float around in the middle, he left me very comfortable. I am feeling very well."
Neymar completed 103 passes, one of which set up Cavani in the 62nd minute, as his teammate scored his 90th goal in 135 topflight matches. Cavani then turned provider to set up Neymar with a cut-back pass that the Brazil captain converted from close range with a poke in the 82nd minute.
"I was more impressed by Cavani, who scored again," said Guingamp veteran striker Jimmy Briand. "Neymar, there is no need to introduce him anymore. We knew he was going to be a big threat."
On a sleepy summer Sunday, the atmosphere slowly built in the small town of Guingamp, though most of the streets were still empty mid-afternoon.
Fans later gathered for pre-match drinks at a downtown bar, "Le panier a salade (The salad shaker)," where walls are adorned with autographed jerseys from Guingamp players.
Some PSG fans mingled with home supporters in a friendly atmosphere.
"It's magic to see Neymar at the Roudourou stadium," said Florian Nicolas, a 30-year-old PSG fan who settled in Brittany five years ago. "This match will be watched worldwide."
A town of 7,000 inhabitants known for its local galette-Saucisse treat —a sausage rolled in a crepe — Guingamp is also football-crazy and has witnessed the emergence of world-class players including the likes of Didier Drogba and Florent Malouda in the early 2000s. A club-record 18,378 fans watched Sunday's game.
Source: News Times