Neymar is no stranger to having things thrown at him during soccer matches.
Earlier this season, for example, the Brazilian star claimed that fans hurled baguettes at him during PSG's heated 2-2 draw in Marseille.
But on Tuesday, for PSG's final match of the Champions League group stage, Bayern Munich fans went to new lengths. They printed up customized counterfeit €500 notes with Neymar's face on them.
And then, when the most expensive player ever jogged over to the corner flag in the 34th minute to take PSG's first corner of the match, one fan hurled a stack of them toward the field.
Neymar clearly saw the notes as they fluttered to the ground, and almost seemed to crack a smile. But maybe not. He cleared them out of the way with his foot, and went about his business. He likely didn't get to see that his face was emblazoned on them.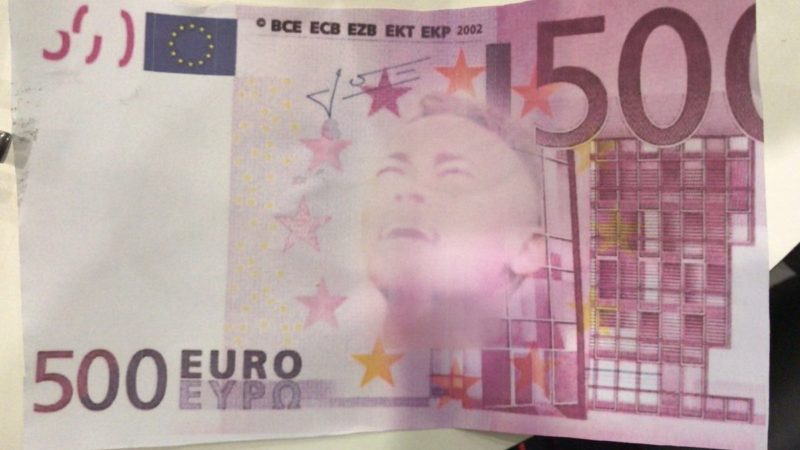 The 25-year-old Brazilian moved to PSG from Barcelona for a record €222 million in August, and signed, at the time, the most lucrative contract in the sport. The total worth of the deal, transfer fee and contract combined, was roughly €500 million. According to a recent report, Neymar makes more money than all the players in the top seven women's professional leagues combined.
The irony here, of course, is that Bayern Munich's players aren't exactly underpaid. And the club isn't exactly scrounging around underneath its sofa for dollars and cents. In last January's Football Money League report, compiled by Deloitte, Bayern ranked ahead of PSG in 2015/16 revenue. PSG's wage bill, the second-highest in soccer, ranks ahead of Bayern's, the sixth-highest, but the German giants are by far the richest club in the Bundesliga.
Anyway, Bayern Munich won the game 3-1, but PSG topped the group. Both are on to the Champions League knockout stages.
Source: Henry Bushnell, Yahoo