Anthony Martial could be disciplined by Manchester United after he went absent without leave following the birth of his son in Paris last week.
Jose Mourinho, his manager, said in Miami that he had no idea when the striker would return to training and club officials were also unable to explain why the player had not flown back to the USA amid rumours the France international was trying to force his way out of the club.
Martial tweeted on Wednesday that he had remained in France because there were complications with the birth, but he has not trained for eight days in the middle of a pre-season designed to ensure he is match fit for the start of the Premier League season and there is confusion behind the scenes as to what has happened.
Mourinho had not heard from Martial on Tuesday night and was expecting him to return to America to continue training with the rest of the squad when he gave him permission to leave last week.
"Thanks for all your posts," Martial wrote on Twitter. "My little Swan is fine but for the mother it is harder. Thanks to God she is better now. Sorry but my family will always come first, back tomorrow in Manchester."
The saga comes in the middle of a stand-off between player and club. The 22-year-old is keen to quit Old Trafford after spending much of last season on the bench, but United are extremely reluctant to sell to another English club, even though there is interest from both Tottenham Hotspur and Chelsea.
Although United finished their tour of the USA with an encouraging 2-1 victory over European champions Real Madrid, Mourinho was distracted by questions around Martial's continued absence.
And, in stressing that the team spirit and work ethic in the group had impressed him over the last fortnight, while thanking Romelu Lukaku and Marcus Rashford for agreeing to return to training three days early, there was a pointed dig at Martial.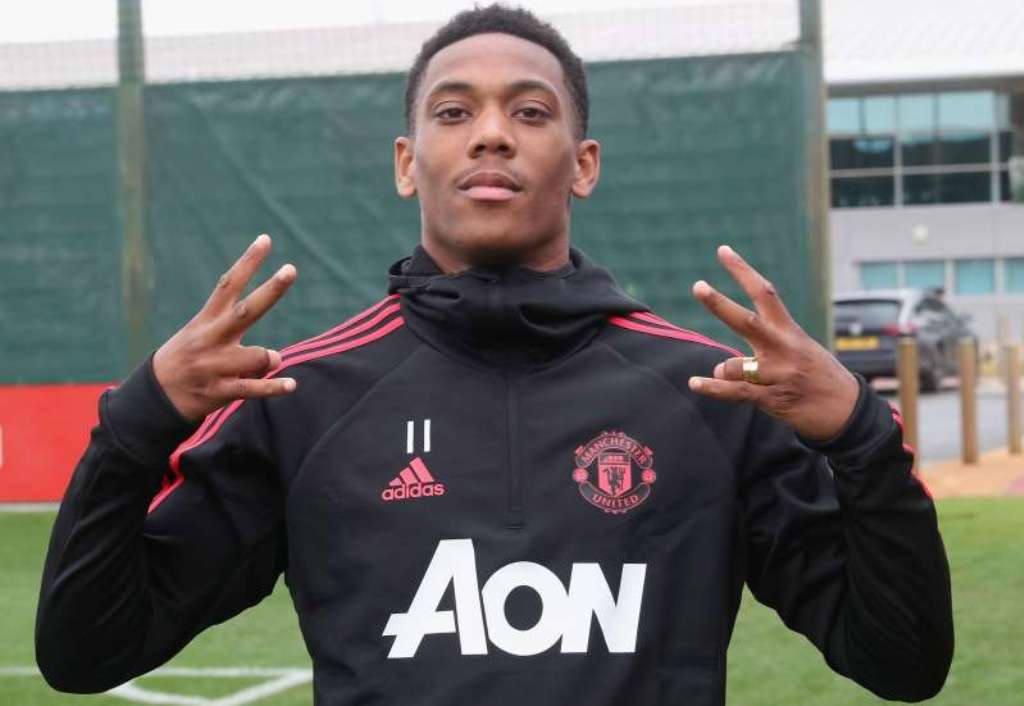 "My players [have been] amazing in their effort but we have more effort in front of us," said Mourinho after goals from Alexis Sanchez and Ander Herrera secured the win over Real.
"We go to Munich in a few days and we start the Premier League in nine days. These are the players that we have plus Lindelof, that started training two days ago, plus Marcus Rashford, Jones and Lukaku, because they gave to the group and to the team three days of their holidays.
"So, they're coming back three days early to try and be available for the team [against Leicester on August 10).
"And with the fantastic spirit we have, in the majority of the players, I repeat: in the majority of the players, we have a fantastic spirit, we go with everything we have to the Premier League."
When asked when Martial would also return, Mourinho first directed the question at the club's press officer, before adding "I don't know."
Martial has been a source of conflict throughout United's pre-season schedule. After putting in a couple of half-hearted performances against Club America and San Jose Earthquakes he asked to leave, at just two days' notice, to attend the birth of his son.
For now, Mourinho can only focus on trying to get the players ready for the start of the season. The squad flew directly back to Manchester immediately after the game against Real and will have a day off, before returning to training on Friday.
"I didn't learn anything [from this game]" Mourinho continued. "I know what Herrera, Mata and Sanchez is, I know what they are.
"I know the kids are very young and need time to grow up, I know that my players gave everything and in the last 15 minutes, we are dead, and they bring on Asensio and Isco, and I thought we wouldn't resist it.
"But the boys tried everything and gave everything and we always have to try to fight for the best result.
"But tactically, it means nothing. We tried with the players we had available to organise the best possible team to defend against them.
"We were just trying to survive and have the best possible results, but as I was saying to the players, some of my players will be in an amazing condition. Imagine Alexis Sanchez fresh, the way the man is running after playing four matches, 90 minutes, I think he is in a fantastic condition so let's look at it from a positive side and wait for Lindelof, Rashford, Lukaku and Jones, which are going to be four important players for us.
"That's the spirit we need because I think our first two or three weeks in the Premier League, Leicester, Brighton, Tottenham, I think these two weeks are going to be really hard for us."
Source: The Telegraph
www.sports24ghana.com