Dina Asher-Smith insisted she has no regrets about opting out of the IAAF World Indoor Championships, despite her impressive performance in coming a narrow second over 60m at the Müller Indoor Grand Prix Glasgow on Sunday.
Qualifying for the final in a PB-equalling 7.08, she ran 7.09 behind Marie-Josée Ta Lou's stadium record of 7.07. Double Olympic champion Elaine Thompson was third in 7.12.
Asher-Smith will fly out to Australia next weekend to prepare for her shot at the 200m in the Commonwealth Games, rather than heading to Birmingham and she said: "There are no big regrets. I'd love to run the World Indoors but the bigger plan is the Commonwealth Games."
Of her performance, she added: "I'm really happy with that; coming into a home event, you just want to do it for the crowd. I would have liked to go a little quicker but I hope we put on a good show. When we saw the clock initially, we thought we had gone even quicker but I think we are both happy with our times [her and Ta Lou].
"I'm obviously focusing on the Commonwealth Games so I take great confidence from that as I look to peak in April. I'm heading out to Sydney in a week to finish my preparation. I'll be watching the World Indoors; I'm sure Asha (Philip) will run really well so I'm wishing her all the best."
In the T37-38 60m, Sophie Hahn stormed to a British record of 7.95 in victory, with Olivia Breen second in 8.40. There was also a British record of 8.47 for Sophie Kamlish in the T43-44 event in coming second to Irmgard Bensusan's 8.24.
Another home favourite showing good form was Eilidh Doyle.
The Scot is bound for Birmingham and warmed up in the style she wanted to, coming second in the 400m with 52.38 to world champion Phyllis Francis, who ran 52.00.
Jamaica's Stephenie Ann McPherson was third in 52.69.
Doyle, crowned British champion last weekend, responded to the support of the Glasgow crowd and showed an impressive turn of pace to put Francis under real pressure in the second half of the race and held her lead until the latter stages. The Scot was only caught in the final straight and admitted the step up in class had been welcome ahead of the Birmingham competition.
"I've been fortunate in my races over the last couple of weeks because I've been able to break reasonably comfortably and been able to hold it but I really had to fight to get ahead of Phyllis (Francis)," she said. "I'm happy with how I ran it; I had to be strong but I'm happy with my performance; it's just a shame I couldn't hold on to win it.
"I always tend to run a little wide in lane one so if they are thinking of overtaking me, they'll have to go the longer way around. I was trying to make sure there wasn't too much of a gap to get through on the inside and I think I managed that. I maintained my form and kept nice and controlled.
"I'm really looking forward to the World Indoors. This gave me the perfect warm-up for that event; it's all part of an exciting first half of the year for me."
Lynsey Sharp also had the full support of the Scottish crowd, which included her injured boyfriend Andrew Butchart, as she finished second in the 800m behind Liga Velvere, who ran a Latvian record of 2:02.01.
Sharp gritted her teeth and clocked 2:02.39, with Adelle Tracey fifth in 2:03.64 and Mhairi Hendry sixth in 2:04.28.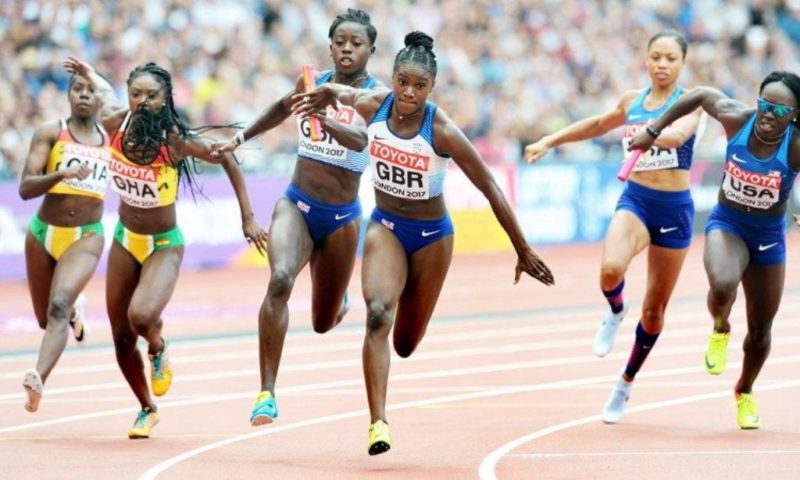 Sharp admitted afterwards that it has been a difficult time following the broken navicular bone which has ruled Butchart out of competing for Scotland at the Commonwealth Games.
"It has definitely been a rough couple of weeks," said Sharp as she prepares to head out to Australia. "I took it a lot worse than he did, but that is just the sort of person he is. He will always just push on, and show that he is hurting. I was definitely a lot more emotional about it.
"He is totally behind me. I could hear him on the top bend shouting. It meant a lot that he was there. He still wants to come out to Australia too, which says a lot. But my priority is him recovering while his priority is supporting me."
Kenya's Beatrice Chepkoech produced a tremendous display of front-running to become 1500m World Indoor Tour champion with a national record of 4:02.21 ahead of Ethiopia's Axumawit Embaya (4:07.06) and fellow Kenyan Winny Chebet (4:08.33).
Britain's Sarah McDonald was fifth in 4:09.00, with compatriot Stacey Smith sixth in 4:10.05.
In the 60m hurdles Christina Manning clinched victory, the IAAF World Indoor Tour title and a wildcard entry for the World Indoor Championships in a stadium record time of 7.79.
The American did enough to hold off compatriot Sharika Nelvis (7.84), who had recovered from a stumble out of the blocks in her heat to reach the final, with Norway's Isabelle Pederson notching a personal best of 7.93 in third.
"I came out here for the win, I needed the win to claim the Tour title and I got it," said the winner. "It's always good to run close to your personal record (7.73). I wasn't expecting a fast time like that, but I'm glad I got it."
Megan Marrs, a late entry to the British team for the World Indoors, was fifth in her heat with 8.27.
The high jump competition saw Britain's Morgan Lake produce a season's best jump of 1.92m ahead of Birmingham, but it was only enough for second behind Maria Lasitskene, who cleared 1.95m.
Nikki Manson cleared 1.84m.
"It's been a lot better than other competitions that I've done recently," said Lake. "I've been trying to iron out my jump in training with my run-up and I think I'm getting there, which is good timing with Worlds in four days.
"I'm just hoping for a PB [in Birmingham]. I was close to 1.95m today, so if I can build on today we'll see how it goes out there."
The pole vault had got the day's action underway and 17-year-old Molly Caudery produced a huge cheer when she cleared a personal best height of 4.30m. She finished seventh, with British champion Sally Peake vaulting 4.15m.
The battle for first came down to two Greeks, which was won by Katerina Stefanidi. The world and Olympic champion soared to 4.75m at the last attempt to defeat Nikoleta Kiriakopoulou.
In the long jump, Khaddi Sagnia produced a Swedish record of 6.92m ahead of Germany's Sosthene Moguenara with 6.83m and Serbian Ivana Španović with 6.81m.
Britain's Jazmin Sawyers was ninth with 6.17m.
Source: Euan Crumley|| AW
www.sports24ghana.com