By El-Amisty Nobo|| Follow Amisty on twitter @ElAmistyNobo
President of the Ghana Football Association [GFA] Mr. Kwesi Nyantakyi has described Accra as a city of hospitality.
The head huncho of the GFA – Kwesi Nyantakyi made this profound statement at the unveiling ceremony of the top three [3] nominees for the 2017 AITEO CAF Best Player of the Year Award held at the Movenpic Ambassador Hotel in Accra, Ghana on Monday, December 18.
"Accra is a city of hospitality and there are many attractive places to visit when you return here in January," Mr. Nyantakyi assured the President of the Confederation of African Football [Ahmad Ahmad] and other dignitaries present at the unveiling ceremony.
The GFA President who has championed three FIFA World Cup appearances since assuming office in 2005 further reiterated that preparations for the AITEO CAF Awards ceremony are far advanced and that this year's event promises to be a resounding success.
"The AITEO CAF Awards 2017 promises to be exciting and engaging with improvements made in the organization of the event to meet the expectations of people across the world.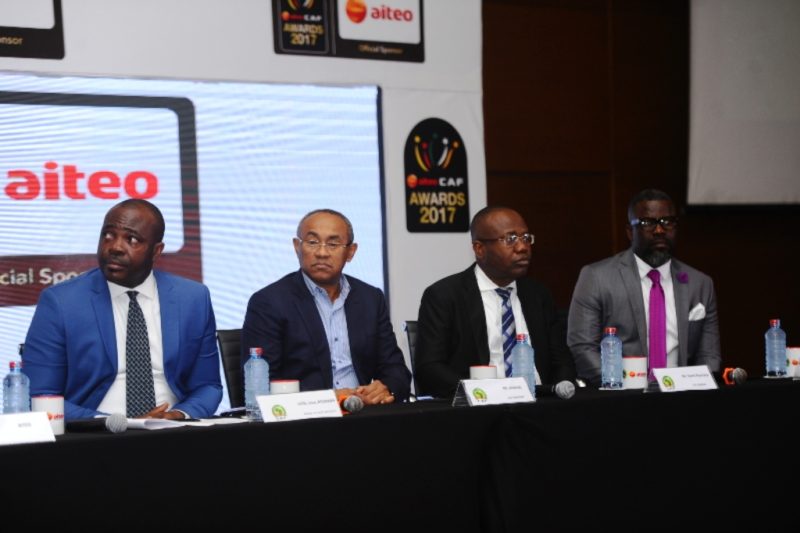 "The venue for the main event, facilities, and all logistics meet all international standard requirements and promises to be a hitch free, enjoyable ceremony. The hotel for guests, footballers, the legends, the media, and the general public are also ready to host well.
"We promise to make your stay here enjoyable," he added.
Kwesi Nyantakyi superintended the organizing committee of the 2006 CAF Awards ceremony, which was held at the Accra International Conference Center [AICC] in 2007 where Didier Drogba snatched the gong from Ghana's Michael Essien.
The final three [3] nominees for the 2017 AITEO CAF Best Player of the Year are:
Mohamed Salah [Egypt]
Pierre-Emerick Aubameyang [Gabon]
Sadio Mane [Senegal]
The 2017 AITEO CAF Awards ceremony will be held in Accra, Ghana on January 04, 2018.
Follow us on twitter @sports24gh|| Facebook – sports24gh|| Instagram – sports24gh
Email: sports24ghana@gmail.com|| info@sports24ghana.com
www.sports24ghana.com