Allianz Insurance Company Ghana Ltd has announced their commitment to support the 2018 Big Millennium Marathon with a financial package valued at 100,000ghc ($25,000).
Mr. Darlington Munhuwani who disclosed the partnership with the Millennuim Marathon Sports Ltd said they like to support people who are pursuing dreams in business, cultural and sports.
He said the big Millennium Marathon is an ideal and very laudable venture to support because it is promoting healthy living, tourism and business.
He promised a long time relationship with the organisers of the Millennium Marathon and prayed that it would be sustained and more Ghanaians and other African nationals would join and participate.
According to Mr. Munhuwani, Allianz provide all types of insurance products including general insurance cover, life and travel, and though there is competition in the insurance business, they understand how to develop and promote their products.
"We have the ability to perform and fulfill our promises" he expressed.
Dr. Vanessa Atikpui, the medical officer in charge of the marathon adviced the general public to check their fitness and stamina levels before competing in the 5km or 21km races.
Mr. Ashim Morton, Founder of the Millennium Marathon urged Ghanaians to keep the city clean and told the media present that about 800 policemen and other security men would be on duty on September 22, 2018 to maintain order to ensure a successful race.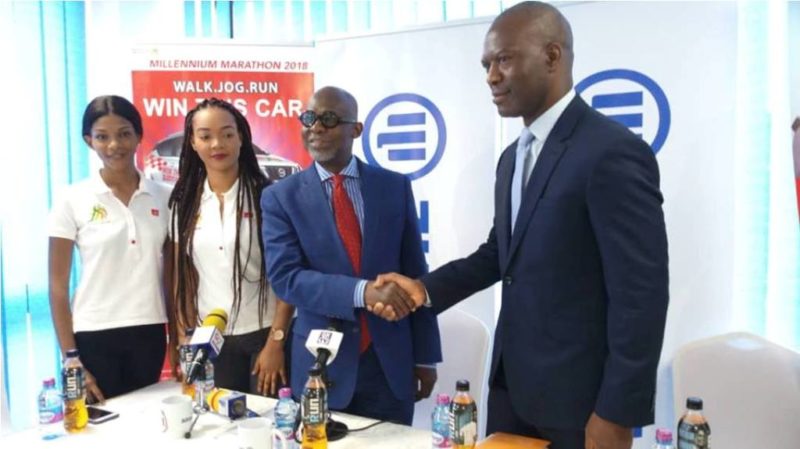 He said the first male and female to finish the 21km race will take home $2,500 each, and there are consolation prizes for the second to 10th positions.
He added that there is a brand new Nissan Kicks SUV car also at stake for any participant who is lucky on the day, so far as he or she registers by texting to *800*17# to join in the special raffle.
"So far as you register and walk, jog or run to finish the race, you qualify to participate in the raffle, and if your luck shines you will drive home the car" he expressed.
Meanwhile, the mini raffle is still going on and on Friday July 13, the third draw comes off at Whirlpool office in Accra.
The The Big Millennium Marathon is sponsored by companies like Allianz Insurance, Unilever, Whirlpool (Ederick Ltd), Twellium, Japan Motors, Garmin, Wigal, Papaye, MenzGold, Alliance Insurance, Elite Sports, ddp, Blue Skies, NLA, Can -West, Royal Habits, Smart Books, Impact Clinic, Emirates and Accra Mall.
The media partners include Multimedia Group, African Sports Media, SWAG Of Africa, GH One Tv, Agoo Tv, Kwese Sports Tv, Graphic Communications Group and others.
Some popular personalities have been appointed as Ambassadors of the Millennium Marathon, they include; HE. Claudia Turbay, Colombian Ambassador to Ghana, Dr. Vanessa Atikpui (Official Doctor), Yaw Ampofo Ankrah, Joselyn Dumas, Nana Aba Anamuah, D Flex, Naa Ashorkor of Starr Fm and GH One Tv. The Face of the 2018 Big Millennium Marathon is Mariam Ismail from Tanzania.
The event is also supported by the Ministry of Youth & Sports, Ministry of Tourism and the Ministry of Health, the Accra Metropolitan Assembly (AMA) and National Sports Authority (NSA).
Source: Sammy Heywood Okine
www.sports24ghana.com