The usually stoic Miguel Cotto gets emotional thinking about all the important family moments he missed in his two decades as a boxer.
Countless hours in the gym, training to become a four-time world champion, kept him away from his wife and four children for weeks and months at a time. No more after this fight.
Cotto will bid farewell to the ring when he faces Sadam Ali on Dec. 2 in Madison Square Garden – his "second home," as he calls it, where he will fight for the 10th time to finish his career. After 46 action-packed bouts in four weight classes, the 36-year-old Puerto Rican said he has no regrets about this decision to call it quits, and is looking forward to making up for lost time with his wife Melissa and his children, ages 10 to 21.
"I've missed birthdays, graduations … you name it," a teary Cotto said Tuesday in an interview with The Associated Press. "Those moments are not coming back, but I'll enjoy each day to the fullest. And now I won't miss a single day of their lives."
Cotto recalled a promise he made long ago to retire at 30 years old, one he obviously did not keep. That was almost seven years ago – he turns 37 on Oct. 29 – and since then, he fought nine times against big-name opponents like Floyd Mayweather Jr. and Saul "Canelo" Alvarez, two of the losses in his 41-5 record.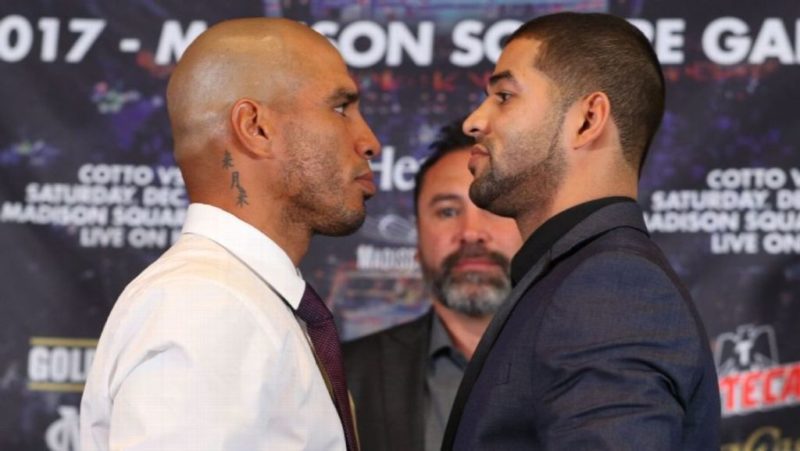 Cotto now guarantees there will be no going back on his word, saying he is "150 percent" sure he will hang up the gloves after defending the WBO super welterweight title he won in August against Yoshihiro Kamegai. He said it's time to give his family the attention it deserves.
"I know they are proud of me and they are crazy about the idea of having me with them every day," Cotto said.
Ali, a 29-year-old from Brooklyn, is not a blue-chip opponent like many of the fighters Cotto faced since he made his professional debut in 2001, but the future Hall of Famer knows there is no need to risk much in his send-off.
Still, don't expect Cotto to change his methodical attacking style for his last hurrah.
"My whole career, I brought my best in every opportunity that I had and I don't have any plans of changing anything," he said. "I depart from here to LA to start my training camp and, as always, I'm going to give it all."
Whatever happens on Dec. 2, Cotto's sparkling resume speaks for itself: In an eight-year span from 2007, he fought all-time greats like Mayweather, Alvarez, Manny Pacquiao, Zab Judah, Shane Mosley and Sergio Martinez, most of them in their prime. Pacquiao, Antonio Margarito and Austin Trout gave him his three other losses.
He won world titles in the super lightweight, welterweight, super welterweight and middleweight divisions. Listed at 5-foot-7, in many cases he faced much bigger opponents as he moved up in weight.
Source: AP