The Great Britain men's 4x100m relay team produced a quite stunning performance to win the country's second gold medal of the IAAF World Championships in London as Usain Bolt's career ended in pain rather than on the top of a podium.
It may not have quite been a repeat of the Super Saturday of 2012 but the home side's world-leading run of 37.47 to beat USA and Japan will live long in the memory for many reasons.
The line-up of CJ Ujah, Adam Gemili, Danny Talbot and Nethaneel Mitchell-Blake – and bear in mind Reece Prescod is Britain's fastest over 100m this year – had hinted that a medal was more than a realistic prospect, running just outside the British record in a time of 37.76 to finish second-fastest during the morning qualifying heats.
However, when it came to the final they were even better and rocketed home in front of an American side which ran a season's best 37.52 and Japan's season's best of 38.04.
Bolt had received the baton for the anchor leg in third place but, just as he was fully getting into his stride, he pulled up dramatically and would finish his incredible career in agony, prone on the track and with his head in hands.
"It's cramp in his left hamstring but a lot of pain is from disappointment from losing the race," said Jamaica team doctor Kevin Jones of the man who had had to settle for bronze in the 100m in a dramatic encounter with Justin Gatlin and Coleman seven days previously. "The last three weeks have been hard for him, you know. We hope for the best for him."
Bolt had, as he always does, looked relaxed as he entered the arena. There was a sense of him drinking it all in as he reacted and waved to various corners of the stadium.
As the action began, however, it was the British squad who responded best to the raucous support.
With a reaction time of 0.124, Ujah had been fastest out of the blocks and handed over with a slight advantage. Gemili, who had missed out on individual selection for these championships, seized his moment and ran a superb second leg down the straight as the crowd began to realise something special might be about to unfold on home turf.
Although the Jamaicans and Americans pressed, Danny Talbot flew the baton round the bend before handing over to Mitchell-Blake, with British noses in front.
World 100m silver medallist Christian Coleman gave chase while Bolt was left with a great of work to do if he was to sign off on a winning note. His body wouldn't let him get that job done and, with the Jamaican challenge now gone, it became a straight fight between Britain and America.
Could Mitchell-Blake hold out? The 23-year-old who was born in Newham, raised in Jamaica and now lives in the United States certainly could and he barely knew what to do with himself when scorched through the line, the stadium big screen confirmed the British victory and the enormity of what had just happened hit him.
He roared and sprinted again back up the finishing straight before collapsing in a celebratory heap not far from where a medical team surrounded Bolt. If anyone were looking for some an image to symbolise a changing of the guard then this was perhaps it.
Bolt did get to his feet and avoided the indignity of having to depart the stage he made his own in the wheelchair which one of the medical staff had produced and lurked nearby. There were plenty of cheers in his direction but the Jamaican could only shake his head in frustration at the script which had been written for his final act. A DNF was not what he had in mind.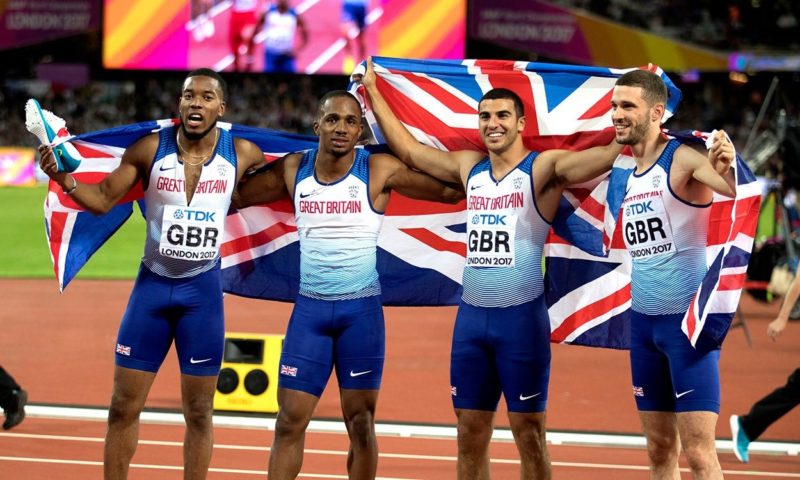 The contrast with the jubilant British side was stark.
"We said we knew we could do it, but when we did it, we did it with a bang," said Ujah. "I'm proud of these guys, we work so hard, and it's just crazy to do it in London."
Gemili, who has painful relay memories from the London Olympics of 2012 when the British squad was disqualified in the heats, added: "This is the best feeling in the world. We're world champions. It's crazy to think. I'm so grateful to be in this team, especially with Danny. We've got some not so nice memories from London 2012 in terms of the relay, so to come here five years later and just actually run what we've run today, we couldn't have done it without the team, the coaches and everyone else. We did it."
"Like Adam said, we've been involved for a while and 2012 didn't just go away," said Talbot. "Guys come in and guys come out , and it's just a massive team effort."
Mitchell-Blake perhaps summed it best, however, when he said: "I'm a world champion, wow!"
Gatlin was part of the American team which had to settle for silver but in the immediate aftermath his thoughts were also with his great rival, Bolt.
"This is farewell time, I am sentimental about it already now. In the warm-up area we give ourselves respect and greet each other," said the 35-year-old. "Usain Bolt is a great athlete. I am still happy to win this silver medal, we made it to the finish line, with all these young guys, we made it to the podium."
As for what might have caused Bolt's fateful cramp, Gatlin added: "I think it was the elements. I am sorry he got this injury. He is still the best in the world.
"It was a recipe. I understand we need to be ready early but I think we took our clothes off a little too early. It's a little chilly in here so I think that's where the cramp came from. That's what he suffered with. He was running out there cold.
"You can't let this championships define what he's done in the past. He has done amazing things. He's still the man, you know. This was his farewell race and we wish him the best and hope he recovers soon."
Source: Euan Crumley| AW