WBA lightweight world champion Vasiliy Lomachenko, WBO lightweight world champion Jose Pedraza, unbeaten WBO junior featherweight world champion Isaac Dogboe, unbeaten lightweight sensation Teofimo Lopez, and Italian heavyweight prospect Guido Vianello took a break from their last-minute fight preparations to head over to Gleason's Gym to speak to a group of youngsters from Give A Kid A Dream.
The foundation provides mentorship opportunities to at-risk youth through boxing.
More than 30 children from the foundation were on hand as the fighters discussed the hard work required to become a world-class fighter. Each fighter demonstrated drills for the children, signed autographs, and gave a few lucky children in-the-ring tutorials.
Lomachenko and Pedraza also took a break to answer a few questions about Saturday's showdown. This is what they had to say.
Vasiliy Lomachenko
On training camp
"I had a really good camp. I am looking forward to getting back in the ring on Saturday. Madison Square Garden is my favorite place to fight. It is like another home for me. It is a very special place."
On recovery from torn labrum suffered during Linares bout and fighting through pain
"I am 100 percent. I feel good. When the injury happened, I was mentally prepared to deal with it. I still had my feet. I still had another hand. I am very competitive. I feel like when you step in the ring, you need to finish the fight."
On Pedraza as a fighter and what he'll bring to the table
"Nobody knows yet. I've had a long rest. Now, I load a new program into my head. We'll see what happens."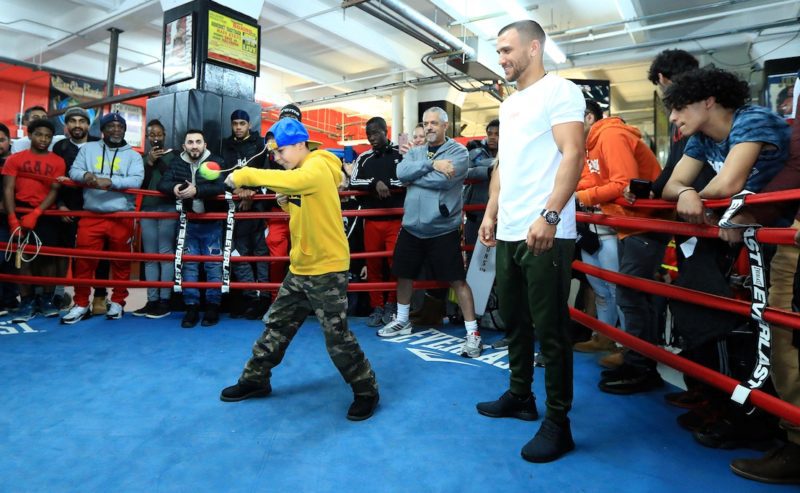 On recovering and resting following the surgery
"It was good for me to rest. I have been boxing since I was a child. I had a lot of competition. It was my first rest and first big vacation in my life."
Jose Pedraza
"The time is almost here. The desire to win is very high. I have visualized all the possible scenarios. I've seen myself winning, I've seen myself knocking him out, I've seen myself pulling out the victory coming from behind. The closer the fight approaches, the more I see myself with my hands held high and with the two titles on my shoulders. I already fulfilled my goal of becoming a world champion, and now I'm going after the goal of unifying titles."
"The titles will return to Puerto Rico with me. I know that it will not be an easy fight. I will be facing one of the best fighters in the world. He has tremendous skills, but I know that I also have great skills and the necessary focus to come out with the victory. Puerto Rico deserves a moment of happiness. I'm going to do it for them, and my family.
Lomachenko-Pedraza, Dogboe's WBO junior featherweight title defense against Emanuel Navarrete, and Lopez versus Mason Menard will headline a special three-fight edition of Top Rank on ESPN at 9 p.m. ET, which will follow the 84th Annual Heisman Memorial Trophy Presentation.
Source: Top Rank
www.sports24ghana.com