Back from the edge, suddenly clear of failure's very slipstream, Lionel Messi is alive and kicking. Not just that, he's breathing once more, no longer suffocated by the prospect of humiliation.
He got lucky on Tuesday night, soccer's much loved modern maestro, and he knows it. Over the course of a rugged and fierce battle in Saint Petersburg, Argentina's 2-1 victory over Nigeria long looked elusive, sealed eventually by a late volley from midfielder Marcos Rojo.
It wasn't a virtuoso performance from Messi, nor one of his better nights overall. It wasn't the kind of game that he would take in his palm and squeeze it into whatever shape he wanted. It was all about survival.
If Rojo hadn't struck when he did, it was over. Argentina would have been out, toasted in the group stage for the first time in Messi's career and probably ensuring the 31-year-old would go 0-for-the-World-Cup when all is said and done.
Messi had carved out a little chunk of magic in the first half, tucking away a 14th minute opener and becoming the first man in history to score a World Cup goal in three decades of his life. Yet that was the furthest thing from his mind when Victor Moses equalized from the penalty spot early in the second half and put Nigeria in position to reach the round of 16.
Going home early would not have been a pleasant experience for Messi and his colleagues. Argentina expects to win, as it has since the country realized during Messi's teenage years that it had a true generational star.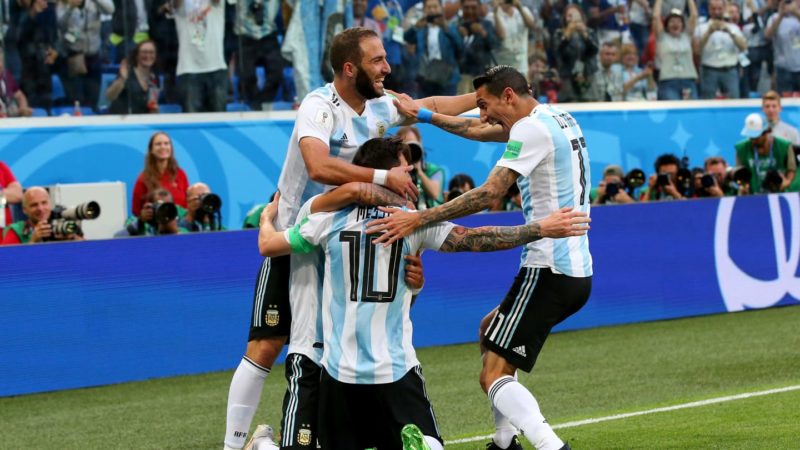 Yet with his home nation, Messi has never matched his club brilliance for Barcelona. An early departure from Russia would have been followed by talk of how his struggles at the World Cup would tarnish his legacy in the sport.
It barely matters now – at least not yet – and who knows how much more of this tale is to be told? World Cup history is littered with stories of teams who scraped into the knockout round then embarked upon a run of redemption.
The thing holding Messi back for Argentina has never been a lack of talent, he has more of that than anyone on the planet – except perhaps for Cristiano Ronaldo, and many would even debate that.
His curse has been the pressure and it takes a lot to rid yourself of that. However, staring disappointment right between the eyes then suddenly discovering it has been lifted, will often do the trick.
And as a result, Messi and Argentina are floating and wickedly dangerous right now. It doesn't matter that they were stuttering against Iceland, inept against Croatia and very, very jittery on Tuesday.
The name of the game in the World Cup's group stage is to survive and advance. Once you do that, you get a clean slate. Finishing second in the group means you have to play a team that won theirs. For France, Saturday's opponent in Kazan, finishing top in Group C probably doesn't feel like much of a prize right now.
There are only a handful of players in international soccer with the capability to single-handedly change a game by themselves.
Messi didn't do that on Tuesday but now relieved of the pressure, he looms large once again over this World Cup.
Source: Martin Rogers
www.sports24ghana.com