The most indelible moment of this summer basketball season unfolded late Wednesday night. When security cleared the floor, canceling an Under-13 grassroots basketball game with hundreds of people waiting to get in, it marked the unofficial ushering of LeBron James Jr. into the public spectrum.
Fair or not, for the next four-plus years, there will be no bigger story in youth basketball than Bronny, as the son of LeBron James is affectionally known.
Security couldn't handle the crowds and ultimately made a wise move to cancel the game between Bronny's North Coast Blue Chips and the Chicago-based Mean Streets. It set the stage for what many people around youth basketball expect to be an unprecedented career in terms of attention and scrutiny, which is all coming quickly for 13-year-old Bronny. "It's amazing that we're now this far in advance, as last night was comparable to Zion Williamson's hype at its peak," said Corey Evans, a Rivals.com recruiting analyst, referencing the Duke-bound prospect. "The fact that it's like this for a 13-year-old is asinine. It's unfair to the kid at the end of the day. It's still a 13-year-old we're talking about."
LeBron James made headlines this week with the comment that he regrets giving his son his name. That alone accentuates the pressure and expectations that come with being the son of perhaps the greatest player to ever grace a basketball floor. "I still regret giving my [son] my name because of that," James said. "Like, when I was younger I didn't have a dad. So my whole deal was, when I have a kid, not only is he going to be a junior, I'm gonna do everything that this man didn't do."
So what comes with being the son of an NBA star in the social media age? The best perspective may have come from the bleachers at Liberty High School a few hours before Bronny's grassroots game got canceled on Wednesday night. Shareef O'Neal is a son of former NBA star and global icon Shaquille O'Neal. Shareef, a 6-foot-10, 210-pound forward who is a Top 50 prospect in his class, is slated to play at Arizona in the fall. Shareef O'Neal had seen a recent clip of Bronny getting overrated chants and could relate. He said he'd often "choke up a little bit" when opposing crowds got on him because of his famous surname. "Being an NBA player's son, it's hard," O'Neal told Yahoo Sports. "You're going to get a lot of pressure. You don't know what's real and what's not. It's definitely something that you need to be prepared for."
Nearby, Shareef O'Neal's mom agreed. Shaunie O'Neal recalled opposing crowds in high school bringing McDonald's bags to games to mock her son for not being chosen for McDonald's All-American. She said his missed free throws were often accompanied by "just like Shaq" chants. She said she found herself putting supportive comments on social media to combat the negativity. "There's no room for mistakes," Shaunie O'Neal told Yahoo Sports. "It's awful. It's awful to have to sit through. Just because he was big and tall and his dad [is] Shaq, they expect him to be [perfect]. They don't get a chance to develop in other people's minds. It's pressure right away."
Shareef O'Neal made an Instagram post to support Bronny on Thursday and has a keen appreciation for his peculiar lot in life. Shaq and LeBron were teammates in 2009-10 with the Cavaliers, so there's history between the families. "All NBA players' sons have that sort of connection," Shareef O'Neal said. "It's a special connection we all have."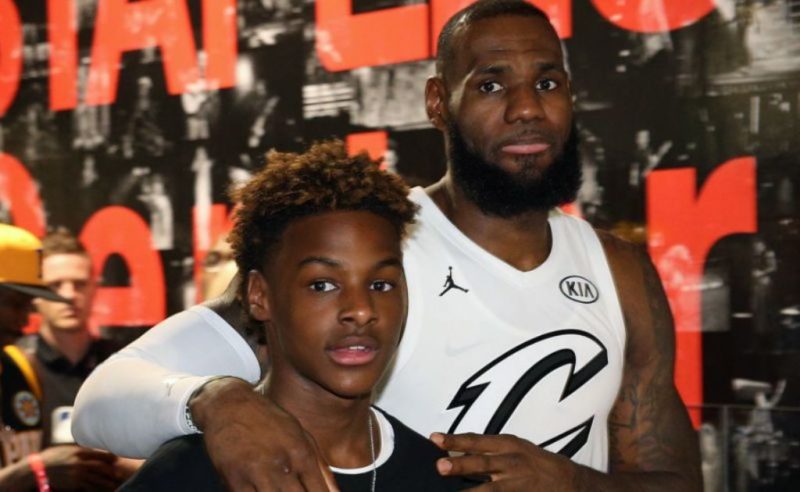 There's a feeling around the grassroots world that Bronny's trip through youth basketball will feature comparable hype to his father. It comes at a time when the children of numerous top players are on the grassroots circuit vying for scholarships. They include the sons of Scottie Pippen, Dwyane Wade, Kenyon Martin, Juwan Howard, Eddie House, Shareef Abdur-Rahim and Shawn Kemp.
It will be interesting to hear the famous fathers compare their experiences in the grassroots circuit to their sons' journeys. Texas coach Shaka Smart got hired as an assistant at the University of Akron during the spring of LeBron James' senior year of high school in the same city. Smart can't comment directly on LeBron James Jr., but did generally note just how different a world he's entering compared to the spring of 2003. Smart referenced a favorite Theodore Roosevelt quote that he uses on his team at Texas all the time: "Comparison is the thief of joy." He predicts the sons of the NBA stars will go through youth basketball with a different type of microscope because of social media. "It's a different world," Smart said. "The level of interest, attention, scrutiny, expectations and comparisons is so much different."
NBA star Isaiah Thomas happened to be in an adjacent gym on Wednesday night when LeBron James Jr.'s game was cancelled. He was watching his old grassroots team, Seattle Rotary, and caught some of the scene. "It's tough with social media these days," Thomas told Yahoo Sports. "Being LeBron's son comes with a lot of extra stuff. It's tough for them kids. I couldn't imagine being who they are and having social media and everyone in the world knowing who they are at that age."
All of the talk of the difficulty and special pressures, of course, comes with the knowledge that there are many worse off than the sons of millionaires. But there's also uniform empathy for those in the basketball world for the unique circumstances that come with being the son of an NBA player. Villanova coach Jay Wright said he experienced this, to a lesser degree, with star point guard Jalen Brunson. His father, Rick, was an NBA player for nine seasons. Wright compares what the young crew of NBA sons are dealing with to being childhood TV stars.
"They grow up in that atmosphere, and they're very comfortable with it," Wright said. "It always shocks me how well adjusted they are. You'd think those are the kids most mentally unstable. In reality, they're not."
The career arc of Bronny will be interesting to follow. He's considered one of the top 30 players in the country in his class. He projects as a high-major college player and has the genetics and skill to perhaps blossom into a McDonald's All-American high school player. Part of the conundrum here is that he's not as good as his father – an obvious statement because essentially no one else in basketball history is that accomplished.
Some of Bronny's career arc may be defined by handling external pressures, as the glare that focused in on him in Las Vegas this week will only continue to get brighter. "If we thought the expectations for LeBron James were the highest ever on a prospect, imagine what they'll be for Bronny," Evans said. "He may end up with more attention. The expectations will be so fierce."
Shaunie O'Neal admits she cringed in the stands hearing the insults and chants directed at her son because of his famous father. But her overriding advice to the James family as Bronny heads into eighth grade and a more high-profile career revolved around something much different. "You have to embrace the moment and enjoy your baby playing," she said. "It only happens once that he goes through this stage, and it's so much fun. Even though people are mean, it's so much fun. The memories never go away."
Source: Pete Thamel
www.sports24ghana.com