Competing at the Commonwealth Games had been on Luvo Manyonga's bucket list, and the South African world champion made the most of the occasion by breaking the Games record to gain gold in a high-class competition.
Australia's Henry Frayne, receiving strong home support and fresh from his own Games record-breaking jump in qualifying, had leapt into the lead in the second round as he was just a single centimetre off his record mark from the day before with 8.33m.
But, after a foul in round three, Manyonga responded with a jump of 8.35m before going even further with 8.41m in the final round.
Frayne secured the silver, while Ruswahl Samaai joined his team-mate on the podium, gaining another medal for South Africa with 8.22m from round two for bronze to match his medal from Glasgow four years before.
"I'm excited and happy with winning the gold and setting a Games record. What more could I want?" Manyonga said after standing on the top of the podium, his gold medal hanging proudly around his neck.
"This was very important to me as competing at the Commonwealth Games was on my bucket list."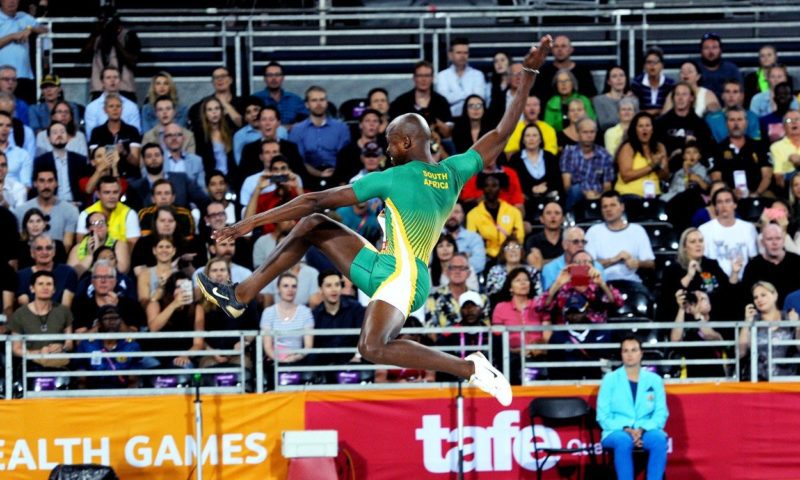 England's Dan Bramble jumped a best of 7.94m for fifth, after a mark of 8.02m in qualifying, and said: "It is definitely bittersweet. I was really up for the occasion.
"There are big jumps there but I think I got a little impatient with the run-up. I'm excited because there is a lot more there and I can't wait to get a big one down."
Brandon Starc enjoyed the high jump performance of his life in front of home fans as he improved his PB by a centimetre to clear 2.32m and get gold, beating Jamal Wilson from Bahamas and Canada's Django Lovett, who both cleared 2.30m to secure silver and bronze respectively.
Source: Jessica Whittington|| AW
Follow us on twitter @sports24gh|| Facebook – sports24gh|| Instagram – sports24gh
Email: sports24ghana@gmail.com|| info@sports24ghana.com
www.sports24ghana.com