Eight Wimbledon titles, 19 Grand Slam trophies, 35 years old and still the US Open to come. What more can Roger Federer do?
Are there any records left for the majestic Swiss to break? Or do we just tear up the annals of the game and replace them with a single volume simply entitled "Roger Federer: a Genius at Work".
Federer cemented his place in the very fabric of the All England Club by becoming the only man to win an eighth Gentlemen's Singles title, beating a nerve-racked and slightly hobbled Marin Cilic 6-3, 6-1, 6-4.
On the eve of the final, the mood in the two camps was very different. Word from the Croatian journalists was that Cilic was confident – but it didn't sound as if he was that confident.
Last year he had match points in the quarter-finals against Federer and still found himself of the losing end of the five-set scoreline. Would he be using the memory of that match as inspiration? Er, no. But surely he must focus on what he did well that afternoon? Apparently not. The Croatian journalists shook their heads. They think that Cilic regards that match as a nightmare rather than a memory.
The big man with the even bigger serve also knew what was awaiting him. His basic plan was to be aggressive, as aggressive as was humanly and tactically possible.
That is what had won him the US Open, after all, and that is what had allowed him to flatten Federer in the semi-finals that year in New York. But if he could not be on the offensive in his first couple of steps into the court, Cilic feared that he might be on a hiding to nothing.
If this did not sound particularly positive, the Federer house was a complete contrast. When the great Rene Stauffer, the hugely respected journalist and Federer specialist from Tages Anzeiger in Switzerland, had a chat with Fed's dad, Robbie, he could not believe what he was hearing.
According to Mr F Snr, his son was as chilled as a chilled thing in a very chilly place (he may not have used those exact words but that is what he meant). Not even Robbie could believe it. Severin Luthi, one of the Great Man's coaches, agreed. But, as Luthi pointed out, his man had been doing this for many, many years; he may have a few nerves – everyone has them and everyone needs them to keep them on their toes – but he knows how to handle them and he knows how to stay calm.
Cilic had come with the obvious intention of muscling Federer out of the way. At the same time, Federer's first serve was misfiring: 12 double faults in six matches leading to the final; two double faults in his first two service games on Sunday. And an overall accuracy of 46 per cent – this was not the silky Swiss performance of the last 12 days. The match was only six minutes old before the first growled "Komm jetz!", an exclamation Federer usually reserves for the real thick of the battle, not his opening service game. Even living legends, it would seem, take their time to get up to full speed.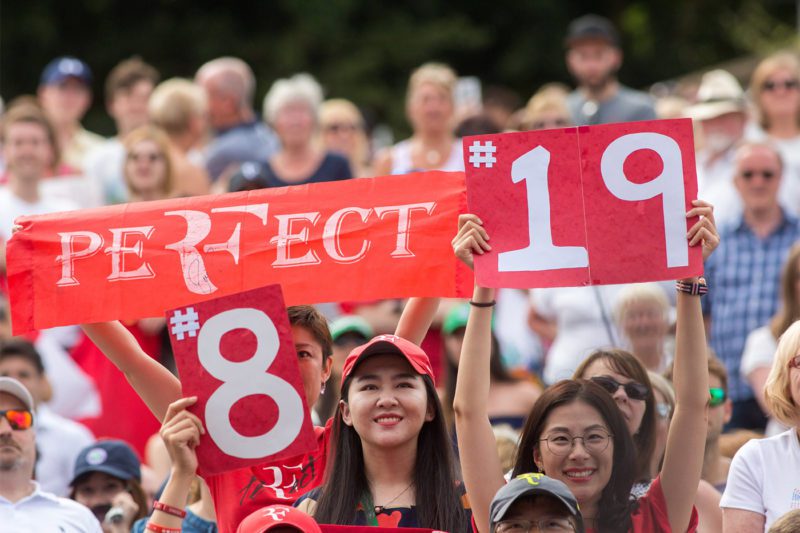 But as Federer was revving the engine to warm it up, he was also thinking. Cilic looked like he wanted to blast the Great One off court; the Great One soon put a stop to that. He slowed things down, he gave Cilic no pace with which to work. The end result was that the Croat's forehand pinged this way and that but seldom where it was supposed to.
On the other side of the net, Federer repelled a break point in the fourth game, issued another "Chum jetze!" and then he was off. He broke for 3-2 and immediately put the pedal to the metal. He increased the pace, he suddenly looked his usual, fluid self and he was tying poor Cilic up in knots. Setting off on a run of five consecutive games to wrap up the first set and take a 3-0 lead in the second, the history hunter was in command.
That was when Cilic called for the trainer and the doctor. He was in tears as he sat in his chair but it appeared there was nothing to be done. Pre-existing conditions cannot be treated during a match so Cilic had to grit his teeth and get on with whatever the final held for him.
The crowd – who, it has to be said, have been involved in a less-than-clandestine love affair with Federer since 2003 – tried to help. They gave Cilic a standing ovation as he got back to work and cheered heartily when he won the first point of his service game. They may have been backing their Swiss amour but they had been waiting for this final for days – they did not want it to end.
Federer, though, was not listening to the crowd. After 61 minutes he was two sets to the good. Cilic was taking a pasting and Federer was showing no mercy.
The medics were back on court before the start of the third set to re-tape what looked to be a blister on Cilic's left foot. That helped a bit but it was nowhere near enough to stop Federer on his march to glory.
History was calling and after 101 minutes, the Greatest Of All Time answered its cry. With his eighth Wimbledon title in his grasp, the old GOAT was now greater than ever and it was time for him to shed a tear.
Source: Alix Ramsay| Wimbledon