Conor McGregor is unequivocally the biggest star in mixed martial arts.
Few athletes in any sport are as universally recognized, but does that notoriety make the Notorious One the second best fighter in the UFC? That's where the UFC has him ranked in its most recent pound-for-pound rankings.
Is McGregor more of an elite self-promoter than he is a complete martial artist? UFC women's featherweight champion Cris Cyborg called McGregor one of the most overrated fighters in the UFC earlier this year. Does she have a point?
On Saturday, October 6 in Las Vegas, McGregor will face UFC lightweight champion Khabib Nurmagomedov in what I believe is the biggest challenge of his mixed martial arts career. Notice, I didn't say professional career because I didn't want any inclusion of the farcical boxing match between him and Floyd Mayweather Jr. from 2017.
McGregor's rise to prominence in the UFC has been like something out of a storybook. He's gone from being a public aid recipient in his native Ireland to a regular on our very own Forbes list.
Few can dispute McGregor's gifts with this hands and feet. He's shown the ability to stop a number of rugged guys with his striking.
In the UFC, he is 9-1 and he's 21-3 overall in his MMA career. He's beaten the likes of Max Holloway, Dustin Poirier, Chad Mendes, Jose Aldo, Nate Diaz, and Eddie Alvarez. That list of opponents alone is enough to dispell the notion that he is overrated on the surface, but there are circumstances that must be considered with most of those wins.
The win over Alvarez was McGregor's most dominant. He simply ran through a legitimately tough, veteran opponent to become a two-division champion, but the others are more vulnerable wins.
You hear the name Max Holloway and most fans immediately think of the world-class featherweight champion who hasn't lost a fight in five years (when he dropped two straight, the last one to McGregor). However, it's worth mentioning, Holloway was just 21 years old when he fought McGregor, and he'd had only 9 pro fights.
McGregor was 25 and he'd fought 15 times professionally.
Also, Holloway stepped in for the injured Andy Ogle on short notice to take on McGregor after the young Hawaiian had lost a tough split decision to Dennis Bermudez seven weeks prior. Can you imagine what would have happened to poor Andy had he fought McGregor? It would have been really ugly, but I digress.
Who knows? Perhaps Holloway will rebound from his recent medical issues, prove he's still an elite competitor, face McGregor at 155 pounds, and still be beaten by the Irishman.
As it stands, there is some room to say the win over Holloway maybe wasn't quite as impressive as it appears on name value alone.
The victory over Poirier isn't as easy to dissect, but the Louisiana native did appear to be at the end of his rope at 145 pounds when that fight happened in 2014. In fact, it was Poirier's last fight as a featherweight, and he's 8-1 since moving to lightweight.
Still, stylistically, it's hard to imagine Poirier doing much better against McGregor in a rematch.
The Aldo fight lasted 13 seconds. The brevity of the bout is almost entirely due to McGregor's striking prowess. As he said in the postfight interview, "precision beats power and timing beats speed."
That was the case in the short but violent exchange between him and the longtime 145-pound kingpin, but didn't you feel a bit cheated by the abrupt outcome? Don't get me wrong, McGregor was 100 percent deserving of the win, but if Aldo isn't amped to destroy the then-interim champion because of the conga line of insults he'd sent his way leading up to the fight, does he charge in and leave himself open to take the counter left hook from hell?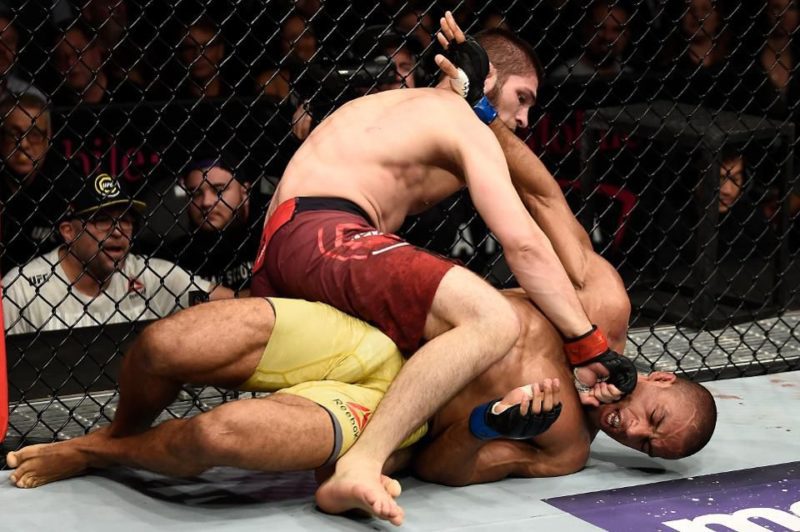 Maybe he still gets caught because McGregor is truly a gifted striker, but these are legitimate questions.
Obviously, McGregor lost to Nate Diaz after gassing out and shooting for an exhausted takedown against a Brazilian Jiu-Jitsu black belt in their first fight. In all fairness to McGregor, the scrap took place at 170 pounds, which was at the time, two divisions above his last weight class. In the rematch, which was also up near 170 pounds, McGregor won a disputed majority decision that you could make the argument he lost.
Also, while I know Diaz is a well-respected fighter whose persona and victory over McGregor have helped to make him a borderline superstar in the sport, his 19-11 career record isn't exactly going to scare a lot of people. Eleven losses is a lot for a fighter who considers him or herself a legitimate title contender. Diaz has dropped fights against Clay Guida, Joe Stevenson, Gray Maynard, Dong Hyun Kim, and Josh Thomson. All of those guys are good fighters, but none of them are elite.
Remember, every other time Diaz attempted to step up to 170 pounds to challenge real welterweights he lost. The bouts with Kim and another with Rory MacDonald are the proof. Marcus "The Irish Hand Grenade" Davis and McGregor are the only guys Diaz has beaten at 170 pounds.
Therefore, is the loss to Diaz worse than most believe and how much can be put into the close and somewhat controversial victory in the rematch?
Lastly, McGregor's win over Chad Mendes was spectacular, but much like the win over Holloway, Conor's opponent came in on short notice. In this case, it was just 12 days. Even on short notice, Mendes' wrestling proved to be a major issue for McGregor. Mendes secured four takedowns and battered McGregor with elbows in the process.
Unfortunately for Mendes, he tired toward the end of the second frame and McGregor to his credit, was able to take advantage and earn the finish.
Is it crazy to wonder how that fight might have looked if Mendes had a full training camp? Mendes is known for staying in shape year round, but I think most fighters will tell you that staying fit for no one in particular–or as a potential replacement–and training to fight McGregor for the interim title are two very different levels of fitness and preparedness.
McGregor's troubles with Mendes' wrestling beg the question: what will he do against a grappler of Nurmagomedov's ilk who will be motivated and physically fit after a full training camp? Remember, Nurmagomedov is 26-0 and he has made every UFC opponent he's faced look miserable and overmatched in almost every round.
Michael Johnson had a moment against him when he landed a heavy right hand that seemed to rock the Russian. Al Iaquinta was able to survive the early onslaught and looked a little better late in the fight that crowned Nurmagomedov 155-pound champion. Despite getting battered for 2-plus rounds, Edson Barboza landed one of his signature head kicks on Nurmagomedov when they fought, but The Eagle walked through it all en route to dominant victories.
If Nurmagomedov secures a takedown against McGregor, there is a chance the latter won't stand up again until he's being helped back to his stool after absorbing the Dagestani's vicious ground-and-pound strikes and unrivaled dominance in top position. On paper, The Eagle's style is seemingly poison for McGregor.
The test is a real one.
The hype is and will remain there leading up to fight night, including the bus attack videos, but real members of the MMA community know what kind of once-in-every-10-years kind of an event this will be–provided no one gets injured and has to pull out.
Because of the opponent and the dynamics surrounding the fight, there is no doubting where McGregor will stand if he beats Nurmagomedov. A win would validate every accomplishment he's had previously, and when you also consider he's been out of the Octagon for more than two years, it only makes the potential accomplishment all the more impressive.
Like most others in the MMA world, I can't wait to watch and find out if McGregor will silence his doubters or validate the skepticism.
Source: Brian Mazique| Forbes
www.sports24ghana.com