Jose Mourinho's open warfare with Manchester United transfer chief Ed Woodward has taken a new twist with worrying details emerging about the pair's relationship.
Mourinho has complained of a lack of recruitment all summer while on tour with the Red Devils in pre-season in the United States of America.
The Special One told reporters he had handed United's executive vice-chairman a wishlist of five players he would like to sign a few months ago.
"I would like two more players. I don't think I'm going to have two," Mourinho explained. "I think it's possible I'm going to have one.
"I gave my club a list of five names a few months ago. I wait to see if it's possible to have one of these players."
Deadline day is drawing nearer and Mourinho admitted he only expects to sign one more player before Thursday's cut-off point at Old Trafford.
He came face-to-face with Woodward in the tunnel at the Hard Rock Stadium in Miami before heading back to the UK to finalise preparations for the new campaign.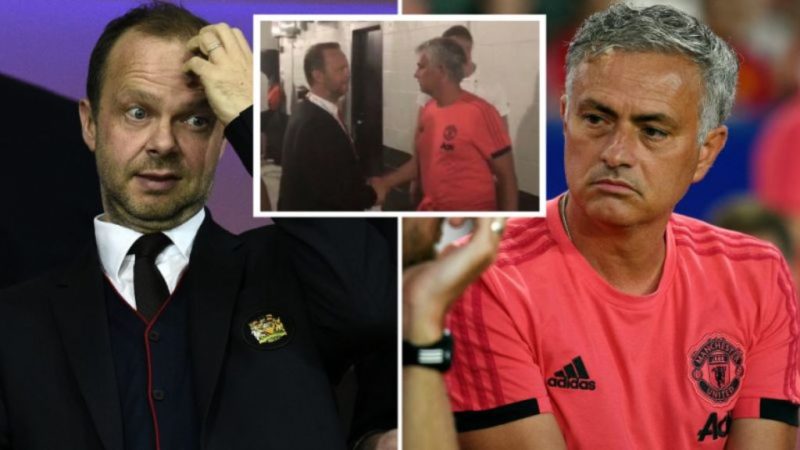 It was something of an awkward exchange between the pair in the sunshine state of Florida and now the Daily Mail have made a startling claim about the meeting.
The newspaper insists that brief chat was incredibly the first time across the entirety of United's 17 days in the US that Mourinho and Woodward spoke to each other.
An Old Trafford insider told the Mail: "'It was as if Ed realised that he had to do more, but it was too little too late.
"Everyone could see that Jose was completely mystified by Ed's absence.
"He's never experienced that before with a chairman on tour. Jose was miserable in the US but people began to see that he had a point."
Mourinho has previously spoken of having an open line of communication with Woodward and often talks with him via video conferencing at the club's training ground.
So it comes as a huge surprise that the Special One has been kept in the dark during what should be Woodward's busiest time of year.
Manchester United play their final pre-season friendly against Bayern Munich at the Allianz Arena on Sunday evening.
They appear to have been knocked back by Barcelona in their attempts to sign Yerry Mina and are now turning back towards negotiating a deal for Toby Alderweireld
Source: Matt Lewis
www.sports24ghana.com